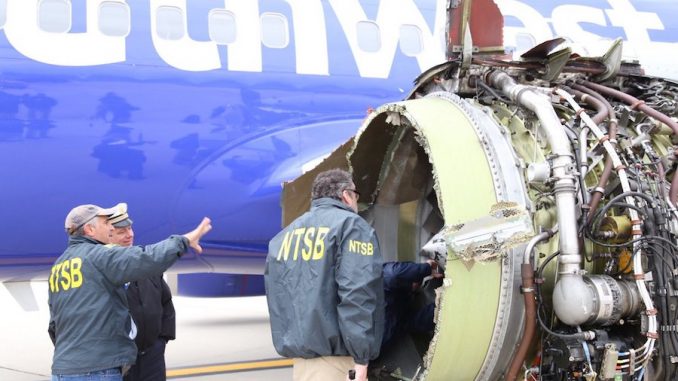 Following the engine incident involving a Southwest 737-700 that resulted in the death of one passenger, the Federal Aviation Administration (FAA) announced they would be ordering the inspections of engine fan blades of certain CFM56-7B engines. CFM engines are produced by CFM International, a joint venture between General Electric and France-based manufacturer, Safran.
#FAA Statement: Airworthiness Directive (AD) – Required Inspections of Certain CFM56-7B Engines. pic.twitter.com/9gmkLqLdWP

— The FAA (@FAANews) April 19, 2018
This, however, is not the first time Southwest has had issues regarding this specific type of engine. In August 2016, the airline was forced to make an emergency landing in Florida when a fan blade separated from the same type of engine. Following the 2016 incident, the manufacturer recommended an ultrasonic inspection of fan blades on the powerplant. This went into effect in June of 2017 but was never made into a mandatory process by the FAA.
Following the original announcement of recommended inspections and a timeline of 12 months, that was proposed by CFM International, Southwest spoke out about needing more time. According to a report by Reuters, the airline told the FAA that it would need an additional six months to complete the inspection process. It is also reported that the airline had planned to only inspect certain fan blades within the engine, not all 24 like the manufacturer suggested.
The 2017 inspection proposal affected all engines that had flown over 7,500 flights and/or had been in use for over 18 months for lower use engines. The latest proposal by the FAA suggests that the newest directive will be based on the number of cycles each aircraft has.
In a tweeted statement, the FAA said, "The FAA will issue an Airworthiness Directive (AD) within the next two weeks that will require inspections of certain CMF56-7B engines. The directive will require an ultrasonic inspection of fan blades when they reach a certain number of takeoffs and landings. Any blades that fail the inspection will have to be replaced."
While Southwest was not the only airline to disagree with the inspections, this disagreement has created bad press due to the most recent incident that caused the first fatality by a U.S. Part 121 carrier since 2009. Since Tuesday's incident, the airline has stated that they would accelerate inspections and hope to have them all completed within the next 30 days.
Airlines across the U.S. will feel the effect of whatever AD is put into place regarding the inspection of the CFM engines. Southwest currently operates a fleet of over 700 aircraft, all with the impacted engines. United Airlines had begun inspections on some aircraft as of Wednesday, April 19.
American Airlines and Delta Air Lines operate more than 450 aircraft that feature affected engines, with American's total number being about double that of Delta's. Seattle-based Alaska Airlines operates a fleet of over 150 Boeing 737s featuring the CFM56-7B engines.
Only time will tell how significant of an impact that these inspections may have on specific airlines, but should this be a widespread issue, there may be major short-term impacts on air travel within the United States.
Jace has been working at AirlineGeeks for nearly three years. Born in Seattle, Boeing and aviation quickly took over his life and he never stopped looking up. Jace enjoys plane spotting and taking trips just so he can fly. He is currently studying at Embry-Riddle Aeronautical University while earning his Bachelors of Science in Air Traffic Management.
Latest posts by Jace Moseley (see all)