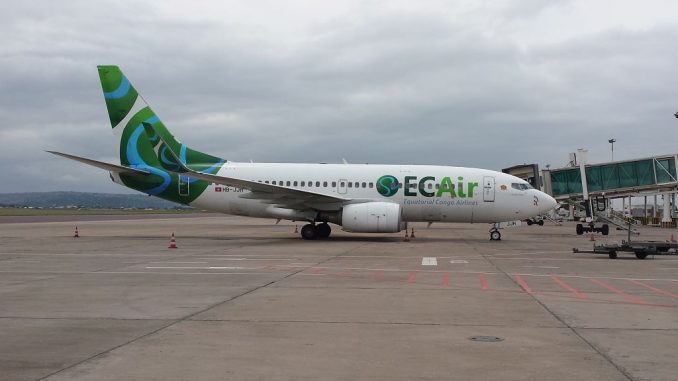 During the 2000s, African countries watched as foreign airlines made strides connecting their countries to the world through expanded service and alliances. From that rose the large African carriers of today such as South African Airways, Ethiopian Airlines and Kenya Airways. However, that yearning for success drove some countries to take a step toward and potentially start their own flag carriers, one of which was The Republic of the Congo.
Backed by the Congolese government, Equatorial Congo Airlines was launched by a group of private investors. Abbreviated as ECAir, the airline had the hopes of connecting the capital city of Brazzaville to the world. The country had high hopes for the airline, with service launching in 2011 and the airline expecting to turn a profit by 2014.
ECAir started service on September 24, 2011, with a single Boeing 737-300 and route map restricted to flights within the Republic of the Congo. However, with expansion to Europe on the airline's mind, the carrier started taking strides to avoid ending up on the European Union's list of banned airlines, of which several African countries find themselves on. To bypass this, their aircraft would be leased from and have maintenance work done by PrivatAir of Switzerland.
Over the next few years, the carrier started a slow and steady expansion plan, taking on two new aircraft per year. Alongside their continued Africa expansions, ECAir started their service to Europe with Boeing 757-200 flights to Paris Charles de Gaulle Airport as well as expanding into the Middle East with flights to Dubai.
At its peak, the airline had as many as seven aircraft in their fleet with a mix of Boeing 737-300s, Boeing 757-200s and Boeing 767-300ERs doing the flying. ECAir also saw future expansions in the works with an order for one Boeing 787-8 Dreamliner in the books to open up flying to North America and Asia. Furthermore, the airline started a fleet renewal with used Boeing 737-700s coming onboard to replace the older Boeing 737-300s.
Unfortunately, the airline would not see many of these plans come to fruition. Due to the carrier's decision to never release a financial statement or quarterly profit reports, rumors started to spread that the airline's bold expansions left them on the brink of failure. Independent investigations into Equatorial Congo Airlines claimed that airline had lost between $400 million and $500 million in its five years of operations, all while continuing their bold expansion plans in hoping to turn a profit and become successful.
As the debt continued to pile up, the deals that airline had in place with various companies started to sour. PrivatAir threatened to start pulling aircraft over a lack of payments and the airline never took hold of their Dreamliner because of cash disputes, resulting in the 787 being flown straight to the Southern Logistics Airpark in Victorville, California for storage.
Furthermore, ECAir found itself in a dispute with ASECNA, the main air traffic and navigation provider for Central Africa. When ECAir claimed they couldn't make the payments demanded from ASECNA, the company suspended ECAir from using ASECNA services.
With aircraft potentially disappearing and no navigation service provider, ECAir suspended operations. The airline's last day of operations was October 10, 2016. After this day, the airline would return its fleet of Boeing aircraft to PrivatAir.
Despite having no way to turn a profit and no aircraft, ECAir dragged its heels on liquidating themselves. The airline says they are still in a restructuring period and have still held on to a few employees. This has caused a dispute for those that claim to still work for the airline since they would have to quit to formally leave the company and risk losing unemployment benefits.
This battle between employees and the airline continue, with attempts to force the airline to liquidate yet to yield results.
Although Ian McMurtry was never originally an avgeek, he did enjoy watching US Airways aircraft across western Pennsylvania in the early 2000s. He lived along the Pennsylvania Railroad and took a liking to trains but a change of scenery in the mid-2000s saw him shift more of an interest into aviation. He would eventually express this passion by taking flying lessons in mid-Missouri and joining AirlineGeeks in 2013. Now living in Wichita, Kansas, Ian is in college majoring in aerospace engineering and minoring in business administration at Wichita State University.
Latest posts by Ian McMurtry (see all)