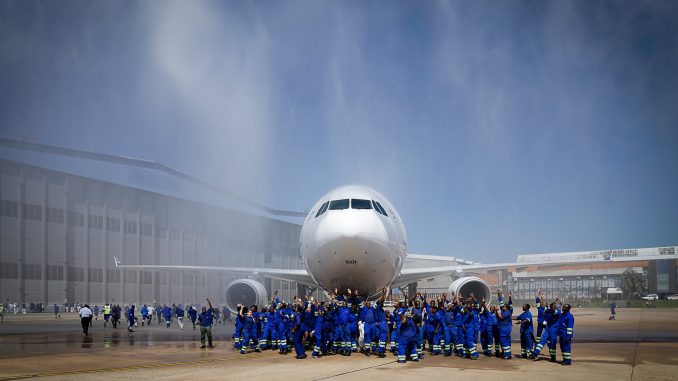 South African Airways is yet again looking for help as the airline attempts to get out of its financial hell hole from years of being unprofitable. The carrier, who has taken numerous government cash injections to stay afloat, is currently on what they call the "2021 Path to Profit" in hopes of making South African self-sustaining.
However, the flag carrier must now find ways of making money without accepting cash as banks refuse to lend any further loans to the airline after the carrier took a government bailout to avoid defaulting on a loan last year. One aggressive strategy the carrier is looking at is to sell off some less valuable assets for a quick cash infusion.
According to a report from the City Press, the airline's cargo arm SAA Cargo and catering company Air Chefs could be sold for a quick profit. SAA Cargo accounts for just under 6 percenr of the parent company's profits while Air Chefs is a lot less at roughly 0.5 percent of yearly revenue.
The airline has already made changes over the years in hopes of turning profitable but yet to see any major cuts in their ballooning debt. South African retired the 10+ year old Boeing 737-800 fleet in favor of newer Airbus A320 aircraft in recent years and also took hold of Airbus A330-200s and A330-300s to operate the airline's high-density routes to Europe, North America, Asia and Australia.
The carrier is also still mulling over how to dispose of the gas-guzzling Airbus A340-600 fleet, with Boeing 787 Dreamliners and A350s or A330s being considered though the carrier failed to make a move to secure orders due to financial concerns.
The flag carrier's unprofitability is nothing new with SAA losing roughly R5.7 billion ($387 million) in the carrier's previous financial year (March 2017-February 2018). The airline has lost similar values in recent years, reporting net incomes in losses of R5.569 billion, R1.478 billion, and R6.142 billion in previous operating years. South African expects to lose a similar amount as it did last year, with the rising fuel costs being to blame.
Despite nearing bankruptcy, CEO Vuyani Jarana is maintaining a positive note for the carrier. He was quoted in Bloomberg as saying, "I am still quite comfortable about the execution of the [2021 Path to Profit]….On revenue, we are quite happy, but other aspects are more difficult." The airline's revenue has slowly increased yearly, seeing small increases from R30.492 billion in 2015 to R30.742 billion in 2017.
In the short term, the carrier will keep track of nearby competitors and other large African carriers to see how they handle the rising fuel costs and see if a similar strategy could shave some of SAA's annual operating expenses. The airline also expects to overhaul their international business strategy in hopes of slashing expensive routes and markets that have forced the carrier to bleed cash for years. South African announced earlier this year that potential staff cuts could be made, but the airline is still finalizing the 2021 Path to Profit and doesn't expect any changes to staff to be made immediately.
Although Ian McMurtry was never originally an avgeek, he did enjoy watching US Airways aircraft across western Pennsylvania in the early 2000s. He lived along the Pennsylvania Railroad and took a liking to trains but a change of scenery in the mid-2000s saw him shift more of an interest into aviation. He would eventually express this passion by taking flying lessons in mid-Missouri and joining AirlineGeeks in 2013. Now living in Wichita, Kansas, Ian is in college majoring in aerospace engineering and minoring in business administration at Wichita State University.
Latest posts by Ian McMurtry (see all)