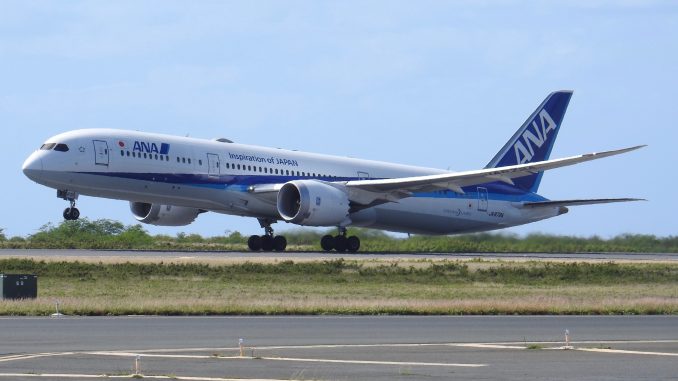 All Nippon Airways (ANA), the largest airline in Japan, has announced that its profit for the first half of the fiscal year has plunged 37.7 percent.
According to ANA, the net profit for the first six months was ¥73.74 billion as it faced headwinds from higher fuel costs and increased expenses for safety, quality and personnel.  In addition, the airline stated that Japan's economy has continued to experience a gradual recovery with personal consumption picking up in accordance with continued improvement in corporate earnings, which should result in improved future results.
In the domestic market, the number of passengers and revenue decreased by ¥2.8 billion due to the impact of the Hokkaido Eastern Iburi earthquake and typhoons. From July to September, Typhoon Jongdari, Jebi and Trami directly impacted Japan, with Kansai Airport forced to terminate all flights for days. This hasn't been the airline's first externally caused challenge, as earlier this year over 100 flights were canceled due issues with its Rolls-Royce engines.
While the domestic market has seen its share of challenges, the airline's international market has performed well, with the number of passengers and revenue increasing due to a strong demand in the country and China. Revenue from international passenger services increased by ¥35.5 billion, up 12 percent year over year.
Meanwhile, revenue from the airline group's low-cost carriers, Peach Aviation and Vanilla Air, increased by ¥4.1 billion, up 9.5 percent year over year. Peach has continued expanding its route network, while Vanilla Air has attempted to combat competition by offering discounted tickets to Hong Kong and Taiwan.
The airline's cargo results proved to be mixed, with revenue from domestic cargo dropping 7.66 percent but offset by international cargo services showing revenue up 17.1 percent. Despite the earthquake and typhoon earlier this year, ANA has not revised the consolidated financial forecast.

Will has been a travel agent in Hong Kong for almost three decades, as time goes by he hasn't lost his passion for his job, He still has plenty of enthusiasm for the airline industry and airport operations.