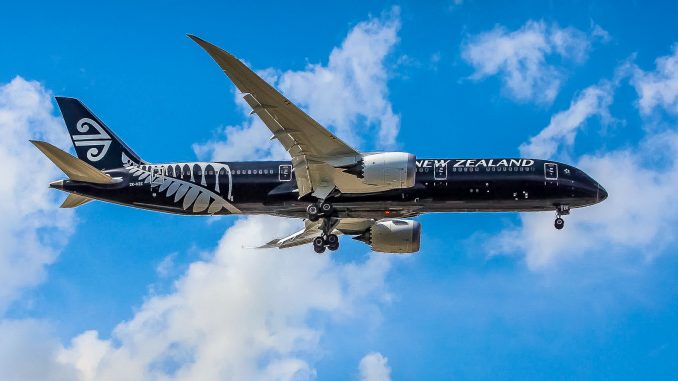 Air New Zealand's newest route from Chicago to Auckland took off at 5 p.m. yesterday as what is now the carrier's longest route, overtaking Air New Zealand's previous longest route from Auckland to Houston. The flight, NZ26, is estimated to take slightly over 16 hours, whereas the flight time for the Auckland to Houston route is slightly over 13 hours.
"We're excited to offer our customers a direct link between New Zealand and Chicago. With our alliance partner United operating more flights out of its hub of O'Hare International Airport than any other airline, the new service to Chicago will provide customers with convenient one-stop codeshare connections to around 100 destinations across the US," said Christopher Luxon, Air New Zealand's CEO.
"New Zealand already welcomes around 340,000 visitors annually from the US and we anticipate this number will grow with the introduction of this new service. We expect the route will contribute around NZD 70 million annually to our economy ($48 million) – and we know 50% of spending by US visitors is done outside the main centres," added Luxon, who is also traveling on board the inaugural flight.
New Zealand's Tourism Minister, Kelvin Davis, who will also be on the inaugural flight, stated, "More and more Americans are coming here to experience our manaakitanga, our unique Kiwi hospitality that makes visitors feel like whānau as soon as they step off the plane."
The flight will be operated with the carrier's new Boeing 787-9 Dreamliner and will depart Auckland on Wednesdays, Fridays, and Sundays, arriving in Chicago in the early evening. It is worth noting that Air New Zealand's new flight will also be the longest flight operated by any carrier at Chicago O'Hare and the deepest inland flight to the United States from Oceania.
Air New Zealand's Boeing 787-9 Dreamliners are configured in a three-class configuration featuring business, premium economy and economy classes. Although there are to layouts to the aircraft, according to Seat Guru, business class is arranged in a 1-1-1 herringbone configuration, while premium economy is configured in a 2-3-2 configuration and economy is configured in the standard 3-3-3 configurations found on most Dreamliners.
Chicago is a key destination for Air New Zealand as it serves the small communities of New Zealanders living in the city and in nearby Wisconsin, but also because the city is a hub for fellow Star Alliance member United Airlines. The flight is strategically timed for customers to be able to make connecting flights on United's mainline and regional network, with cities such as New York, Washington and Boston just an additional 2-hour or so flight away.
United Airlines is the only American member of the alliance, but Air Canada also participates in the alliance, serving its Montreal, Toronto and Vancouver hubs from Chicago. United and Air Canada's presence and connecting options at Chicago alleviates existing pressure on Air New Zealand flights to Los Angeles and Houston, as passengers now have more options for cities to connect through.
Neighboring airline Qantas has also been evaluating a non-stop flight between Chicago and Australia, especially since the carrier took delivery of its first Boeing 787 Dreamliner earlier this year. Qantas has not announced a timeline for when it would commence its route to Chicago, but the airline is currently using its 787-9s on non-stop flights from Brisbane and Melbourne to Los Angeles, as well as Melbourne to San Francisco, and will begin service from Brisbane to Hong Kong next month.
An "AvGeek" for most of his life, Akhil has always been drawn to aviation. If there is an opportunity to read about an airline, fly on a new airplane, or talk to anyone about aviation, he is on it. Akhil has been on over 20 different kinds of aircraft, his favorite being the MD-80. Additionally, he has visited 5 continents and plans to knock out the remaining two (Africa and Antarctica) soon. Based in Dallas, Akhil graduated from Texas A&M University with a degree in Management Information Systems and currently works in consulting. His dream is to become an airline executive.
Latest posts by Akhil Dewan (see all)