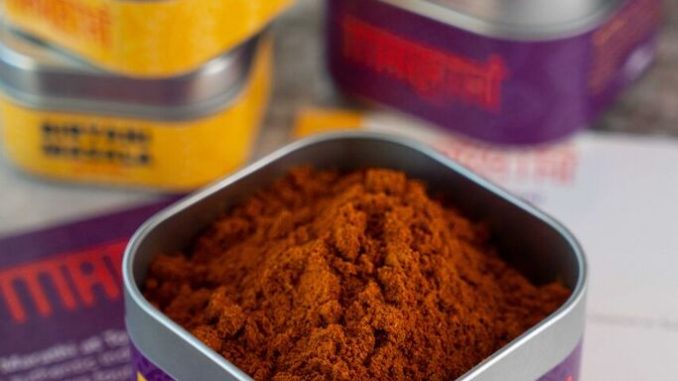 On Monday, airport restaurateur and hospitality company OTG will be launching a unique holiday promotion at one of its restaurants at Toronto Pearson International Airport. The well-established Indian restaurant Marathi, located in Pearson's Terminal 1, will be giving away spice kits to diners so they can recreate a special chicken biryani dish at home.
OTG opened Marathi to highlight the long-standing Indian community in Toronto and its neighboring suburbs. The restaurant serves as a change of pace from the usual airport fast food options, providing local flavor to those passing through the airport from all parts of the world. The chef behind it all is Paul George, an esteemed chef who's took the helm at Marathi five years ago and has since personally curated and prepared his own blends of spices to be used in the restaurant's unique offering.
The menu featured the traditional Indian classics that many will recognize along with a mix of street food that one can find on just about every street corner in India. Marathi aims to be as authentic as possible, solving the common problem of airport eateries and their authenticity to the cuisine their serving. Chef George relates this to the spices used, stating that the secret to Indian food is the "delicate balance of blending spices."
Preparing Indian food at home can be a daunting task for many; however, Chef George hopes that diners can go home and experiment with the spices to recreate some of the recipes for themselves. The spice kits given by OTG this holiday season will contain instructions and all the spices needed to recreate the chicken biryani featured at Marathi.
Marathi is located in post-security Terminal 1 near gate E78. They'll be giving away spice kits for the next three weeks for diners at the restaurant.
OTG: New York and Houston
Marathi is just one way that OTG has been working to bring local cuisine to the many airports they operate in. In the New York metro area airports, restaurants are focused around refined elegant dining, highlighting New York City as one of the most refined culinary centers of the world. At Newark Liberty International Airport, the company recently opened a secret restaurant last year called "CLASSIFIED" that's only open to invited guests in partnership with United Airlines, aimed at providing an exclusive high-end experience.
Moving down south to Houston's George Bush Intercontinental Airport, OTG has worked with pitmaster Greg Gatlin to bring some southern flair to the airport. A spinoff of popular Houston BBQ joint, Gatlin's BBQ opened up at the airport earlier in the year. The restaurant. simply titled "Q" .offers up a menu that distills the best things that Texan BBQ has to offer.
These restaurant options serve passengers in two ways, they offer weary travelers an alternative to the typical fast food options found in airports and also give passengers who are just connecting through the airport the opportunity to experience the culinary aspects of the regions they're traveling through without leaving the airport.

Hemal took his first flight at four years old and has been an avgeek since then. When he isn't working as an analyst he's frequently found outside watching planes fly overhead or flying in them. His favorite plane is the 747-8i which Lufthansa thankfully flies to EWR allowing for some great spotting. He firmly believes that the best way to fly between JFK and BOS is via DFW and is always willing to go for that extra elite qualifying mile.

Latest posts by Hemal Gosai (see all)