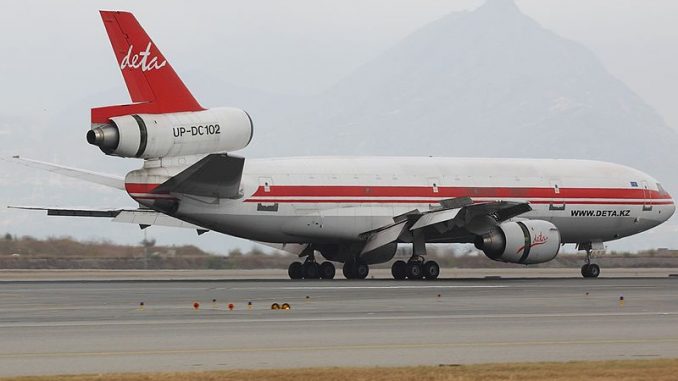 After the fall of the Soviet Union, the newly-formed Commonwealth of Independent States (CIS) region of Europe would become a melting pot of new privatized airlines looking to capitalize on new markets and untapped services inside these newly independent nations. This trend would see airline rise in fall in the 1990s and early 2000s, one of which was the charter and cargo hybrid carrier DETA Air.
DETA Air officially started applying for charter flight certificates in 2003 with the airline gaining their operating certificate in 2005. DETA would start small using three Ilyushin IL-62 and a charter operation that was based at Almaty, Kazakhstan. Most of the airline's early operations were kept to CIS countries, with flights to Russia, Georgia and inside Kazakhstan making up a majority of the airline's early routes.
The airline never made the push to go commercial and instead left SCAT Airlines and newly formed flag carrier Air Astana to deal with commercial operations for the country while their three aircraft fleet would take charter operations. The airline would add service to Hohhot, China in the years following their launch as they continued to strive to find the market that best suited them.
On top of that, DETA would also create their own travel and leisure packages to allow passengers to create their getaway vacation. The airline would have travel offices in Almaty and offer travel packages online that would allow people to book hotels and attraction visits before flying on a DETA IL-62 to their intended destination.
Eventually, the carrier made the move to get outside of charter and leisure operations and in 2009 announced the start of DETA Air Cargo. The airline would take hold of two ex-Aeroflot Cargo Douglas DC-10-40Fs and utilize its base in Almaty as a way to connect the Silk Road markets of Asia and Europe. With a central base in Almaty, cargo operations for DETA would include services to Hong Kong and Shanghai in Asia and one lone European destination in Istanbul. While both aircraft would bear the DETA name, both would wear different liveries with UP-DC101 wearing a whitetail while UP-DC102 wore a more red and white balanced tail.
But the addition of new aircraft for DETA wouldn't stop at the DC-10 as the charter operations were the next to get overhauled. The Kazak airline would remove the three aging Ilyushin IL-62s from the fleet in late 2010 and early 2011 as the airline took hold of one ex-Air Baltic Boeing 737-500. The 737-500, bearing registration UP-B3708, was introduced to the DETA fleet in February 2011.
But DETA's ability to remain profitable was always slim and with the increasing fuel prices and a weakened economy, the airline struggled to turn a profit. DETA's lone 737 would last less than a year in the company's colors before the aircraft would go on a long-term lease to Ukraine-based AeroSvit Airlines in 2012.
The leasing agreement with AeroSvit could not save DETA from seeking more radical restructuring practices, 2012 would see the airline suspend cargo operations in an attempt to save the airline from a darkened fate. Both DC-10-40Fs would exit the fleet in mid-2012 with UP-DC101 being flown to Fujairah International Airport in the United Arab Emirates and UP-DC102 being flown to the Southern California Logistics Airport in Victorville, California for long-term storage.
DETA had hoped to relaunch their own charter operations over time but the Kazak government would have the final say in the private company's fate. The Kazakhstan Ministry of Transport and Communications revoked the operating certificate for DETA Air in 2013 citing that the airline could not keep up with the newer regulations that the Civil Aviation Committee of Kazakhstan was releasing. The minister gave the airline a chance to either meet the regulations and return to service or suspend operations altogether. With little cash, a mountain to climb to restart service and not much of a fleet left, DETA opted to cease operations.
The two cargo aircraft stored in the deserts would be returned to their lessors and AeroSvit would buy out the contract for the lone Boeing 737-500 to keep the aircraft in the Ukrainian airline's fleet until their collapse two years later.
Although Ian McMurtry was never originally an avgeek, he did enjoy watching US Airways aircraft across western Pennsylvania in the early 2000s. He lived along the Pennsylvania Railroad and took a liking to trains but a change of scenery in the mid-2000s saw him shift more of an interest into aviation. He would eventually express this passion by taking flying lessons in mid-Missouri and joining AirlineGeeks in 2013. Now living in Wichita, Kansas, Ian is in college majoring in aerospace engineering and minoring in business administration at Wichita State University.
Latest posts by Ian McMurtry (see all)