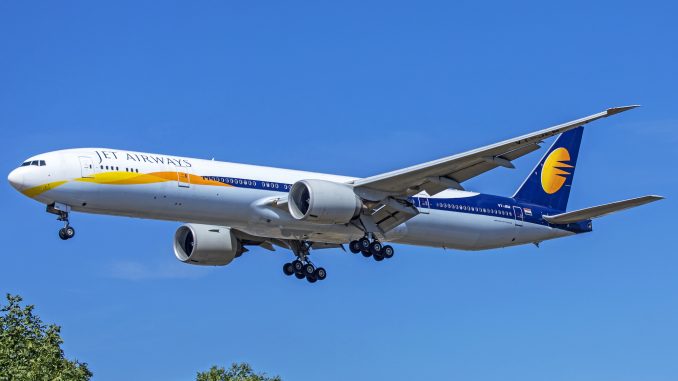 As reported in late January, Indian airline Jet Airways has been experiencing cash flow troubles that have forced the airline to delay salaries, payments to vendors and more. Aircraft deliveries have also been delayed as the Boeing 737 MAX was supposed to join the fleet in March but has since been pushed back.
The airline's fall from grace has been long and drawn out with it only being profitable in two of the past 11 years. In addition to being unprofitable, Jet Airways' market share has been cut by over half, with new and leaner airlines beginning to sprout across the country. What was once a potential darling of the industry at the time of industry liberalization has turned into a lemon.
One of its most recent financial woes, Jet Airways defaulted on a payment of the principal and interest to the consortium of Indian banks that had lent it money to keep it afloat. The default pushed the airline and lenders over the edge, leading them to finally get together to hammer out a deal.
Bailout Package
After weeks of negotiations, bankers have proposed a bailout package of nearly $1.2 billion. The majority of this involves a debt-to-equity swap that would put the lenders as the largest shareholders of the airline. This was originally a sticking point with Jet Airways' Chairman Naresh Goyal, who owns a significant share of the airline, as any additional equity would dilute his ownership share. The remainder would come from new capital infusion and asset sales.
Etihad, another investor in Jet Airways, says that its investment depends on Goyal being reduced to a 22 percent share in the airline from the current 51 percent. Etihad's involvement in the bailout plan is yet uncertain as of now.
However, it is expected that Goyal's stake in the airline will drop to anywhere from twenty to twenty-five percent from 51 percent based on various estimates. For now, speculation is all that can be offered as the exact details of the deal have not been revealed. If Goyal was to have his share cut to twenty percent, it would effectively strip him of board membership and management control, a move that will likely come as great relief to many.
Shareholder Approval Pending
A bailout will need approval from all lenders, along with Goyal, and the board of Etihad. A meeting has been called for Feb. 21 to seek approval from the various stakeholders and also name bank nominees to the Jet Airways board. Currently, the Jet Airways board has approved the deal. Etihad will also face a dilution in its ownership share, likely to 12 percent in its Indian investment.
In addition, a significant portion of the carrier's debt will be converted into long-term debt with a repayment period of 10 years. The majority of the raised funds here will be used to repay other debt and meet operating costs such as salaries and vendor payments.
While stakeholders involved in this process may be cautiously optimistic it is likely that this will not be a long lasting solution the airline's troubles. The airline still struggles operationally and due to the nature of the market it operates in, cannot easily raise fares.
More recently, the airline has come under scrutiny by the Indian regulatory body, the Directorate General of Civil Aviation. The regulator is now reviewing the airline's schedule of flights every two weeks to ensure that it is operating flights and is not suddenly causing flight disruptions due to the grounding of aircraft. This measure is likely due to uncertainty that the airline will be able to operate its full schedule, especially after four aircraft have been grounded due to failure by Jet Airways to make its lease payments for them.

Hemal took his first flight at four years old and has been an avgeek since then. When he isn't working as an analyst he's frequently found outside watching planes fly overhead or flying in them. His favorite plane is the 747-8i which Lufthansa thankfully flies to EWR allowing for some great spotting. He firmly believes that the best way to fly between JFK and BOS is via DFW and is always willing to go for that extra elite qualifying mile.

Latest posts by Hemal Gosai (see all)