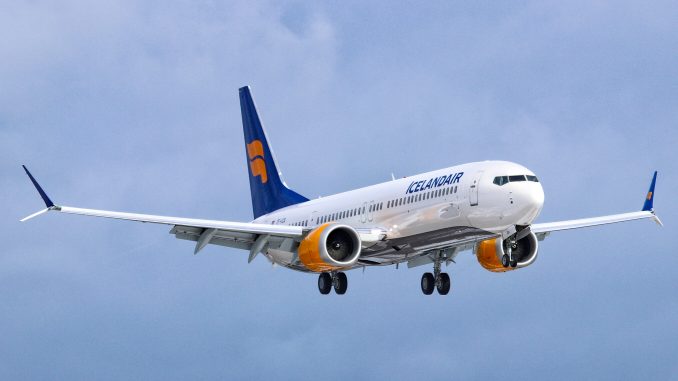 Icelandair CEO Bogi Nils Bogason was confirmed into his position in December after replacing former president and CEO Björgólfur Jóhannsson in an interim appointment in August 2018. Since 2010 Bogi Nils had held the position of Chief Financial Officer of the Icelandair Group, a role he had also held from 2004 to 2006 before leaving and rejoining the group.
Bogi Nils' predecessor resigned after a disappointing low earnings result which Jóhannsson took responsibility for by saying that the result was because of strategies which occurred "during my shift and it is clear that they have had negative financial impact on the company."
The months since Bogi Nils took over as CEO have been eventful with Icelandair announcing in early November that they were entering into a purchase agreement for local rival WOW Air only for the deal to be dropped before the month was over. The decision to cancel the purchase was made by the Icelandair board following the expiration of a time limit for due diligence to be done on WOW.
2018 also saw the airline consolidate its product offering by removing its Economy Comfort class (Premium Economy equivalent) and hybridizing the economy offering to meet the needs of customers. On a more positive note, Icelandair has recently opened a new SAGA Business lounge at their Keflavik hub which is rating well with their premium customers and frequent travelers.
Against this backdrop, AirlineGeeks sat down with Bogi Nils and Chief Commercial Officer Gunnar Már Sigurfinnsson earlier this month during the airline's Mid-Atlantic tradeshow in Reykjavik to discuss the current and future strategy of Icelandair.
Gunnar Már, who has been with Icelandair Group since 1986, delivered the opening presentation at the event which showcases Icelandair's network and brings together travel industry buyers and sellers from FI destinations. The diversity of Icelandair's network was highlighted by attendees to Mid-Atlantic where amongst major destinations and countries such as Seattle, New York and Germany were exhibitors representing Stockholm's ABBA Museum, Kansas City Airport, hotels in Minnesota in addition to local Icelandic travel operators.
Network Strategy
Iceland as a destination has seen what can only be described as phenomenal growth within the last decade. Since 2012 visitors to Iceland have increased by 240 percent from 647,000 to a forecast of 2.5 million for 2018, the off-season winter months have seen a 400 percent increase in visitors. Interest in Iceland has been driven by a heightening of the country's profile as a location for movies and television such as Star Wars: Rogue One and Game of Thrones as well as the disruptions caused by the Eyjafjallajökull volcano eruption in 2010.
Assisting this rise in tourism has been Icelandair's network strategy which leverages the country's position on flight paths between North America and Europe by creating a hub and spoke network through Keflavik airport. Icelandair promotes itineraries which allow their passengers to stopover for free when traveling between their 23 destinations in North America and 24 cities in Europe.
Bogi Nils and Gunnar Már refer to this strategy as the 'Via' Market and it accounted for 51 percent of their passenger total in 2018, of which 30 percent stopover in Iceland. In terms of expanding the number of destinations and current focus of Icelandair, Bogi Nils said that "the focus is on the current network, to lower costs and improve profitability." With the home market population of 337,000 accounting for only 13% of Icelandair's market, Gunnar Már sees that the "future potential is in the Via Market."
With the incredible growth experienced by Icelandic tourism in recent years, Icelandair has seen its network and operations also expand. With the introduction of Keflavik-based WOW Air as a competitor in 2012, Icelandair sought to compete directly with the low-cost startup and this has resulted in operations to unsustainable destinations.
Both airlines have introduced and then withdrawn from a number of routes in recent years. Bogi Nils did not discount further expansion in the future and said that "a few destinations are on the drawing board" and conceded that the airline was "looking at Los Angeles (LAX)."
However. Bogi Nils said that the previously announced flights to India were being "reviewed" due to a "challenging environment." He also noted that any consideration to fly to China was problematic given "issues flying over Russia."
Scheduling Plans
Icelandair's vision is "to unlock Iceland's potential as a year-round destination, to strengthen Iceland's position as a connecting hub and to maintain our focus on flexibility and experience." The utilization of Keflavik as a connecting hub has posed challenging for operators to the country with the rise in tourism. The airport, not surprisingly, was ill-prepared for such growth and is playing catch-up announcing a five-year plan to expand terminals and available gates.
Exacerbating the congestion issues have been the consolidation of Icelandair's arrivals from North America, departures to Europe and vice versa. This also led to issues for the airline with regards to flight disruptions which meant passengers could be delayed for up to 24 hours until the next departure.
To counter these issues Icelandair announced what Gunnar Már has described as "a gamechanger" — the scheduling of a double bank of flights to North America. "The introduction of the double bank will improve utilisation of aircraft and people, create more flexibility and give more resilience against disruptions and delays as well as improve the utilization of airport performance."
Fleet Outlook
Icelandair currently has a fleet of 757s, 767s and 737 MAX aircraft, of which three 737 MAX 8 aircraft are in operation with six more on order and the first of three 737 MAX 9s arrived last week. Bogi Nils said that the "we have a good mix of older and new aircraft" and that "the 737 MAX is performing in line with expectations." Delays to the arrival of further 737 MAX aircraft into the airline's fleet are "due to delays in production (at Boeing) and they are expected to be in service for summer 2019."
The 757 aircraft are the workhorses of Icelandair's fleet but their operating costs and fuel inefficiency compared to newer aircraft may see them exiting the fleet earlier than scheduled. To improve efficiencies Gunnar Már said that the airline is adopting several practices such as "flying slower, planning different flight approaches and utilizing one engine taxiing."
Bogi Nils said a decision on the future of the twenty-six 757s in the carrier's fleet "would be made in September/October of this year" and may result in them "exiting the fleet earlier than the current 2025 scheduled date." He does expect that Icelandair will "keep the four ex-Air New Zealand 767 aircraft longer." Gunnar Már was clear to attendees at the Mid-Atlantic presentation that Icelandair's "fleet plan assumes continued growth" for the airline.
When discussing replacement aircraft for their long-haul operation, Gunnar Már confirmed that they are providing "input with Boeing on the NMA (New Midsize Airplane)." Cargo capacity is of importance to the company as they transport a significant amount of fish on their network, a valuable export for the country. Therefore having an aircraft that can service both Icelandair's passenger and cargo network is "crucial," according to Gunnar Már whose previous position was as Managing Director of Icelandair Cargo.
Commercial Strategies
Moving forward, the focus for Bogi Nils and his executives is to "lower ownership costs and do more with union groups to lower costs." Gunnar Már cited the introduction of a new revenue management, origin and destination (O&D) system as a way in which Icelandair will enhance revenue.
The system, similar to one already in use by airlines such as Finnair, will "bring a new set of skills" into the airline and will be implemented on 27 Márch. This will see FI's booking system increasing the number of O & D options offered "from 47 pairs to 670," said Gunnar Már.
Financial Position
After the corporate turmoil of the latter months of 2018, Gunnar Már was clear that "Icelandair is not in trouble" and that the airline is "well prepared and strong financially." He did predict that FI would report a net loss but that the company's position was such that they had "equity of 32 percent, no long term debts and a positive cash flow position." Though Bogi Nils did mention that concerns around Brexit and its effects on the U.K., "an important Market," he reiterated that his focus going forward as CEO would be to "improve (Icelandair's) profitability."
Update: 2/20/2019 3:14 P.M. – The article was updated to clarify the reasoning for Icelandair's decision not to purchase WOW air and a section was removed that indicated that Icelandair still has an option to buy WOW air, which is incorrect.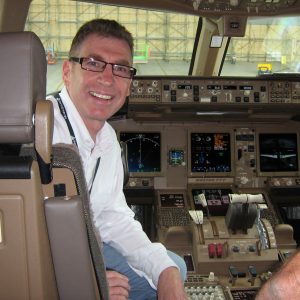 John has always had a passion for aviation and through a career with Air New Zealand has gained a strong understanding of aviation operations and the strategic nature of the industry. During his career with the airline, John held multiple leadership roles and was involved in projects such as the introduction of both the 777-200 and -300 type aircraft and the development of the IFE for the 777-300. He was also part of a small team who created and published the internal communications magazines for Air New Zealand's pilots, cabin crew and ground staff balancing a mix of corporate and social content.

John is educated to postgraduate level achieving a masters degree with Distinction in Airline and Airport Management. John is currently the course director of an undergraduate commercial pilot training programme at a leading London university. In addition he is contracted as an external instructor for IATA (International Air Transport Association) and a member of the Heathrow Community Fund's 'Communities for Tomorrow' panel.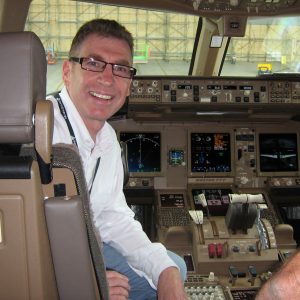 Latest posts by John Flett (see all)