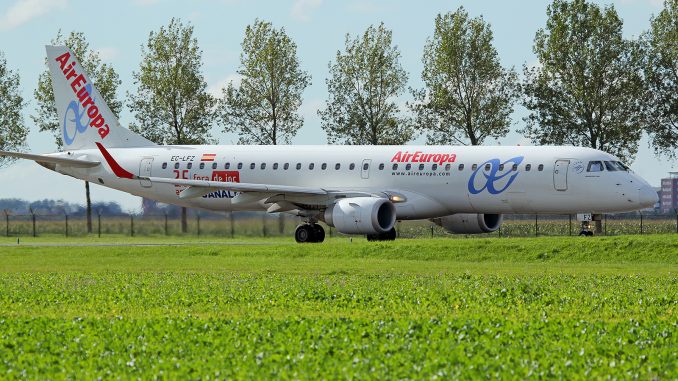 Irish low-cost carrier Ryanair and Globalia Group's Spanish carrier Air Europa have announced an end to their cooperation that had enabled both airlines to share each other's long and short haul capabilities.
Ryanair's head of marketing, Kenny Jacobs, cited the inability to integrate the computer and booking systems between both carriers as the reason for the decision.
In March 2018, amid much fanfare, Ryanair and Air Europa had announced a partnership that would have seen Ryanair offer long-haul flights to North, Central and South America via its Madrid hub. In return, Air Europa customers would have started benefiting from Ryanair's vast intra-European network.
Air Europa is Spain's largest airline behind Iberia and Vueling with a base on Mallorca and using Madrid as its hub. The Skyteam member operates long-haul routes across the Atlantic Ocean using eleven Airbus A330 and ten Boeing 787 aircraft.
The cooperation had not amounted to a full codeshare, instead just allowing both airlines to offer the partner's flights for booking on their websites. Ryanair had originally planned to center more of its operations towards Madrid in order to feed Air Europa's hub. Jacobs now confirmed this is no longer in the cards.
Ryanair is, however, not giving up entirely on the idea of expanding its service offering to long-haul flights. CEO Michael O'Leary clarified that Ryanair would still not build its own long-haul service but that the airline remained interested in cooperating with other airlines. "We will continue to search for a network partner for suchs services," Jacobs confirmed, with the goal of offering long-haul flights to Asia or South America within the next three years.
This thinking keeps Ryanair's strategy aligned with competitor easyJet's "worldwide" service, which cooperates with partners such as Scoot, Norwegian and Emirates to offer passengers long-haul booking options.
While Ryanair's cooperation with Air Europa is now a thing of the past, it appears that its only other partnership with another airline, Air Malta, would continue for now.
Adrian joined AirlineGeeks as a writer in 2017. He had always wanted to become a pilot and while he chose a different career path for now, his interest in aviation continues to grow every day. Adrian was fortunate to travel extensively for business in the past five years. As a result, he focuses his research and writing on passenger services and experiences on a variety of airlines. His favorite aircraft include the Airbus A350, A380, and the Embraer passenger jets.
Latest posts by Adrian Vannahme (see all)