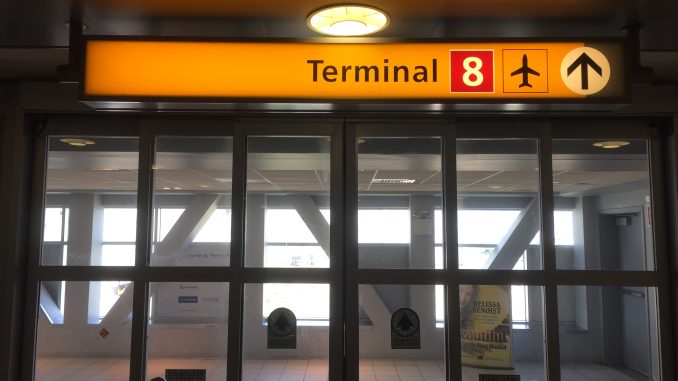 When it comes to airports luring in new passengers, the challenge always seems to be having the lowest airfare and best routing and airline options while winning over travelers with new designs and amenities like WiFi and new lounges. However, a trend has formed that has seen airports target a new type of person, shoppers.
Airports across the world have had shops and convenience stores near gates as far as time can recall, but the ability to access both airside and landside shops has varied by airport. Terrorism and the effects of 9/11 have seen shopping on the airside without traveling the same day become increasingly strict, but that has started to change in both how airports are built and how people can access those restricted stores.
Pittsburgh International Airport made the biggest splash about shopping in 2017 when the airport announced they would offer a ticket option called "myPITpass" that allowed the non-flying public past security. Acquiring access to PIT's range of stores still requires that all members pass the same requirements as those flying, including waiting in a TSA line and bringing a government-issued ID.
The airport has flirted with the idea of offering airside shopping for a while, previously hosting specific dates closer to the winter holidays that allowed a select few past the security line. MyPITpasses can be acquired at the main departure hall of the landside terminal near the Allegiant Air check-in counter.
For those who don't want to go through airport security, there is still an ample number of airports that offer access to stores and shops. Airports large and small like Munich, Germany and Fort McMurray, Canada have rolled out "3-hour parking" passes that allow for three hours of free parking at their airport if people show a receipt form one of the airport's pre-security shops.
Furthermore, some airports require parking but have built themselves into a mall with the number of stores that are offered. Orlando International Airport's central terminal building is built like a mini-mall with a large variety of shops and restaurants on offer.
The terminal building is home to local brands like Walt Disney World's EarPort and Kennedy Space Center to larger brands such as Harley-Davidson, FinishLine and Johnston & Murphy while also having sit down restaurants such as Romano's Macaroni Grill and Hemisphere's Restaurant. Orlando has promoted shopping in the past through signage around the airport and on social media using the #ShopMCO hashtag. All in all, the airport has over 150 stores on offer including those past the security checkpoint.
The trend is continuing across Europe, where airports are willing to provide large amounts of shops pre-security for those looking to spend money. Amsterdam Airport Schipol has a large shopping plaza under the airport at the base of the NS's Intercity Direct Line while allows both airport goers and shoppers to utilize the stores before going upstairs into the main terminal. Zurich Airport follows Munich's idea with $3 parking for up to three hours when consumers spend at least $60 in the airport shops and restaurants.
Finally, airports attempt to sell their duty-free goods online with airports in Asia and Europe catching on to this trend. Examples such as Singapore's Changi Airport and Hong Kong International Airport have online websites that offer a wide range of retail for purchase and even offer delivery and in-store pickup for locals and airport flyers.
This trend has also appeared with Hamburg-based Gebr. Heinemann as the company allows flyers to shop duty-free shop for the airport they are departing, arriving or connecting through to allow them to simply pick up the item from the store. Heinemann's online offer is available at most of its European airports and in Syndey, Australia. However, unlike the two previously mentioned Asian airport's online shops, Heinemann does not offer any delivery or pickup options for locals.
Although this trend is new, the airports mentioned in this article are just some of the trendsetters in pushing for shopping at the local airport. And while Pittsburgh's idea of allowing ticketed non-flying passengers through security may have had some outside backlash and may prevent some other larger airports from attempting something similar, the trend of shopping without flying or pre-ordering well before your trip is certainly here to stay.
Although Ian McMurtry was never originally an avgeek, he did enjoy watching US Airways aircraft across western Pennsylvania in the early 2000s. He lived along the Pennsylvania Railroad and took a liking to trains but a change of scenery in the mid-2000s saw him shift more of an interest into aviation. He would eventually express this passion by taking flying lessons in mid-Missouri and joining AirlineGeeks in 2013. Now living in Wichita, Kansas, Ian is in college majoring in aerospace engineering and minoring in business administration at Wichita State University.
Latest posts by Ian McMurtry (see all)