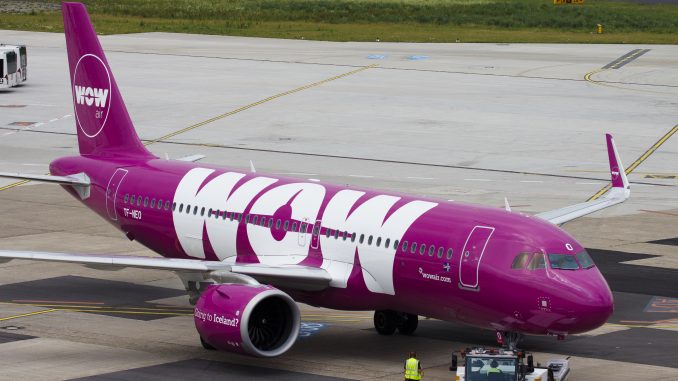 Iceland's WOW air has re-entered talks with rival carrier Icelandair for the acquisition of the struggling low-cost carrier. The decision to re-enter the talks with Iceland's main carrier came after Indigo Partners, owner of numerous low-cost carriers such as America's Frontier Airlines and Hungary's WizzAir, ended discussions with WOW.
In a statement released this week, WOW air stated that Indigo Partners had canceled its proposed investment and discussions had ended. The amount of the proposed investment by Indigo Partners was not released, but it is reported that Indigo was looking at a deal to acquire 49 percent of the carrier. That deal would also allow for Skuli Mogensen, CEO and founder of WOW, to remain the principal investor.
WOW air has struggled greatly over the past few months, as the carrier has been forced to cancel numerous routes, return many aircraft to lessors, and restructure its staff. It is reported that Icelandair would approach the deal based on the "doctrine of competition law regarding the failing firm defense," which basically lets regulators know that the deal would not have an impact on the market if the purchased firm were to go out of business should the deal not go through.
Initial rounds of merger talks with Icelandair failed after conditions required for the deal weren't met. The result was a hit to Iceland's tourism industry and a drop in the value of Iceland's currency. Icelandair itself has struggled over the past few months as well, reporting a loss of $55.6 million in 2018.
Icelandic authorities are also involved in the discussions and they are expected to conclude by this Monday. In a statement from the Icelandic government, authorities stated they were "supportive of these discussions and are willing and prepared to use all reasonable efforts to facilitate a positive outcome."
Should WOW air go bankrupt, Iceland could be looking at a drop in the nation's gross domestic product and another drop in the value of its currency.
An "AvGeek" for most of his life, Akhil has always been drawn to aviation. If there is an opportunity to read about an airline, fly on a new airplane, or talk to anyone about aviation, he is on it. Akhil has been on over 20 different kinds of aircraft, his favorite being the MD-80. Additionally, he has visited 5 continents and plans to knock out the remaining two (Africa and Antarctica) soon. Based in Dallas, Akhil graduated from Texas A&M University with a degree in Management Information Systems and currently works in consulting. His dream is to become an airline executive.
Latest posts by Akhil Dewan (see all)