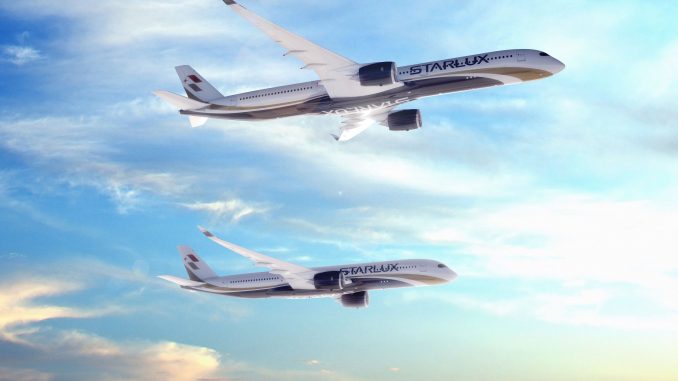 Taiwan-based Starlux Airlines and Airbus have signed a purchase agreement for 17 A350 aircraft. The deal includes five A350-900s and 12 A350-1000s. The A350-900 variants will be delivered in late 2021 and the A350-1000 will join the carrier in the third quarter of 2022. Also, Airbus will lease 10 A320neo jets to Starlux which will be delivered in October.
The airline is expected to have up to 27 aircraft by 2024. During the signing ceremony, Chang Kuo-Wai, the founder of the airline stated, "Starlux is committed to becoming one of the best airlines in the world."
Starlux Airlines will be the first Taiwan-based airline to fly the A350-1000. Jean Francois Laval, the Chief Commercial Officer of Airbus said in a press release, "The planes are 45 tonnes lighter and will fly up to 1000 more miles, enabling Starlux to serve U.S east coast destinations non-stop (from Taiwan)."
The A350-1000 provides 350 seats and the A350-900 has the capacity of 306 passengers. Both models will provide first class, business, premium economy and economy services.
The new jets will be powered by Rolls-Royce Trent XWB84 and Trent XWB97 engines.
The airline is expected to receive its air operator certificate from the Civil Aeronautics Administration at the end of the year, and is hoping to commence operations in December or early January. Earlier this month, 13 pilots have flown to Phoenix, Ariz. for a one-year training course.
Starlux Airlines is expected to face huge competition with China Airlines and EVA Air, the marketing strategy of the airline is targeted at high-end travelers. Chang said, "Starlux Airline is figuring out its route map carefully and considering expand the fleet in the future, A321neo and A330 are under the consideration." By the end of 2024, the airline believes that it will serve over 20 destinations in Asia and North America. Also, the airline expects to own a fleet of 50 aircraft by 2030.

Will has been a travel agent in Hong Kong for almost three decades, as time goes by he hasn't lost his passion for his job, He still has plenty of enthusiasm for the airline industry and airport operations.