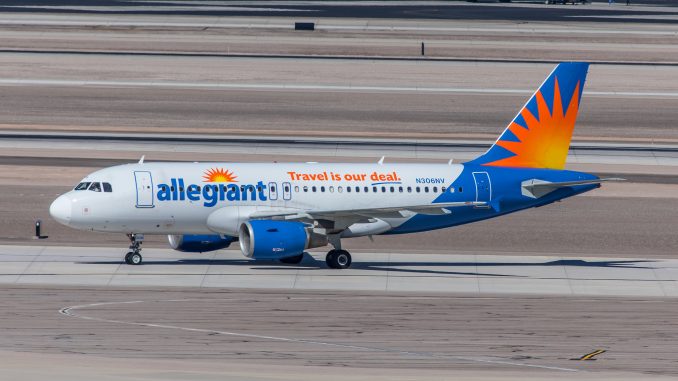 U.S. leisure carrier Allegiant Air has filed an application with the Department of Transportation to offer scheduled air services between the United States and Mexico. This would mark the beginning of international services for the Las Vegas-based carrier, which has so far limited its operations to 117 destinations all within the continental United States.
Allegiant indirectly serves cities in Canada through airports located along the Canada-U.S. border in such cities as Ogdensburg, Niagara Falls and Bellingham. Flights from Bellingham, Wash. to Anchorage, Alaska are set to begin on May 22, 2019, marking Allegiant's first service to the north of the 48 contiguous states.
"Offering service to Mexico will provide a whole new array of options for travelers to discover world-class destinations that may have been previously out of reach," said Maury Gallagher, Allegiant chairman and chief executive officer, in a statement announcing the application. "We believe that providing scheduled service to Mexico will also be of great economic benefit."
While no indication has been given as to which destinations in the United States will see the launch of services to Mexico, Allegiant currently bases aircraft in 15 cities, with five of them seeing more than 600 monthly departures according to March 2018 data. Three of these bases are in Florida in the cities of Orlando, St. Petersburg and Punta Gorder, one is in Las Vegas and another in Mesa, Arizona.
Of these five destinations, however, Punta Gorda Airport and Phoenix-Mesa Gateway Airport are not currently equipped to accommodate international service since there are no U.S. Customs and Border Protection (CBP) facilities for commercial flights. As no Mexican airport features border preclearance, service cannot begin to the airports until Federal Inspection Stations are added.
While the DOT application represents Allegiant's first step in commencing international services, the airline will likely have to review other aspects of its operation to fulfill CBP requirements the same way other domestic-only U.S.  carriers had to do when they decided to expand their network to other countries. For example, when Southwest Airlines decided to launch flights to Mexico and the Caribbean in 2012 after the Air Tran merger, the airline realized that its home-grown reservations and departure control systems were unable to cater for the needs of international services and, therefore, outsourced these functions to Amadeus.
In compliance with its adherence to the ultra-low-cost airlines model, Allegiant currently sells only point-to-point flights, without providing connections and without adopting the "hub and spoke" model for its operations. It is the latest ultra-low-cost carrier in the United States to widen its network to international destinations, as Frontier Airlines has been successfully operating to six airports in Canada, the Dominican Republic, Jamaica and Mexico, and Spirit Airlines has established itself as a robust competitor linking its the U.S. to 24 destinations in Latin America and the Caribbean through its Fort Lauderdale hub.
Allegiant currently operates a fleet of 89 Airbus A319 and A320 aircraft each configured to carry between 156 and 188 passengers. The standard operational range of these aircraft would put Mexican destinations comfortably within reach from Allegiant's bases in the Southern United States.
Vanni fell in love with commercial aviation during his undergraduate studies in Statistics at the University of Bologna, when he prepared his thesis on the effects of deregulation on the U.S. and European aviation markets. Then he pursued his passion further by obtaining a Master's Degree in Air Transport Management at Cranfield University in the U.K. followed by holding several management positions at various start-up carriers in Europe (Jet2, SkyEurope, Silverjet). After moving to Canada, he was Business Development Manager for IATA for nine years before turning to his other passion: sports writing.
Latest posts by Vanni Gibertini (see all)