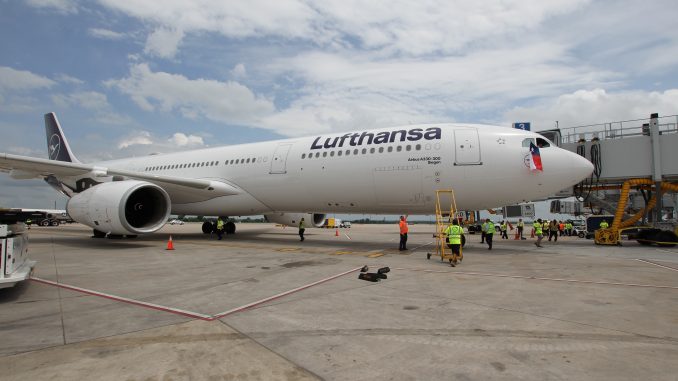 While Lufthansa's new livery dropped the airline's iconic yellow, Austin Bergstrom International Airport's west check-in wing was decked out with its recognizable yellow branding and signage as the airline prepared for the inaugural flight between the Texas state capitol and Frankfurt, Germany. The airline announced new service to Austin in September 2018, officially making it the carrier's 23rd destination in the U.S. On May 3, 2019, the inaugural flight arrived from Frankfurt at 2:39 p.m.
Though with a different airline, this route has been served by a competitor each summer season since 2016. Within a week of Lufthansa's announcement, however, Condor quietly made it clear that it won't return in 2019 after connecting the two cities for the past three summers.
Lufthansa is the third airline to offer nonstop flights from Austin to Europe. The new year-round service will operate five times weekly on Mondays, Wednesdays, Fridays, Saturdays and Sundays.
Doug Driskill, Chamber of Commerce Air Service Task Force Chairman and Dell Technologies, said: "Of all the cities in the world that Lufthansa could have picked to start new service, they picked Austin. Thank you for picking us. It's safe to say that Lufthansa is investing in Austin and its airport and we are investing in job creation and talent growth and connecting Austin with the world is really what it's all about."
He continued to say: "Lufthansa really has a reputation for service. We promise that if you brought the plane, we would fill it up and we are going to fill it up every day so you're going to have to run every day. That's our commitment here in Austin and we are proud to have you."
Flights to Austin are operated on the airline's 255-seat Airbus A330-300. The certified Skytrax 5-star airline offers 42 business class seats on the route in a 2-2-2 configuration. A 28-seat premium economy cabin is also offered in addition to the 185 economy class seats.
Notably missing though is Lufthansa's highly praised first class cabin. Heike Birlenbach, Lufthansa Senior Vice President for Global Sales and Chief Commercial Officer for the Frankfurt Hub, told AirlineGeeks: "Right now it's not planned."
She continued to state: "First class is a service that we offer on routes where there is a specific requirement and need for it and we don't really see a specific need for it on this specific route but we will always look into it and check again for the destination whether there is a need in the future."
Without Lufthansa offering first class in Austin, British Airways is the only airline offering that class of service between Austin and Europe. On the London Heathrow route, British Airways consistently fills up its 14-seat first class cabin.
Regarding the initial bookings for the new Austin route, Birlenbach told AirlineGeeks that her team has been pleased.
"We are pretty happy about the first flow of bookings, especially out of the point of sale here in the U.S. I believe our teams have done a great job in order to make sure customers know we are flying to Austin. But of course, with a new route, it's always building up but we are pretty happy, especially here for the U.S. market," Birlenbach said.
Thomas Meister, Consul General in Houston leading Germany's engagement in Texas, Arkansas, Louisiana, New Mexico and Oklahoma, was also at the inaugural festivities to celebrate the new connection between the U.S. and Germany.
Meister, focused more on the political aspect of the new flight, said: "Sometimes in the transatlantic business we talk about turbulent times. When the Atlantic becomes more turbulent, we need more bridges and I believe that this link from the Texas Capitol to Germany's Economic and Banking capital is a very good bridge."
When Airport Executive Director Jim Smith was appointed to his position in 2001, the airport saw roughly seven million annual passengers. Since then, he has steered the airport to annual year-over-year growth and has succeeded in transforming Austin Bergstrom International Airport to become the Central Texas hub it is today with daily connections to Europe, Mexico and Canada.
Smith announced his plans to retire earlier this year, during a crucial time when the airport plans to embark on future expansion to be ready for a future increase in passenger numbers. Under Smith's leadership, Lufthansa is the fourth transatlantic carrier the airport has been able to attract in just five years.
"Frankfurt, Germany is a desired international economic and tourist destination. We welcome the air service between the two tech hubs and the successful interchange of international tourism, business, and economic development opportunities," Smith said.
The new Lufthansa service comes just two months after British Airways celebrated its fifth anniversary serving Austin, a route the airline has found high success with. In 2018, Austin gained a second summer seasonal service to London Gatwick on Norwegian Air UK. Just one day prior to Lufthansa's inaugural service, Canadian low-cost carrier WestJet also began two times weekly summer seasonal flights between Austin and Calgary.
Lufthansa has been active in the U.S. for over 60 years and is no stranger to the Texas market. The airline already offers daily service to Star Alliance partner United's Houston hub with the Airbus A380 and Dallas with the A330-300. The airline does not expect the new Austin route to negatively affect their profitable Dallas and Houston flights and is excited to connect a third Texas city with the world's 14th largest airport in Germany.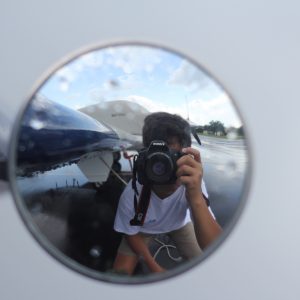 Mateen has been interested in aviation from a very young age. He got his first model airplane at six and has been airplane spotting since he was nine years old. He has always had a passion for aviation and loves learning about different aspects within the industry. In addition to writing for AirlineGeeks, Mateen is also an editor for his high school's newspaper. You can also find him on Instagram (@Plane.Photos) where he enjoys sharing his aviation photography with thousands of people everyday.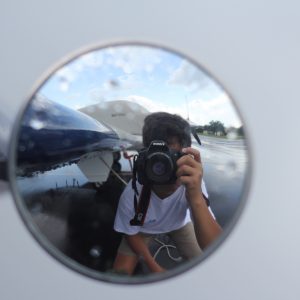 Latest posts by Mateen Kontoravdis (see all)