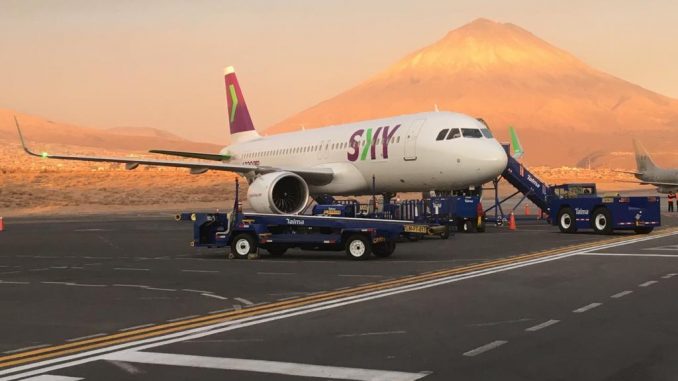 After years of sustained growth serving domestic and regional destinations in South America, Chilean SKY Airline is confident to venture abroad. Having recently set up a base in neighboring Peru, the airline sees a huge growth potential in the country, where the average citizen takes 0.6 trips each year compared to 1.4 into Chile. SKY believes the country's stable economy combined with a very complex geography, makes air travel a very needed alternative for many people who still rely on long and dangerous bus rides for domestic travel.
Three weeks into operations, the newly launched Peruvian subsidiary has transported more than 35,000 passengers after a very successful launch campaign in light of the busy Easter holidays, where SKY Peru's average load factor neared 85 percent. Exited for what comes ahead, the airline hopes to transport 900,000 passengers in their first year of operation with a fleet of four A320neos and become Peru's second largest airline in the domestic market by 2022, gaining a 15 percent share in the market and overtaking its ultra-low-cost competitor Viva Air Peru
Seeking to get to know more about SKY's Peruvian subsidiary jump-start and its look towards the future, AirlineGeeks sat down with Franco Chaparro, VP Commercial for SKY Peru.
AirlineGeeks (AG): SKY has been seeing a steady growth rate in Chile and has been very successful in adopting a low-cost model since 2015. What made you decide it's time to open a second base in another country?
Franco Chaparro (FC): Well, SKYs history is very peculiar and I'll have to go back in time a bit to begin. SKY is an airline that begins operations in 2002 as a full-service carrier with a fleet of Boeing 737-200s. In 2014, his founder (Jürgen Paulmann) passes away and his son, Holger (Paulmann) takes the lead. He makes a number of strategic changes, which involve adopting a model that has a lot of potential in the region. After a positive few years of consolidation in Chile, arises the need to venture outside.
Secondly, this is a business of low margins, where business is in volume, this means growing in size, with more aircraft and transporting more passengers. Today SKY has covered all of the main domestic routes in Chile and about the main six or seven regional routes which you can fly from Santiago with A320 family aircraft, so the next step is to think about becoming a leading low-cost airline in the region and you cannot achieve this if you only operate from one country. All of this, conjugates to begin our international expansion plans and we chose Peru, out of two or three countries in the region.
AG: What made SKY choose to expand to Peru rather than other countries in the region…let's say Argentina or Colombia?
FC: Colombia was crossed off as it does not connect well with our operations in Chile. It's easier to integrate and be able to exchange aircraft when you expand to a neighboring country and that adds additional complexities to the decision making process. In the case of Argentina, we could say that the current economic climate presented challenges. Meanwhile, Peru experienced stable economic growth rates, plus the number of trips per capita is lower. All of this conjugates so that SKY el Peru is where we go next.
AG: Reflect on your success since the start of operations…
FC: Three weeks into our operations, we have transported more than 35,000 passangers. We were lucky to benefit from the Easter holidays in the middle, where we have had average load factors close to 85 percent. Given we are a new airline any load factor above 80 percent is very good for us.
We have had a very successful launch campaign where we made an effort not only to launch record low prices in the market, but also to release a significant number of seats in these fares. We launched very good fares and released lots of seats at those prices. We offered tickets at $0.33 plus taxes. This would price a flight from Lima to Cuzco at $12 and the return from Cuzco to Lima at $6 as airport charges (TUUA) are lower in province airports. So you would have a roundtrip flight for US$17.
AG: Has this exceeded expectations?
FC: Absolutely. Looking at our launch campaign, we released 50,000 seats at promotional fares. We expected to sell those plus an up-sell of 20 percent, where you are talking about 60,000 seats in total. However, we sold around 100,000 asientos in three days. Half of those at promotional fares, while the other 50,000 at a structural fare which is very good because it means that people are also buying our regular fares. This, in itself, speaks about how attractive are our regular fares without depending on a special promotion.
AG: What about the clientele that has bought your promotional fares, are they mostly first time flyers or regular flyers that are increasingly used to flying in low-cost carriers?
FC: I think that a mix of both. As a premise, we know that our model has allowed a lot of people to fly for the first time and this is partially what motivates us to keep growing, not only in Peru but also at a regional level. In fact, our mantra is to"make the sky affordable for all." But in the end, when you have attractive fares, you also get people to be able to travel more offen, so it's a mix of both.
AG: What were the main pain points SKY has gone through when launching operations in Peru? Have that required strategic tweaks based on your model of operation in Chile?
FC: I believe that first, being a model that is new in Peru, we still have a market that has yet to learn what does it mean to fly low-cost. This includes learning how our purchasing process work, that based on their needs consumers are aware of what to buy ahead of the flight. Part of our value proposition is that the client pays for what he really needs, for what he consumes, which involves transferring part of the decision making process to the client. This involves education around how we operate. For this reason we have been putting in place a series of communications campaigns so consumers know what to expect when they fly with SKY Peru.  
AG: What about infrastructural constraints?
FC: This is a good point as slot restrictions, due to congested infrastructure mainly in Lima and Cuzco Airports has altered the way we have put our itinerary together. We have tried to do the best we can with the spaces that were available because the local authority has a system where history is rewarded in the allocation of slots. Given we are a new airline, we've had to take whatever was available.
This has been somewhat difficult for building schedules as some of the flight timings are not ideal for attracting some types of passengers, such as corporate fliers that tend to have similar set departure and arrival times. However, based on our philosophy as a low-cost carrier, one has to set aside the desire for the perfect schedule as many times you might not be able to make that in some of your routes. This leaves you with the need to compensate with price.
AG: SKY flies to seven domestic destinations from Lima, with a fleet of four A320neos. Do you plan to add any additional destinations before the end of the year?
FC: This is always in consideration, but our main restrictions are two. First, slot restrictions in Lima Airport that as we all know is operating above its capacity, so we are waiting for its undergoing expansion outcome to take place so that additional capacity is added. Secondly, it's about aircraft. We'll finish the year with four A320neos and while we are always evaluating the possibility of forwarding deliveries that are already programmed for next year, it's difficult to make that a reality. We fly to seven domestic destinations from Lima, with a determined number of frequencies for each destination, so our ongoing evaluations go around where we can increase frequencies based on the opportunities we see available. For now there's nothing concrete and any changes will depend on any additional slots that become available and the availability of aircraft.
AG: LATAM Peru is betting on inter-provincial domestic flights and is connecting Cuzco with seven other cities in Peru, without passing through the capital of Lima, helping alleviate congestion at Jorge Chavez International Airport. Do your plans go along similar lines?
FC: This is something we are constantly evaluating and because of our slot restrictions at Lima we do not disregard it. However, we do not have it in our short term plans either, because although we know there is a huge potential in these interprovincial routes, in the end, its about priorities. We would love to fly those routes, in fact to every domestic destination where you can land with an A320neo, but we know we have to first focus on the seven destinations that we already have and perhaps a few others we want to fly from Lima first, before thinking about flying between secondary cities in Peru.
AG: What about international flights?
FC: This is within our strategic plans for the next five years, where we expect to add our first international destinations in the next year or so.  I hope that in a years' time we are able to fly to two or three international destinations from Lima with SKY Peru.
AG: One of the A320neo added capabilities is its extended range of 3500 nautical miles and greater fuel efficiency. How will SKY Peru use these to generate new business opportunities or perhaps work to maximize the value of these?
FC: Totally and in fact, there are lots of things that are in the process of being decided, but part of the destinations we would like to get to are in the USA and the Caribbean. These are destinations we can easily get to with our latest generation aircraft and part of what would allow us to keep growing our network. In this way, we would like to fly Chileans, Argentineans and Brazilians to destinations in the Northern hemisphere through our hub in Lima and at the same time bring U.S. tourists to the region and feed them to a variety of destinations through our network.
AG: SKY has been prioritizing A320neo deliveries for its Peruvian base, instead of flying them on longer routes from or within Chile, such as Santiago to Arica or Punta Arenas just to name a few examples, where you could perhaps better optimize the neos performance. Is this because you are looking to launch flights to further destinations from Lima, that could not be as effectively covered with an A320ceo?
FC: This is a good point and one could think this is the case if we would initially begin operating internationally. However, I think this decision is more strategic in being new in the market and wanting to have not only the newest fleet in the country but also in the region. This is something we have tried to use to our advantage and exploit in our communication with clients and key stakeholders across the industry.
All of the aircraft we are receiving this year are brand new and this should help position ourselves as a different low-cost alternative in the country, perhaps distinct to the conceptions of the average consumer, which can associate a low-cost carrier with filthy planes and bad service. In this way, we want to take advantage of operating with brand new aircraft to captivate and retain clients, who after stepping in our airplanes are able to make these distinctions themselves.
AG: A month into operations, do you perceive that flying latest generation aircraft affects consumers purchasing decisions?
FC: I think this impacts two things. First, part of what we have sold before commencing operations has taken place because we have effectively communicated that we are flying with new aircraft. The first thing that one could think about an unknown carrier, because after all we were not known in the domestic Peruvian market before stepping in. In this way, a new airline, which the consumer has not heard of can generate certain doubts. Being able to assure that we are experienced in the business and that we operate with new aircraft, can help consumers decide to fly with us. I think that operating with new aircraft helps enhance the flying experience to retain and continue attracting new passengers.
AG: SKY aims to transport 90,000 passengers in its first year of operations, which represents a seven percent share in the domestic market, behind LATAM Peru and Viva Air Peru. Judging on sales so far, is this feasible?
FC: Yes, and this is only on domestic routes within Peru. So far we are well positioned to meet this target and we are committed to meeting it and personally, I'd always look to exceed any expectations we set ourselves and hopefully we are able to be close to transporting one million passengers. Thinking ahead, we expect to transport more than four million passengers by 2023 and be able to position ourselves as the second biggest player in the country and the largest low-cost carrier in Peru.
AG: SKY aims to have 15 aircraft and reach 15 percent market share by 2022. What is your strategy to overtake Viva Air and position as the second largest carrier in the Peruvian domestic market in a not so long term?
FC: We know that price is king and it will become a commodity, more so between two low-competing low-cost carriers, as we'll be launching competitive fares and be willing to flood the market with promotions. The main factor that has to differentiate ourselves from the competition is the consistency in our service and the flying experience. Our value proposition lies on offering a consistent experience, where flying is pleasing, easy and simple for passengers and without any major hassles.
We know this is difficult in an industry whereby nature you have a series of pain points that are not always within your immediate span of control. We know that some flights are going to be delayed, that some bags will go missing, etc. But we believe that being transparent is paramount and that being willing to go above and beyond to solve these inconveniences will help make the difference amongst Peruvian flyers and help us attract and retain more travelers.
AG: Speaking about prices, SKY has rolled out a very aggressive pricing strategy revolving around offering the lowest prices in the market…
FC: Yes and we have demonstrated this with our launching of fares which were quite aggressive.
AG: This means lowering prices in a market that being increasingly dynamic is having a tendency towards offering affordable ticket prices across the board. To what extent is it sustainable to lead that trend, when boarding taxes are relatively high at around $18 for a round-trip domestic flight?
FC: This is where the art of revenue management comes into play. Increasingly so in this low-cost model where ancillaries are key to drive additional revenue. In this way charging for hold luggage, carry-on bags, seat selection and buy-on-board is key in part of what we want to be able to exploit and explore. Then you have global players, where the revenue per passenger lies around $30 to $40, which is almost double of what costomers will pay for tickets on discount fares.
It's not that you have a magical formula either, but rather we need to learn day by day to find our optimal mix that will enable us to be sustainable, while at the same time be always looking to generate efficiencies in our cost structures. Based on our philosophy, we should be able to translate any cost efficiencies we might benefit from into lower fares and generate this ongoing loop where we offer attractive fares, bring in more passengers, fill up flights, become more efficient in our operations and bring additional revenue through ancillaries.
AG: So what about attracting the corporate flyer then. Is it part of your strategy to help sustain operations?
FC: Totally, in the same way, we have very attractive fares, we cannot offer tickets at $10 one day before the flight. Obviously, the earlier you buy the more likely you'll find seats at a cheaper fare and as you get closer to the date of the flight and depending on the expected load factors, fares will be higher. Regardless, we try that irrespective of when consumers purchase tickets, we still offer the most attractive prices in the market under the same conditions.
AG: Finally, what do you need from the Peruvian government and the National civil aviation authority (DGAC) in order to operate in the best possible conditions to maximize the value of your operations.
FC: I think this principally comes down to infrastructure and this is something that does not change overnight. Expansion plans at Lima Jorge Chavez International Airport are already underway and this is something that will take 3-4 years at least.
If you were to try and cut the time down, it probably wouldn't make much of a difference given it involves building a new runway, terminal and tower. Moving on, I think some changes could be done in Provincial airports, where investments could be speeded up by the airport operators. There are also things that can be discussed with stakeholders such as the possibility to adjust landing taxes and fees, where an open discussion becomes key.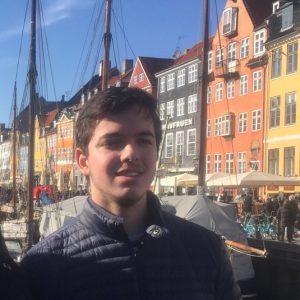 As a geography nerd, Jose has always been fascinated by the complexities of the airline industry and its ability to bring the world closer together. Born and raised in Peru, now studying in the UK. he has travelled around America, Europe and South East Asia. His favorite aircraft is the Boeing 767-300, which he has flown many times during his childhood; although now the A350 is slowly growing up on him.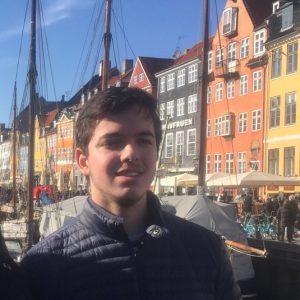 Latest posts by Jose Antonio Payet (see all)