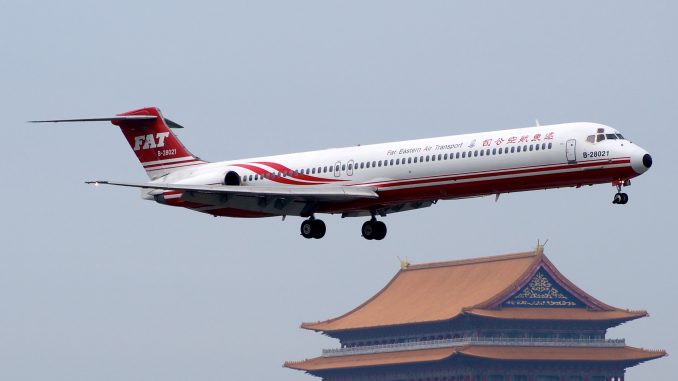 Hundreds of passengers were left stranded throughout Southeast Asia last week as Taiwan's Far East Air Transport abruptly canceled a significant number of flights. Flights to countries such as the Philippines, Vietnam, China, Japan and South Korea were primarily affected as the airline insisted the cancellations were enacted in order to comply with Taiwan's Civil Aeronautics Administration (CAA) safety regulations.
The airline was ordered to commit to a flight hour restriction of 1,350 hours since 2017, as the result of its aging fleet which consists of eight McDonnell Douglas MD-80 series aircraft. According to its website, the median age of Far Eastern's t-tailed aircraft is 24 years old, with the oldest aircraft being 28-years-old.
According to CAA, a flight on an ATR-72-600 had a mechanical issue and the airline deployed a McDonnell Douglas aircraft to fill in. The unscheduled flight resulted in an excess of the allowed flight hours for the aircraft, pursuant to the CAA. Airline officials admitted the cancellations should have been managed better.
The airline was ordered to compensate the passengers who affected. The Ministry of Transportation and Communications (MOTC) urged the struggling airline to commit to its flight hour restriction and must give enough notice to CAA and travel agencies in case of future flight cancellations.
This is not the first time the airline has canceled flights without notice. The MOTC admitted the management of the airline had given them a "headache," exceeding the maximum allowed flight hours in February. While the airline explained that was violation was the result of a huge demand spike for the Lunar New Year holiday, the airline failed to abide by the restriction in March and April again with a warning from the CAA.
While its aging fleet is giving it the most trouble, the airline is in the process of a fleet rejuvenation. Five ATR-72-600 has been ordered since 2017 with four aircraft already delivered and the fifth expected enter into service in late May. The airline expects to restore canceled services in June with the exception of the Filipino cities of Palawan and Boracay.

Will has been a travel agent in Hong Kong for almost three decades, as time goes by he hasn't lost his passion for his job, He still has plenty of enthusiasm for the airline industry and airport operations.