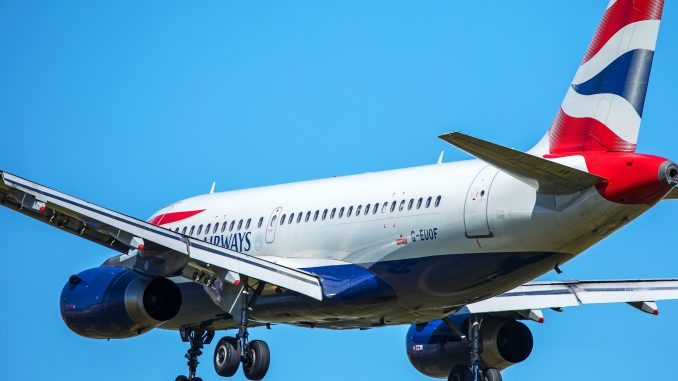 Last February, British Airways announced some of its best financial results on record Generating more than £2 billion ($2.53 billion) in profits for the year 2018, with an operating margin 15 percent higher than in 2017, the flag carrier stood firm amidst rising oil prices and widespread uncertainties due to Brexit. The man behind British Airways success, CEO Alex Cruz.
Cruz recently gave an interview to Skift during the Skift Forum Europe event in London and shared 360-degree insight on decision making at British Airways. A rising star in the International Airlines Group (IAG), British Airways' parent company, Cruz has been at the helm of British Airways for almost three years.
Arriving into the top seat at British Airways from IAG-owned low-cost airline Vueling. Vueling had taken over the airline Cruz had founded in 2006, Spanish low-cost carrier Clickair. Before becoming a c-suite executive, Cruz had spent almost 10 years working for American Airlines, first in its London offices and then for its technology division, Sabre.
The road to increased profitability wasn't easy nor popular, Cruz explained. Despite its very healthy recent profits, British Airways had made headlines in the past few years for removing free food from its short-haul services, introducing an a-la-carte buy onboard product not dissimilar from the one offered by its archrival easyJet.
"I was not surprised that people were very upset when food was taken away," said Cruz. "We went through a period of six-seven months when we were receiving complaints about this new models, but after that initial period we noticed that complaints were shifting to different aspects, such as 'I was in row 27 and my choice of sandwich was no longer available when the trolley got to me."
Although British Airways has always considered itself a "full-service carrier." its fares still need to remain competitive with the other airlines in the marketplace for both short-haul and long haul.
"If you repeatedly create the feeling that you are ripping people off, as soon as customers have a choice they will leave, so it is imperative to make sure that the value proposition is always there, in relations to the price paid," noted Cruz." And that includes every aspect of the product, from the cabin experience, to ground service, frequent flier miles and so on".
When low-cost carriers started operating in Europe in the late 1990s, traditional carriers made the costly mistake of not considering them a threat to their business, dismissing this type of product as destined to serve other types of customers. As history proved them wrong, British Airways was one of the carriers that was hit the hardest by this new reality since easyJet and Ryanair, the biggest LCC operators in Europe, were growing at its doorstep.
Therefore, when the low-cost model started spreading to the long-haul markets and Scandinavian operator Norwegian Air Shuttle started aggressively expanding in British Airways' backyard, the airline took the threat really seriously and went head-to-head with the newcomer. Though, the CEO still maintains a degree of skepticism for the long-term viability for these carriers.
"If you look at the number of passengers flying between Gatwick and New York City before and after the arrival of low-cost long-haul, there is no doubt that traffic has increased. There was a component of price-sensitive demand that was not being served. But can you make money at servicing that demand? That hasn't been proven yet if you look at the various models around the world."
IAG had purchased a 4.61 percent stake in Norwegian in April 2018 and launched two unsuccessful takeover bids in the following month, before they sold the stake in January 2019 declaring it was no longer interested in owning shares of the company. British Airways had retaliated against Norwegian's expansion at London's Gatwick Airport by launching services to Oakland, Calif. and Fort Lauderdale, Fla. in direct competition with those of the Oslo-based carrier.
Those services have either been terminated or are dwindling down, and British Airways, "now in a much more solid financial position than it was when I joined," says Cruz. Now, the airline is focusing on revamping its premium class product and modernizing the fleet, ordering up to 42 Boeing 787-9 Dreamliner aircraft on top of the landmark order of 18 brand-new Boeing 777X aircraft, which was most likely the nail in the coffin of the Airbus A380 program.
"The 777s in Gatwick are incredible for us," noted Cruz. "They have the lowest operating costs in Gatwick and while providing a fantastic Club and Premium Economy service that allow us to price very flexible in the marketplace."
With its main focus on delivering a superior and consistent product in its premium classes, British Airways is also looking at the future to anticipate where aviation might go in the next decades, with a special eye to sustainability.
"We are looking at the 'fuels of the future,' investing in projects towards how the fuel would evolve in the future," continued Cruz. "It's amazing how the mindset of people in the organization is changing: there were nine people in the 'fuel preservation' department when I joined. Now the presentations are changing from showing how much money can be saved with a certain initiative to how much CO2 emissions can be abated. It's becoming no longer acceptable not to have reusable coffee mugs, and how we use plastic now does matter a great deal."
Cruz is also very confident that, no matter what happens with Brexit, British Airways will be able to continue its operations unscathed: "In aviation, we have people whose job is to figure out what to do in the worst-case scenario. We have been preparing every day for a no-deal scenario and I believe we will continue flying no matter what happens with Brexit."
Vanni fell in love with commercial aviation during his undergraduate studies in Statistics at the University of Bologna, when he prepared his thesis on the effects of deregulation on the U.S. and European aviation markets. Then he pursued his passion further by obtaining a Master's Degree in Air Transport Management at Cranfield University in the U.K. followed by holding several management positions at various start-up carriers in Europe (Jet2, SkyEurope, Silverjet). After moving to Canada, he was Business Development Manager for IATA for nine years before turning to his other passion: sports writing.
Latest posts by Vanni Gibertini (see all)