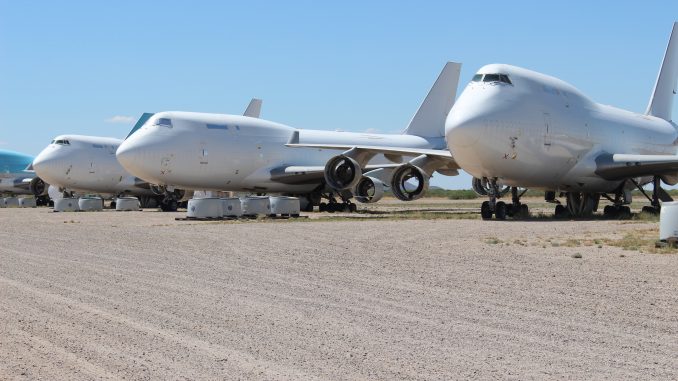 The stretch of Interstate 10 between Phoenix and Tucson is filled with its fair share of oddities. Just about halfway between Arizona's two largest cities lies a ranch where visitors can stop by to feed ostriches and stingrays — in the same visit — smack-dab in the middle of the desert. A bit further down the interstate, it isn't uncommon to see a large group of practicing paratroopers.
But, as your eyes gaze to look for anything but highway, you may notice a substantial amount of airliners parked just outside of Tucson — once again, right in the middle of a scorching desert.
What you're seeing isn't Arizona's newest international airport or a desert mirage, it's Pinal Airpark. Located in Marana, Ariz., this small, single-runway airfield houses retired aircraft from around the world.
It's known as an aircraft boneyard. Though this is believed to be "where airplanes go to die," as one blog wrote in a headline, it's actually where the parts that make up the plane will get a second life. While true that a jet will be scrapped, stored, crushed, etc. at one of these facilities, the respective parts that allowed it to fly will live on and serve a key long-term purpose in the maintenance longevity of still-airworthy aircraft.
Ascent Aviation Services, formerly known as Marana Aerospace Solutions, is the largest company on-site at the airpark. The company is responsible for working with air carriers to either store, repair or tear-down aircraft, operating facilities at Pinal Airpark and Tucson International Airport.
While photos are not typically allowed on the property in Marana, Ascent Aviation Services provided AirlineGeeks a rare look at its facilities, including a firsthand look at the tear-down process.
Tearing Down an Airplane
Even though the verbiage may be similar, tearing down an airplane is much more complex than demolishing a building. Retired airplanes are filled with plenty of reusable high-dollar items, including avionics, exterior parts and seats. In some cases, it can take months to get an airplane to the "crush-pad," where it'll officially be torn apart after being disassembled.
Mechanics here take their time combing through different parts of the jet to harvest any remaining items that can be re-certified. Any missed item of value can mean potentially lost revenue for the company and one less part for those aircraft still flying.
While the loss of an aircraft due to retirement is often a solemn affair for an airline, the mechanics in Marana see it as an opportunity. When a newly-retired airplane lands in Marana, the work begins. If the flight crew that brought the flight in is foreign-based, U.S. Customs will process them while Ascent teams are already working to dump the aircraft's fuel tanks and lavatories as they will not be used again.
According to Ascent, the way in which the aircraft is torn down depends mostly on the customer's needs. Some carriers will leave the cabin mostly intact until they can find a new home, or trash receptacle, for the seats and paneling. Similarly, most airlines want to strip cockpit avionics from the flight deck as soon as possible since they can be easily reused and are of great value.
The final clipping of its wings, as it were, the power plants are also removed from the aircraft, leaving only the engine struts fixed to the wing. These are some of the most expensive pieces of any aircraft, making them valuable reusable parts.
"The aircraft lives on," said Ken Parent while breaking down the reclamation process. Parent is in charge of the company's reclamation division which works to tear-down an aircraft, re-certify its parts and return them to the customer to be used onboard other aircraft.
This process, which can take anywhere from 30 to 45 days, is a sizable part of Ascent's entire operation along with standard maintenance and long-term aircraft storage. During this process, it's common to see airplanes in disarray with detached landing gear and mangled flight control surfaces, though what's actually occurring is a carefully organized art-form.
Teams of mechanics and workers from Ascent are removing parts one-by-one and logging them to be compliant with Federal Aviation Administration (FAA) Part 145 mandates. There is a fair amount of paperwork involved with this process, too. It isn't as easy as taking one part and putting it on another airplane. Instead, each part is individually re-certified for further use in service.
Once the to-be-reused parts have been removed from the airframe, there's plenty of aluminum left over. Ascent contracts a recycling firm to remove the excess aluminum from the property after the 'crush' process takes place.
A Common Sight…
Among the array of metal parts and fuselages that sit throughout the property, there is a very specific theme. What can be seen at a boneyard, particularly in Marana, isn't just mangled airplanes but, rather, a generational shift within the aviation sector.
Gone are the days when four-engine aircraft dominated the skies. Now, the industry is widely transitioning to twin-engine jets that prove to be far more efficient on many fronts. The boneyard is scattered with 747s that operated for airlines around the world. Each one tells a story about an industry that has changed immensely in recent years.
The 747, affectionately referred to as the 'Queen of the Skies', is an iconic sight for just about anyone. The quad jet is likely the only aircraft that the everyday passenger can identify and there is no shortage of them within Ascent's facilities.
According to the company's chief commercial officer, Scott Butler, there's a reason for this vast array of 747s. Since the industry is largely shifting away from this specific design, there are only a few maintenance facilities that specialize in the model nowadays and Ascent is one of them.
"Typically, in Marana, we have been known as 747 experts in maintenance," Butler said.
As the world moves on from the so-called 'golden days' of aviation in which Boeing's iconic jumbo jet reigned supreme, Ascent Aviation Services waits to receive them. The airpark's 6,849-foot asphalt runway is a perfect landing spot for one final touchdown.
A Desert Full of Stories
When thinking about a desert landscape, airplanes don't necessarily come to mind but the environment is extremely conducive to aircraft storage for the airframes themselves and their subsequent parts. Dry climates have less salt in the air meaning that erosion is minimal at best.
Ascent's facility encapsulates different times within the airline industry and bears witness to some of the world's most iconic aircraft. The small airpark in Marana, Ariz. houses tails from around the world — a representation of sorts for the sheer globalization of the airline industry.
Even though the airplanes that rest at Pinal Airpark may be considered old and sometimes drab by some, their key parts will live on, furthering industry sustainability. Ascent Aviation Services and other similar companies play a lesser-known, yet critical role in the overall safety and efficiency of the global aviation sector.
Contrary to popular belief, a so-called airplane boneyard isn't necessarily a giant soda can production plant. While an aircraft fuselage's aluminum is recycled, many of the parts live on to serve air carriers for years to come. And though it's true that aircraft are more than just the sum of their parts, the parts still hold their own value.
Planes don't come here to die, they come here so that other planes may live.
All photos were taken onsite by AirlineGeeks contributing photographer Connor O'Shea.
Ryan founded AirlineGeeks.com back in February 2013 (actually, it was called Aviation Official, but we've changed a bit since then). From being on the yoke of a Piper Navajo, to visiting about Delta's operations center in Atlanta, Ryan has done it all. in 2016, along with American Airlines, Ryan masterminded AAviationDay at more than 10 locations around the world. The smell of jet fumes in the morning along with the countless number of passionate airline employees keep him enthralled in the industry, always seeking more. You can find him helping out travelers at Reagan National Airport near Washington, D.C. when he's not doing something for AirlineGeeks.
Latest posts by Ryan Ewing (see all)