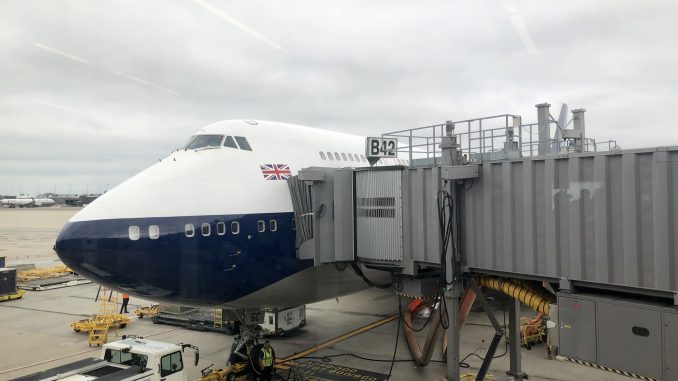 There is undoubtedly something special about flying on a Boeing 747. In one sense, it's like taking a ride on a piece of history as the jet is not only aesthetically pleasing but also an emblem of ingenuity. The Queen of the Skies, as the aircraft is affectionately known, is by far the most easily recognizable airplane in the skies today.
En route to the delivery of Japan Airlines' first Airbus A350-900 XWB in Toulouse, I had the opportunity to fly British Airways from Washington to London as part of a European trip on the 747. This flight would be my first flight onboard a 747 and may be one of my last as the aircraft has been slowly disappearing from the skies.
I didn't exactly have high expectations for this flight beyond just checking the 747 box but chose it instead of other options such as Alitalia via its new service to Rome. In addition, I've heard some British Airways stories and wasn't entirely keen on the whole experience. But, again, this was a 747 flight and it earned AAdvantage miles, so I figured I'd look past the airline experience and more towards flying on such an iconic jet.
Off to a Precarious Start
Originally, I had been booked on the late evening departure from Washington Dulles International Airport to London's Heathrow, as British Airways serves Dulles two times per day with a 747 in the summer, that leaves around 10:30 p.m. That flight, however, was canceled due to a mechanical issue and they rebooked me on the earlier flight that leaves around 6:30 p.m. This wasn't a huge deal, though it did leave me with a seven-hour transit time in London.
Since I was booked in business class, or Club World as British Airways brands it as, I asked about an upgrade to first class. I was quoted a price of approximately $650. As far as I was concerned, this was a fantastic deal; less than 700 dollars out of pocket for first class in the nose of the 747. I went ahead with the upgrade and scored seat 1A.
Boarding
A perk of the earlier departure is that it's operated by one of the airline's predominantly business class 747s, meaning that there are 86 Club World business class seats versus 52 on the standard variant. These aircraft are placed on premium-heavy routes such as London-New York, Los Angeles, etc. Not only are there more business seats, but the cabins are refreshed with a new inflight entertainment system and most of these 747s feature WiFi.
Another perk of this flight was that it was operated by the BOAC retro livery which made for an especially neat surprise on my first 747 trip.
Boarding was straight-forward and easy right down the Group 1 lane. First class passengers go through door 1 on the 747, making the experience just a bit more exclusive.
The doors closed on-time, but our pushback was delayed due to an air traffic control hold. Weather was encroaching on our routing up the Eastern Seaboard.
'World's Best Business Class:' The Seat
I've seen a lot of bloggers categorize British Airways' 747 first class product as the "world's best business class seat." Now, from my perspective, I found this claim to be both true and false.
The seat itself proved to be adequate for my eight-hour transatlantic flight; however, on a 10-hour plus flight, I can see it being less-than-stellar compared to some of the other first class products out there. Specifically, on the Washington-London segment, British Airways is the only airline to offer a legitimate first class product. Virgin Atlantic's Upper Class is a quasi-business class product while United offers its Polaris business class service. So, at least on this route, British Airways is in a class of its own.
As expected, the seat lies flat and the crew does a turndown service complete with a duvet and comforter. Even when in the lie-flat position, the seat is very comfortable and spacious. I was able to grab a few hours of sleep while over the Atlantic.
The seat also offers British Airways' relatively new inflight entertainment system. I didn't really use this as I opted for the WiFi. While exploring it, though, I found plenty of movie options along with other entertainment.
British Airways' first class seat on the 747 is perfectly suitable for this sort of flight. It pales in comparison to some of the products currently offered today, of course, but there is still something special about it, especially on the 747. Since the cabin itself is located in the nose, there's an unmatched level of privacy. Also, it is extremely quiet up front as well.
The Service
The service started on the ground with a pre-departure beverage and some canapés. I opted for the champagne for a nice toast to the Queen of the Skies. The crew then came around with pajamas, slippers and an amenity kit.
The amenity kit was very well stocked with the usual items such as socks, a toothbrush, eye mask, etc. and also featured some bonus items, including deodorant and face wipes. I do appreciate any airline that looks out for the body odor-related hygiene of its passengers.
Once airborne, I ordered the beef terrine to start, which was served with bread. It tasted fresh and was very solid.
Since I had already eaten before getting onboard, I did not opt for an entree on the flight. On shorter transatlantic hops like this one, I find it best to get some shut-eye so that the jet lag isn't as bad upon landing. On the entree menu was seared beef filet, pan-roasted cod or a butternut squash ravioli.
As I decided to skip the meal, the crew came around to put together my bed. After sleeping for a few hours, London was calling. I woke up and had a very delicious smoothie as part of the breakfast service. This was a great and refreshing way to start off the day.
Normally, at least when traversing timezones at offbeat body clock hours, I find it difficult to wake up on an airplane feeling refreshed; though, on this flight, I felt great. I'm not sure if it was the comfortable bed or the light meal, but I was very pleased. Airlines tout feeling refreshed as part of their premium product pitches and I found this to be very much the case in British Airways' first class.
Where British Airways Stole the Show
Many people have their critiques of British Airways and I think they're largely justified considering how the airline has changed over the years. The airline used to stand in a category of its own as a hallmark within the industry. Recently, though, the airline has fallen in with some other industry trends. This is just the nature of the airline industry, I suppose.
To its credit, BA just unveiled a new business class product that'll be rolled out on its A350-1000 XWB — a huge upgrade from the current product. The airline has also rolled out some new soft product offerings in business class, including enhanced dining options and better blankets and pillows.
Needless to say, though, British Airways still stands out in my eyes, particularly on some of its routes with more senior cabin crews, with its service. I simply couldn't get over just how genuine, caring and cordial the crew was on this flight. They were extremely proactive, doing things like making my bed, etc. without even having to ask.
They came around several times during the flight to check up on passengers that were awake. They greeted everyone with a smile and were obviously not newbies to the first class cabin or service. Their experience showed and helped elevate the overall flight.
I've always said that you can have a poor onboard product, but a happy and helpful crew can really make the flight just a tad more enjoyable. It's refreshing to see people who honestly enjoy their jobs and serving passengers.
Parting Thoughts
I think the biggest novelty on this flight, for me at least, was flying on the 747 — in seat 1A. This has long been a bucket list item of mine and who knows when/if I will have that opportunity again.
For the non-aviation gurus, though, the key perks of this flight were the crew and refreshed cabin. As previously mentioned, the crew were simply delightful to a point where I spoke with the customer service director prior to landing to give them my best.
Since this 747 had a refreshed interior, it was a bit more pleasant than the older ones. The WFi was an added bonus, too. It's not fun arriving somewhere jet-lagged only to have a boat-load of emails and messages that need attention.
Overall, I found the experience to be solid for such a flight. I'm glad that I got this flight in, especially in first. I certainly will never forget it, even when the 747 is gone for good.
Ryan founded AirlineGeeks.com back in February 2013 (actually, it was called Aviation Official, but we've changed a bit since then). From being on the yoke of a Piper Navajo, to visiting about Delta's operations center in Atlanta, Ryan has done it all. in 2016, along with American Airlines, Ryan masterminded AAviationDay at more than 10 locations around the world. The smell of jet fumes in the morning along with the countless number of passionate airline employees keep him enthralled in the industry, always seeking more. You can find him helping out travelers at Reagan National Airport near Washington, D.C. when he's not doing something for AirlineGeeks.
Latest posts by Ryan Ewing (see all)