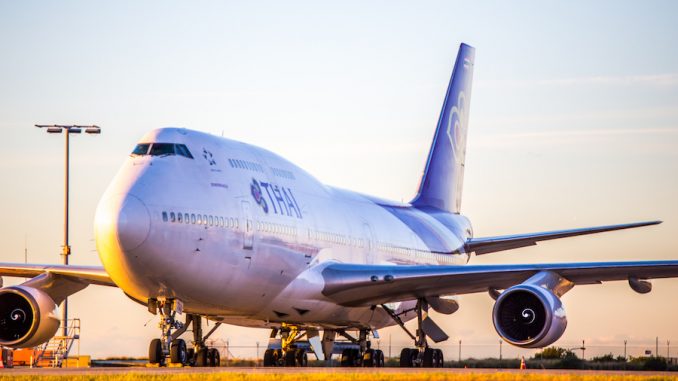 Following the report of a huge loss in the second quarter, the state run Thai Airways has announced some new strategies.
Earlier, Thai Airways reported a loss of $221 million for April to June, a 122 percent increase compared to the same period last year. The airline blamed several factors, such as a strong baht, the U.S.- China trade war, sluggish economics and the closure of Pakistani airspace.
Thai Airways owns a fleet of 80 aircraft and fly to over 70 destinations. Mr. Sumeth Damrongchaitham, the president of the airline, introduced new methods to increase the revenue and reduce the expenses.
"I have been President of THAI for eleven months and there was never a day without a problem. Members of the THAI Board of Directors, Management, and staff recognize THAI as a national carrier and we have all been working hard as the problems that we face cannot be easily solved," he said.
The airline will utilize digital marketing, such as promotions on its mobile application that may help to increase revenue by selling ancillary products, such as excess baggage allowance, travel insurance, airport limousines, car rental and hotels. In addition, customers are able to purchase products online through an eCommerce platform.
The airline will implement a zero-waste management starting with food waste. On Oct. 29, the airline will also launch new service between Bangkok-Sendai, Japan three times a week; Sendai becomes the sixth destinations in Japan for the airline.
THAI announced that they will enhance the cooperation with THAI SMILE, a subsidiary airline of Thai Airways. Also, the airline's product can be offered through business alliances, such as Café Amazon. The president mentioned a new cost-control strategy does not hinder THAI's quality of service.
As a result of the strong baht, tourist numbers declined and customer purchasing power was reduced. According to Reuters, the tourists from China have dropped 7.1 percent in June. Earlier, the Thailand government implemented a new visa policy to entice Chinese tourists.

Will has been a travel agent in Hong Kong for almost three decades, as time goes by he hasn't lost his passion for his job, He still has plenty of enthusiasm for the airline industry and airport operations.