LATAM Brasil, the biggest branch of the LATAM Airlines Group, is continuing to update its fleet of ten Boeing 777-300ER. The second one with the new interior, PT-MUJ, arrived from the maintenance center in Abu Dhabi just a few weeks ago, and the third one, PT-MUA, arrived this Tuesday at São Paulo Guarulhos International Airport. This one arrived with a special Star Wars livery named the "Stormtrooper Plane."
The livery covers most of the rear of the airplane, while the frontal part of the fuselage sees mostly standard LATAM titles, as well as some minor Star Wars details.
This livery was designed by Disney's creative team, along with Lucasfilm, to promote Disney's Hollywood Studios park new attraction, "Star Wars: Galaxy's Edge." The livery was made using 2,500 liters of paint and 21 days of work. The airline expects PT-MUA to start flying in a few days. LATAM's fleet of 777-300ER operate flights from São Paulo to Frankfurt, London, Madrid and Miami.
While flying LATAM, customers will be able to watch the whole Star Wars saga using LATAM Play, the airline's onboard streaming service.
LATAM operated a Disney-themed aircraft in 2016 when a 767-300 registered as PT-MSZ received the "Avião dos Sonhos" (Dreams Airplane) Disney World special livery.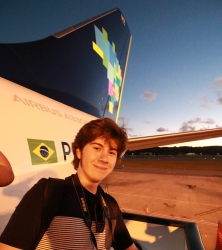 João has loved aviation since he was six-years-old when he started visiting his home airport in Porto Alegre, southern Brazil. As he always loved writing, in 2011, at age 10 he started his very own aviation blog. Many things have happened since then, and now he is putting all his efforts into being an airline director in the future.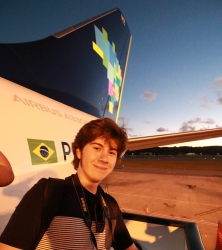 Latest posts by João Machado (see all)