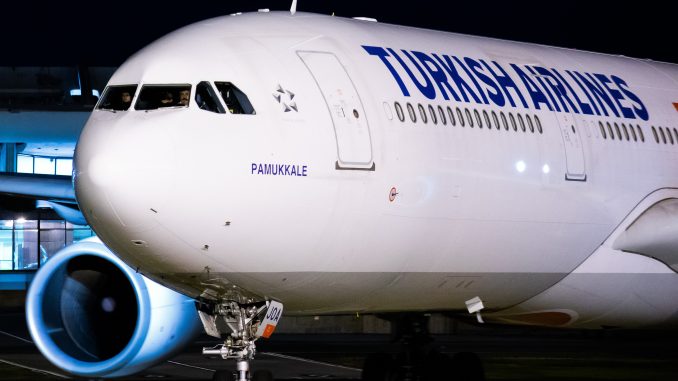 Behind a great airline, there is usually a great airport, but great airports also need a great airline. It is not by coincidence that Turkey built an impressive new airport as the country clearly has an impressive national airline that will bring in traffic and revenue.
Turkish Airlines is an interesting example in the airline business. The flag carrier serves more destinations nonstop from a single airport than any other airline in the world. Although it flies to 126 countries, it does not get much attention in the media despite the fact that Istanbul is just 3 hours away from more than 50 countries.
The airline operates a fleet of more than 300 aircraft to more than 300 destinations with orders expected for more than 200 aircraft in the next few years, including 30 Airbus A350-900 XWBs and 24 more Boeing B787-9 Dreamliners, a good sign that the airline is expecting to grow. Its financial report also showed a $475 million net profit in 2018.
Traffic results for the period Jan.-Aug. 2019, according to the airline's financial report, showed the airline carried 49.7 million during the six-month span. Living up to Istanbul's history as the crossroads of the world, international to international transfer passengers also increased by 3.5 percent compared to the same period in 2018.
The airline's average load factor for the period was 81.2 percent with Turkish airlines also seeing the total number of cargo and mail carriage increased 9.6 percent to 985,228 tons.
Some interesting services provided include personal cars and chauffeur to business class passengers, flying chefs to prepare meals for premium passengers on transatlantic flights and a free tour in Istanbul for passengers with international layovers between 6-24 hours.
Despite its lavish offerings, however, the interesting thing is that if one does an average price search on routes operated by Turkish Airlines, the chances are you will get one of the best prices flying the airline. Sometimes, Turkish Airlines can be more than 20 percent cheaper than its competitors.
There have been discussions on the long-haul, low-cost business model and its difficulties, but Turkish Airlines has accomplished something different – a full-service airline with lower fare prices. Maybe the option for lower fares on transcontinental flights lies on traditional full service airlines reducing their operational and overhead costs to the point of offering cheaper long haul fares for economy class passengers, without losing the important revenue from corporate business travelers.
Turkish Airlines is an important airline to watch in the next few years.
Peter Biondi has a degree in journalism and a master's degree in airline/airport management from Embry-Riddle Aeronautical University. He is a former professor of Airline Management, Airline Marketing, Airport Management, Aviation safety, and Introduction to the Aviation Industry. He is an IATA instructor in airline business foundation. He has worked as an aviation consultant, analyst, researcher, journalist and professor. His professional experience includes Varig – Brazilian Airlines, KLM, and British Airways. Before moving to the US, he lived in Europe and South America. He is fluent in English, Spanish, Portuguese, French and Italian.
Latest posts by Peter Biondi (see all)