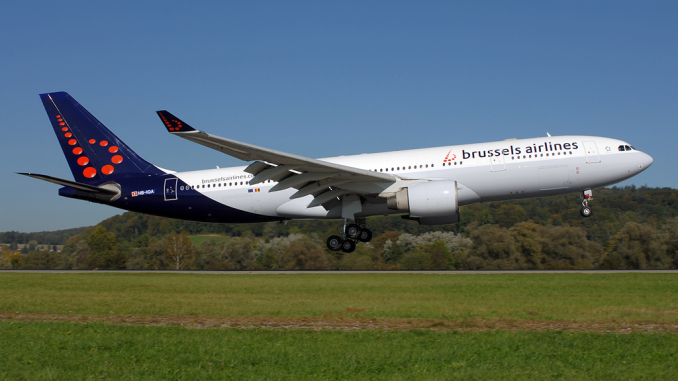 Brussels Airlines is moving forward on its plans to be the boutique carrier of Europe through a complete revamp of its offerings. The airline doesn't typically get much attention as one of the smaller members of the Lufthansa Group; however, the airline is using its small size to its advantage moving forward by segmenting itself as a boutique carrier that's different than the standard industrialized airlines of Europe
With a small fleet of less than 70 aircraft, Brussels Airlines has much more room to customize and create a consistent product across the board compared to a larger airline such as Lufthansa which has a fleet size five times larger. Often, airlines will unveil new onboard products or liveries that take years to implement across the fleet, but a small fleet means quicker implementation and increased customer satisfaction.
Just one of many European airlines operating the same hub-and-spoke system, the onus is on Brussels Airlines to stand out as it can easily fall prey to its neighboring competitors. With Brussels Airlines connecting many of the same cities as its counterparts, something has to stand out for the customer to choose the Belgian option over say the French, Dutch or British option, hence the need for rebranding.
The new boutique aspect of Brussels Airlines will be primarily derived from Belgian culture, which has roots in French and German history, and the airline seeks to offer a product that harmonizes with its country. Aesthetic finishes are designed by top Belgian designers and a lot of the onboard styles are derived from the works of Henry van de Velde, one of the most instrumental figures in the development of modern style art.
The Belgian influences don't stop at the design as the onboard catering is flush with Belgian heritage. Meals are carefully prepared to reflect some of the best Belgium has to offer, and most importantly 8 Belgian beers will be offered on flights to highlight the importance of beer in Belgian culture. There is even a partnership with Anheuser-Busch InBev to develop custom small-sized Stella Artois chalices to ensure that the uniquely Belgian beer can be enjoyed properly.
The airline has also revamped its long-haul Airbus A330 aircraft to match, including a recently debuted premium economy class. On the refreshed A330s, the new three-class configuration consists of 30 business class seats, 21 premium economy seats and 244 economy seats.
AirlineGeeks was invited to tour one of the retrofitted A330-300s at New York's John F. Kennedy International Airport, where the airline operates a daily service to Brussels connecting New York with Europe, Africa and the Middle East.
Business Class
The business class seats are Thompson Aero Vantage seats in a staggered configuration offering direct aisle access to most business class passengers. This is a similar product to other Lufthansa Group members such as Swiss and could be a move to create relatively uniform hard products across the group.
30 seats across 7 rows make up the product, complete with fully lie-flat seats. While most of the seats are paired, the highlight of the cabin is the throne seat, of which 10 can be found in the cabin. The single-seat offers the most privacy, equidistant access to the aisle and window and more storage space.
The Vantage seat is a competitive product, featuring the standard business class seat products.
The aircraft also features a "Belgian walk-up bar" behind the business class cabin that will be stocked with all sorts of Belgian offerings like chocolates and beer. The self-serve offering complements the standard business class meal service for snacks and drinks in between the main meals.
Premium Economy
A real premium economy now exists on Brussels Airlines aircraft whereas, previously, the premium economy section was economy seats with extra legroom. Premium economy is situated in it's own cabin with seats that feature large 13.3-inch in-flight entertainment screens along with USB ports and dedicated 110v AC power outlets at each seat.
The small cabin features 21 seats spread across three rows, typical for the premium economy cabins on Airbus A330s. Additional seat features include adjustable headrests, leg rests and footrests.
Economy
Economy is the standard 2-4-2 configuration seen on A330 aircraft, though some of the last seats in economy are in a 2-3-2 configuration to accommodate narrowing of the fuselage. The seats feature a solid amount of padding and have adjustable headrests.
The 244 seats feature a generous 32 inches of pitch with an average 17.5 inches of width. Economy privilege seats, the extra legroom section, features an extra two inches of pitch.
The in-flight entertainment screens at each are large and USB charging ports are standard throughout. Unlike business class and premium economy, there are no 110v AC power outlets in economy.
The Future for Belgium's National Airline
All in all, Brussels Airlines is making a hearty attempt at differentiating itself in the competitive transatlantic market and beyond. One shortcoming, however, is in-flight WiFi, but it is an understandable shortcoming.
Brussels Airlines has extensive operations in Africa, particularly sub-Saharan Africa, that are roughly 90 percent of its long-haul operations. In-flight internet coverage has yet to expand to the continent and, therefore, WiFi is not offered on Brussels Airlines' A330s since there are only a handful of routes where it is actually feasible.
In-flight WiFi continues to be considered for the future as connectivity expands to Africa. Right now, however, there is no rational business need.

Hemal took his first flight at four years old and has been an avgeek since then. When he isn't working as an analyst he's frequently found outside watching planes fly overhead or flying in them. His favorite plane is the 747-8i which Lufthansa thankfully flies to EWR allowing for some great spotting. He firmly believes that the best way to fly between JFK and BOS is via DFW and is always willing to go for that extra elite qualifying mile.

Latest posts by Hemal Gosai (see all)