Qatar Airways and its main hub Hamad International Airport recently announced an expansion to the airport that would increase its capacity in time for the 2022 World Cup and make it a destination without itself. En route to Doha, AirlineGeeks was invited by Qatar Airways to fly in its newest product, Qsuites, in business class.
The only South American route Qatar Airways operates, Doha-São Paulo – with a tag-on to Buenos Aires – is operated by the Boeing 777-200LR. As the three cities are important economic hubs on the continent, the airline's award-winning Qsuites in business class are an easy sell for business travelers looking to either relax or catch up on some work on the near-6,500 nautical mile flight.
For its service, Qatar Airways utilizes São Paulo-Guarulhos International Airport, the primary airport for the region, with once-daily service. While the inbound flight from Doha is scheduled at 16 hours, the return flight to Doha is slightly less at 14 hours and 35 minutes.
Check-in, Lounge and Boarding
Check-in opened four hours before departure at Guarulhos Airport's Terminal 3. The terminal is the most recently-built at the airport and is used exclusively for international operations such as Qatar Airways'. I was served by a very helpful agent and in no time my luggage was checked and I had my boarding pass in hand.
Our flight to Doha, QR774, was scheduled to depart just after 3:00 a.m. The terminal was quiet as there are very few departures from its gates at this time so immigration and security checks were very quick as well. Rush hour for Terminal 3 begins at the start of the evening, with most of the departures to the United States.
As there was still some spare time until boarding, I went to LATAM's Terminal 3 lounge, used by LATAM Airlines and its oneworld partners, though not for long as LATAM prepares to leave the alliance in October 2020. Qatar Airways offers access to an independent, third-party lounge in Terminal 3, but I opted to visit the LATAM VIP Lounge instead.
Though it seemed too late for meals, the lounge offered a selection of food, drinks and beverages. It was, too, quiet and not nearly filled to capacity due to the late hour.
Boarding began 45 minutes prior to departure and business class passengers were allowed first access to the aircraft. As Qatar Airways doesn't offer a first class cabin on its single-level aircraft, business class passengers take first priority.
This flight would be operated by A7-BBD, a 777-200LR received by Qatar Airways in December 2009, according to Airfleets. It was already equipped with the new Qsuites cabin, which has been serving this route since November 2018. AirlineGeeks had flown Qsuites on the Boeing 777-300ER from Doha to New York in 2018, but now it was time to put the Dash 200 to the test.
Qatar Airways Flight 774 to Doha
Once onboard the aircraft I was greeted by the flight attendants, which told me which direction to take. My seat was 11J, in the last row of the second section of business class, a forward-facing window seat. At first sight, the comfort of the seat highly impressed me, which would come in handy over the next 14 hours.
Qatar Airways' 777-200LR with the new Qsuites cabin comes with 42 business class seats across 11 rows. All of the seats have a retractable door, granting much more privacy to passengers. The center-aisle also features double suites for passengers who travel with a companion. There are two business sections, both offering the same amount of comfort and privacy.
In the rear of the aircraft, economy class features 230 seats in a 3-4-3 configuration. The airline does not currently offer a premium economy class, making it one of the last airlines to configure its aircraft in a two-class configuration.
On my side counter, there was a small, collectible pillow, a blanket and an amenity kit by the Italian outfit Bric's. There was also another pillow over the storage compartment. Inside the compartment, there was also a bottle of water.
The amenity kit came with some personal care products, socks and an eye-mask.
The seat also came with such amenities as a USB charging port, 110v AC power outlet and button controls along the counter wall. A device pairing functionality is also offered.
Joana, my flight attendant for this flight, introduced herself and asked if I wanted any beverages before departure. I asked for orange juice, after which I was also brought a hot towel.
Before departure, pajamas and the three menus – the wine menu, the regular courses menu and a snack list – were delivered to passengers. Although the pajamas were too big for me, the flight attendant offered a smaller size that fitted me well.
At 2:54 a.m., 26 minutes before the estimated time of departure, doors were closed and after a short taxi to Runway 9R, we took off at 03:08 a.m, 12 minutes ahead of schedule.
Soon after take-off, Qatar's Oryx One entertainment system was available for use. As I was settling in for the long flight, however, I only planned to eat breakfast and then have some sleep.
Listening to some music as I fell asleep, the options did not disappoint me. While scrolling through the multiple rock options, I found the first two Oasis albums, which are between my all-time favorites.
The touchscreens were quite large and provided a considerably good quality of image. The touchscreen was very responsive as well. though the system did come with a tethered remote with a touchscreen of its own. The airline offered noise-canceling headphones, which were stored in the storage compartment.
While I enjoyed the albums, I called the flight attendant to request breakfast. Qatar Airways operates on the dine on-demand system, which I quite enjoyed. Instead of making scheduled services during the flight and following a predefined sequence – dinner-breakfast-lunch, for example, the passenger can request what they want, when they want.
While this may give an additional workload to the cabin crew, I believe this is what other airlines should offer as well. After all, giving the passengers this flexibility, without interrupting their rest or work, brings the customer experience to a whole new level.
For breakfast, I asked for the fruit cuts as a starter. Wanting to try new things, I chose the Arabic option of Ful Medamesas the main option.
The main course was nice and tasty but was just overly spiced. I asked the flight attendant about the spiciness, and she told me this was considered mid-spicy.
As I found later, every time a meal or snack was ordered, the flight attendant would lay down a tablecloth and fill the table with accompaniments such as a candle and bread bowl.
The flight left São Paulo way before dawn and arrived in Doha at late night, so I really needed some rest. I went to put my pajamas, which were very comfortable, and I kindly asked the flight attendant to set up the bed.
I really don't like to sleep while flying, but I was exhausted. The seat, which turned into a full-flat bed, was really comfortable and I was asleep in no time.
Another very interesting feature of the Qsuites is the "do-not-disturb" switch, which is located in the seat adjustment console. When pressed, the sign outside the seat turns red, meaning the passenger wants privacy.
On the privacy topic, this Qsuites configuration really is state-of-the-art in this sense. With the door closed and the "DND" button activated, I could definitely have slept for much longer. The high walls give the sense that you're alone in the cabin when the opposite is true.
These closed cabins also bring more darkness to the cabin. Even when some passengers choose to let the windows wide open, the light is held up by the dividers of the Qsuites.
After I woke, I was able to fully enjoy the in-flight entertainment system and went scrolling through the movie options. Though the system featured good options, the first option I spotted, "Yesterday," was the one I picked. The movie had just come out of the theaters.
One of the things I liked most about this flight was the knowledge the flight attendants showed about the product. They seemed to know a lot about the wine pairings with the menu options, for example. After waking up, I asked for a suggestion. I was then brought a plate of cold cuts.
Another flawless point on this flight was the cleanliness of the cabin. The bathrooms were clean for the whole flight – even though this was an ultra-long-haul, the crew did a very nice job of maintaining the good aspect of the cabin. There were personal care items for our disposal, and they were always replaced.
After finishing the movie, there was still plenty of time until the arrival at Doha and I decided to request dinner since I was hungry again. The starter was a ceviche, which is a traditional South American plate made with fish.
As an appetizer, I chose the cold-smoked salmon, which was also very tasty.
The main course was just wonderful; a chimichurri marinated grilled beef steak. The steak was delicious and almost tasted like at a restaurant.
For dessert, the only option was a warm sweet coconut cake, which was tasty.
All courses were delicious and well presented, while not being too heavy. Now I could sleep again, and really well. Before sleeping, though, the flight attendant brought me a box of Godiva chocolate.
After such a good dinner, I took another nap and didn't wake up until we were over the Mediterranean Sea, near Sicily. Such a longer route is made due to the air blockade imposed by Saudi Arabia and its allies over Qatar in 2017.
Sometime before landing, the flight attendant asked if I wanted any drinks before arrival. I asked for another orange juice and was also brought another hot towel.
Before the landing safety procedures, the supervisor also passed by each seat to thank the passengers for flying with Qatar Airways, calling each customer by their name, a small detail that means a lot in the age of impersonal travel.
At 10:52 p.m., we began our descent to Doha. Finally, after 14 hours and 31 minutes of flight, at 11:39 p.m. – 16 minutes ahead of schedule – we made a very smooth landing at Hamad International Airport, a perfect ending for the near-perfect flight.
Bottom Line
After such a pleasant experience, I found why Qatar Airways, year after year, receives multiple awards for its business class product. If the hard product is already state-of-the-art, with the very comfortable and private Qsuite lie-flat seat, the soft product was even better. There was a lovely crew, which was always really attentive and helpful, wonderful entertainment selection and a very good selection of food and wine options.
My first business class experience was in good company, for sure.
The writer was a guest of Qatar Airways for this flight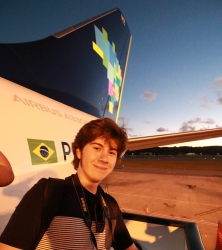 João has loved aviation since he was six-years-old when he started visiting his home airport in Porto Alegre, southern Brazil. As he always loved writing, in 2011, at age 10 he started his very own aviation blog. Many things have happened since then, and now he is putting all his efforts into being an airline director in the future.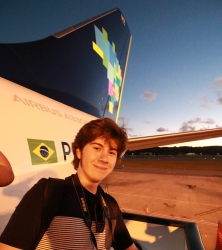 Latest posts by João Machado (see all)