This week, Avianca, the oldest airline of the Americas and second oldest in the world, celebrates its 100th anniversary. However, in recent times, the airline has not much to commemorate. Its financial situation is very fragile, with not much cash remaining and a very complex debt situation. As its latest move to overcome this delicate situation, the Colombian carrier is changing its international network focus.
Avianca is withdrawing from several unprofitable routes from its Lima, Perú hub, while strengthening its main base in Bogotá, Colombia. Between November and January, the airline will stop serving eight different cities from Lima; Santa Cruz de La Sierra in Bolivia, Cali and Medellín in Colombia, Havana in Cuba, Cancún in Mexico, Asunción in Paraguay and Montevideo in Uruguay.
Of these, five were already served from Bogotá. The other two, Asunción and Montevideo, will start to be connected to Bogotá from this month, according to data by Routes Online.
As one of Latin America's two major airline groups, along with LATAM, Avianca has three major hubs – Bogotá, Lima and San Salvador, in El Salvador. The two latter were inherited from TACA, which merged with Avianca in 2009.
While San Salvador serves as a hub between the northwestern part of South America and North America, both Lima and Bogotá compete between themselves as a hub, connecting mostly the same places in the Americas which can weaken the airline margins if not accompanied by a rational capacity strategy.
Consequently, while this does not mean the full closure of the Lima hub, which still has a big Avianca presence, these changes can be seen as an airline strategy in search of better margins at the South America-North America flux. This flow already comes with huge competition from Copa Airlines in its Panama City hub and of LATAM Airlines in Lima. The shift will allow Avianca to rationalize the operation and benefit from the economies of scale it already has in its fortress Bogotá hub.
Avianca's Efforts on Planning
In May, German Efromovich, the airline's major shareholder, defaulted a $456 million loan to United Airlines that was backed by his Avianca Holdings shares. United was not legally allowed to take over these shares, so it trusted the control of the airline to Roberto Kriete, a minor shareholder that owned TACA before the merger.
Since then, the airline has seriously intensified its efforts into profitability. Led by a new CEO – Anko van der Werff – Avianca renegotiated bonds and outlined an effort labeled as "Avianca A321," axed many unprofitable routes, including most of its domestic flights in Peru from the Lima hub, reduced its fleet and said it would add more seats to its airplanes.
And while the airline celebrates its 100th anniversary since its foundation in the Colombian city of Barranquilla, which included even the introduction of an A320 in retro colors, the hopes are that the new administration will bring Avianca back to its golden days.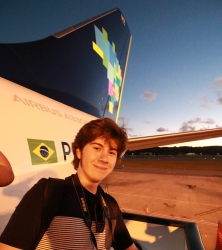 João has loved aviation since he was six-years-old when he started visiting his home airport in Porto Alegre, southern Brazil. As he always loved writing, in 2011, at age 10 he started his very own aviation blog. Many things have happened since then, and now he is putting all his efforts into being an airline director in the future.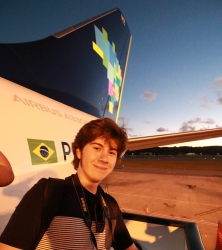 Latest posts by João Machado (see all)