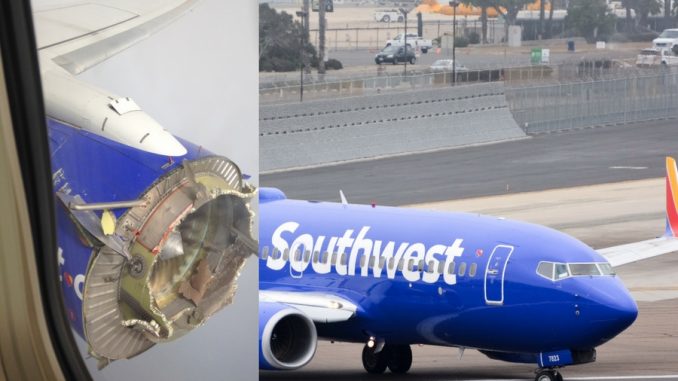 The pictures revealed from Southwest flight 3472 were shocking and went around the internet within a few hours' time. Speculations rolled in along with them, varying from "the engine has blown up," to "it must be poor maintenance,"and "the crew must have not done their walk around properly."
But what exactly happened here? As the image reveals, some of the inlet came loose and got torn off. Usually in case of structural damage like this the cause is either one of two issues: it got struck with a foreign object (bird, stones, etc.) and the impact was heavy enough to tear it apart, or there was internal discrepancy (loose parts, worn or aged materials, or instability) that by force of the airflow might have come loose or caused vibration that harmed the engine.
One thing the pictures do show is that only part of the inlet got torn off. For maintenance purposes the inlet can be removed in one piece, taking the green back-end with it to reveal the complete engine. Why, or how this didn't happen in this case is something only further investigation would be able to conclude, which is the job of the NTSB.
The National Transportation Safety Board is unique, in that it's not affiliated with the Department of Transport or any organization affiliated, so it can provide unbiased and factual information. It conducts research pertaining to structures, systems, and power plants, but also takes into account operations, human performance, and the weather. They investigate about 2,000 aviation accidents and incidents a year.
Turbofan engine failures are rare, only one occurs approximately every 20,000 flight hours, and the vast majority are with very low risks. For the type of engine on flight 3472, the CFM56-7B24, this rate is even lower with only one shut down incident per 333,333 hours.
Unfortunately its safety record hasn't always been this high. In the past, there have been incidents with the CFM56 engine that required it to be redesigned. The old version, the CFM56-3C, had trouble with fan blade failures, where fatigue stress had been an underestimated factor. The entire fleet using those engines was grounded, and the blades of over 1,800 engines had to be replaced.
Even though the failure required immediate response by the Southwest crew, descent to a lower altitude, and diversion to another airport, nobody was harmed. Crews are well trained to deal with engine failures at very high standards, they are still very unpredictable and require the highest level of flight crew performance, communication, and cooperation.
After getting her Bachelor's degree in International Business Management, Mila got into a frozen Airline Pilot Transport License (ATPL) training program. Over the course of two years she was ready to fly the big jets. Starting with the Piper Archer and Diamond 40, Mila then moved on to the Piper Seneca V, and later trained on the Boeing 737. Her training took her from Amsterdam to Arizona in the United States, Portugal and back to Amsterdam. With a touch of Oxford, England in between.

Currently you'll find Mila at her local GA airport near her home in the Netherlands. It's not unusual to find her hopping in the back of a Cessna 172 or do some work in the simulator. Although her current work is outside the aviation industry, Mila keeps her eyes to the skies and knows she will one day have her place in the left seat of a commercial flight deck.
Latest posts by Mila Frohn (see all)