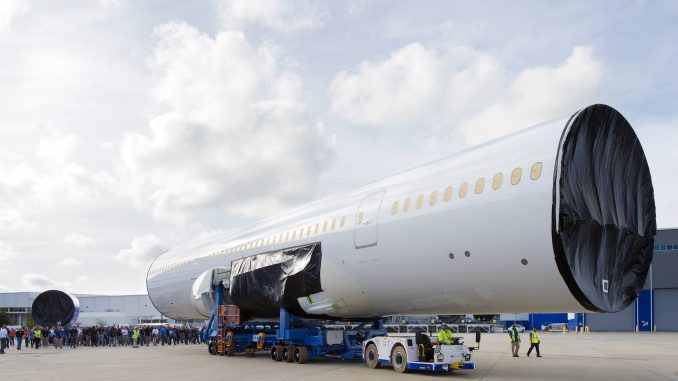 The largest variant in Boeing's 787 Dreamliner program is coming together at the company's manufacturing facility in North Charleston, SC. On Thursday morning, the aft-body and mid-body sections of the aircraft arrived from Nagoya, Japan via Anchorage.
The arrival was celebrated by Boeing employees as the sections were moved into the facility for assembly.
We're celebrating a historic moment as our 1st #787 -10 barrels are delivered to BSC Final Assembly. Congrats team on this great milestone! pic.twitter.com/5dfWgmTgyA

— We Are Boeing SC (@weareboeingsc) November 30, 2016
Unlike other versions of Boeing's Dreamliner, the 787-10 will exclusively be made in North Charleston. The 787-8 and 787-9 are currently manufactured in both Everett and Charleston. Final assembly of the aircraft will begin in a few weeks.
With the mid-body and rear sections of the aircraft on site, Boeing is now awaiting the nose section which will be delivered from Spirit Aerospace Systems in Wichita, KS. The aircraft is scheduled to begin a year-long series of test flights in 2017.
Final designs for the 787-10 were completed on Dec. 2, 2015. The aircraft has a range of 6,430nm and can accommodate approximately 330 passengers in a two-class configuration, which is comparable to Airbus' A350-900XWB. The extended Dreamliner is approximately 18 ft longer than its 787-9 counterpart, with a 224 ft length. The 787-10 will be powered by either the GEnx or Trent 1000 engine, depending on customer preference.
There are currently 154 firm orders for the 787-10, with Singapore Airlines being the launch customer in May 2018. The first 787-10 (line number 528) will likely serve as one of the three test aircraft.
Pushed by Emirates and Qantas, Boeing initially launched the 787-10 program in 2013 at the Paris Air Show. The manufacturer selected Charleston as a perfect place to build the aircraft. The 1.2 million square ft. 787 final assembly building employs thousands of local residents, making it a major employment center within the local community and for the company.
Check out this video by the Charleston Regional Business Journal:

Ryan is a young avgeek who enjoys all aspects of aviation. He has had experience in almost every field of aviation. From writing articles to actually flying, Ryan has done it all!

He has about two hours of flying "under his belt" and he has a collection of 40 plus airplane models, plus airline memorabilia, collectibles and hundreds of aviation photos. Now, Ryan mainly writes articles and collects avgeek stuff. He's had his head in the clouds for more than 16 years and will always look up when he hears a jet roar. In addition to writing and editing for AirlineGeeks, he volunteers as a Travelers Aid at Reagan National Airport in Washington, D.C.
Latest posts by Ryan Ewing (see all)