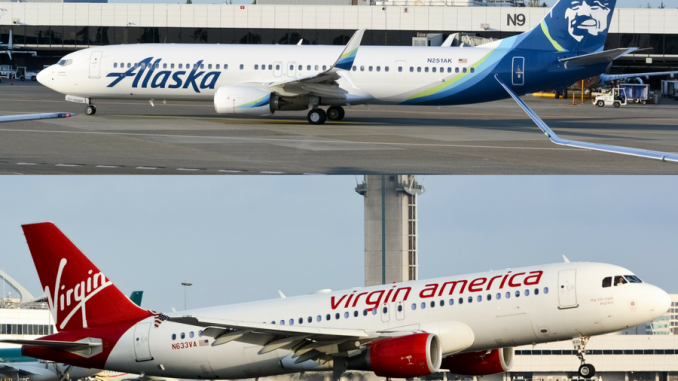 Alaska Airlines has been cleared by the Antitrust Division of the United States Department of Justice (DOJ) to proceed with the acquisition of Burlingame, CA-based Virgin America.
According to Alaska, they were not required to divest any assets by the DOJ, however, the department will require them to significantly downsize their codeshare agreements with American Airlines. In a statement, the DOJ added that these changes will ensure that Alaska will have the incentive to compete with American as Virgin does today.
"Smaller airlines, such as Alaska and Virgin, provide a critical competitive check on the larger carriers," said Acting Assistant Attorney General Renata Hesse of the Justice Department's Antitrust Division. "Although this merger offers hope that a strengthened Alaska can be an even stronger competitor than before, because of Alaska's extensive codeshare agreement with the world's largest airline, the merger threatened to blunt important competition and reduce choices for consumers. Today's settlement ensures that Alaska has the incentive to take the fight to American and use Virgin's assets to grow its network in ways that benefit competition and consumers."
The proposal settlement requires that Alaska and American do not codeshare on routes in which Virgin America and American compete today. This also includes competitive routes that Alaska is likely to launch following the merger. In addition, Alaska must obtain the DOJ's approval before selling or leasing any of the gates or slots that were previously divested to Virgin. With this, the department hopes that they can preserve the competitive benefits brought to Virgin by the American-US Airways merger in 2013.
Alaska has agreed to implement limited changes to their codeshare agreements with American and expects codeshare flights to remain mostly intact.
"We couldn't be more excited about receiving DOJ clearance for our merger with Virgin America," said Alaska Air Group Chairman and CEO Brad Tilden.
The airline plans to close the transaction "in the very near future."
AirlineGeeks.com began in February, 2013 as a one-man (er… teenager, rather) show. Since then, we've grown to have 20 active team members, and yes, we're still growing. Some of us are looking to work in the aviation industry as professionals when we grow older. Some of us are still trying to decide what we want to do. That's okay though, because we're all here for the same reason: we love the airlines. We're the youngest team of airline industry journalists out there.
Latest posts by AirlineGeeks.com Staff (see all)