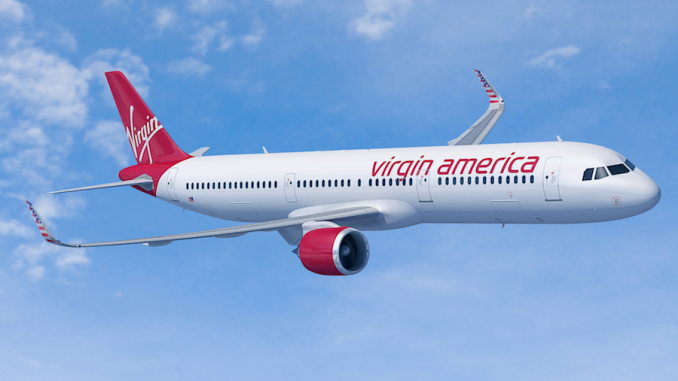 Burlingame-based Virgin America plans to take delivery of their first A321neo by May 2017. The airline has a total of 10 of the newest Airbus narrowbody aircraft currently on order, with all deliveries expected to be complete by the third quarter of 2018. 
While the Virgin America fleet has consisted of Airbus A319s and A320s, the A321neo will be the newest and largest aircraft in the all-Airbus fleet. The A321 (new engine option) will feature 185 seats in total, an increase of 36 seats from the 149 seat A320. 
The airplane is expected to be arranged in a three-class cabin much like the layout of the aircraft currently operating in Virgin's fleet. Along with the extra seats, Main Cabin will feature an extra lavatory for customer convenience. Even with the additional seats and bathrooms, the airline says the cabin will remain just as spacious as on current aircraft.
The new cabins will feature the current amenities that customers have grown accustomed to on Virgin America flights. These include power ports in every seat, in-flight Wi-Fi, and a special in-flight menu. There are also plans for some minor updates that will be released closer to delivery and launch.
Select flights on the A321neo are already bookable on certain routes for the summer of 2017. These routes include select flights between San Francisco (SFO) and New York-John F. Kennedy (JFK) and San Francisco and Washington-Reagan (DCA), which are subject to change. According to the schedule, the DCA route will likely begin on May 31 and JFK on June 14.
With the delivery of the new A321, Virgin will become the third airline in the United States to operate part of the Airbus Neo family, alongside Spirit and Frontier.
The A320neo series is the latest of the Airbus narrowbody jets to hit the market. The aircraft offer greatly increased fuel efficiency with CFM LEAP-1A engines. Virgin America will be leasing their A321neos from GE Capital Aviation Services (GECAS); the first aircraft is slated to be registered as N921VA.
Jace has been working at AirlineGeeks for nearly three years. Born in Seattle, Boeing and aviation quickly took over his life and he never stopped looking up. Jace enjoys plane spotting and taking trips just so he can fly. He is currently studying at Embry-Riddle Aeronautical University while earning his Bachelors of Science in Air Traffic Management.
Latest posts by Jace Moseley (see all)