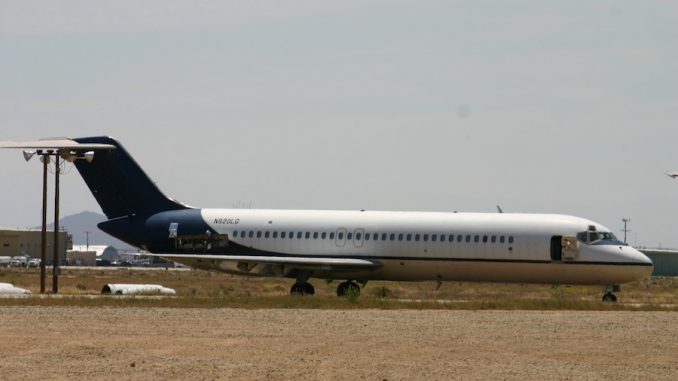 While many carriers start with a vision and operational aircraft, Legend Airlines started with a vision and a court case. T. Allan McArtor, a former FAA employee, wanted to bypass the Wright Amendment and fly between Dallas Love Field and the coasts, which was strictly prohibited under the law. However, the Wright Amendment also didn't apply to airlines which had under 60 seats, allowing airlines such as Continental and Delta to provide service to Dallas Love Field.
McArtor created Legend Airlines, which would fly an all business class fleet of Douglas DC-9s with 56 seats.
However, American Airlines didn't like the idea of an airline exploiting a loophole in the Wright Amendment and sued the start-up carrier for violating the law. While the courts decided to side with Legend, American realized that these court cases would damage their financial resources, so they appealed the case to a higher court multiple times.
Although the carrier was originally slated to begin flying in 1995, the actual start of service didn't commence until 2000 due to these court cases.
To streamline the flying experience, Legend Airlines bought the land next to the former Braniff International hangar and started to construct an executive terminal and parking garage for Legend Airlines passengers.
The airline officially began service on April 5, 2000 with a flight between Washington-Dulles and Dallas Love Field. The carrier took hold of six Douglas DC-9-30s and remodeled them to create a more premier experience and included onboard meals on flights and electronics such as seatback DIRECTV and AT&T airphones.
Other routes on Legend from Dallas included Los Angeles, Las Vegas, Chicago Midway, and New York LaGuardia. The Legend Airlines Executive Terminal was also utilized by Delta for their flights to Atlanta and Legend travelers could earn points on both carriers.
While Legend did get airborne, the American Airlines thorn wouldn't go away. American had responded to the creation of Legend by remodeling multiple Fokker 100s to 56 seat business class aircraft with flights between Dallas-Fort Worth and Chicago O'Hare, Los Angeles, and LaGuardia.
The airline didn't last long. The construction of a terminal coupled with competition and legal cases from American Airlines left the carrier bankrupt by the end of the year and on December 3, 2000, Legend Airlines filed for Chapter 11 bankruptcy. The carrier's six aircraft were grounded and Delta moved back to Dallas Love Field's main terminal with Continental and Southwest.
Despite multiple attempts to restructure, Legend officially turned over its operating certificate to the FAA in 2001 after amassing over $40 million in debt since its start. However, Legend's drama didn't end there as the old terminal was handed over to the Love Terminal Partners to find a new home. The group searched and after five years of trying, they found a buyer in Pinnacle Airlines.
However, during the same time that all the paperwork was being completed, Dallas approved the Wright Amendment Reform Act, which capped the amount of gates at Dallas Love Field to 20. As part of the reform, the former Legend Airlines terminal would be demolished via Dallas's use of eminent domain, this ruined a potential $100 million deal with Pinnacle.
The airside part of the terminal was demolished in 2006 and the rest was turned into office space. The Love Terminal Partners responded by suing the City of Dallas, the City of Fort Worth, American Airlines, Southwest Airlines, and DFW Airport for violating anti-trust laws and originally putting Legend Airlines and Dallas Love Field at an economic disadvantage. The court case was thrown out but a second case brought forward in 2008 titled "Love Terminal Partner LLC vs. City of Dallas" accused the city of razing the terminal without proper legal consent and was won by the plaintiff.
While some would say Legend Airlines might have spent more time in the courtroom than in the skies, its impact on the Dallas aviation community was massive. The airline's ability to find a loophole in the Wright Amendment was a key talking point during the Wright Amendment Reform Act and the eventual termination of the amendment in 2014. The airline also exposed the urge for a premier airline in Dallas, something that Virgin America would exploit years later.

Although Ian McMurtry was never originally an avgeek, he did enjoy watching US Airways aircraft across western Pennsylvania in the early 2000s. He lived along the Pennsylvania Railroad and took a liking to trains but a change of scenery in the mid-2000s saw him shift more of an interest into aviation. He would eventually express this passion by taking flying lessons in mid-Missouri and joining AirlineGeeks in 2013. Now living in Wichita, Kansas, Ian is in college majoring in aerospace engineering and minoring in business administration at Wichita State University.

Latest posts by Ian McMurtry (see all)