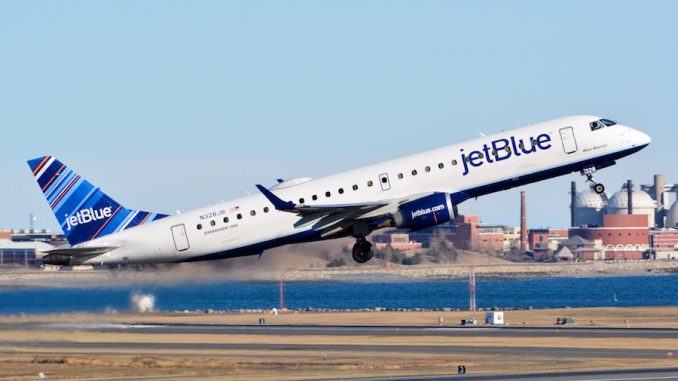 New York-based JetBlue Airways will begin a fleet review, with a focus on the airline's Embraer 190 fleet. The airline currently operates a fleet of 60 E190s with 24 more on order, which have been deferred until 2020. The task of the fleet review will be the job of new Chief Financial Officer, Steve Priest, who was previously the Vice President of Structural Programs with JetBlue.
In reviewing potential aircraft order changes, JetBlue CEO Robin Hayes stated, "The stage length of the E190 is 40% shorter but the E190 is a high CASM airplane. We look at the E190 issue not as a CASM issue, but a return issue."
This isn't the first time JetBlue has had issues with their Embraer fleet. The carrier described issues being the launch customer for the Embraer 190 as "tricky" back in 2005. Although there have been issues in the 12 years of operation, the E190 has proven to be a workhorse for JetBlue. 
The versatile aircraft has enabled the airline to enter smaller markets such as Worcester and Burlington. It also has enabled JetBlue to serve smaller markets without the cost of using a regional carrier, such as what other major airlines like American, Delta, and United have done. This also helps the airline keep service consistent across the brand.
While there have been challenges with the E190, finding a replacement for this aircraft type will be difficult. Similar sized aircraft have been few and far between. Two that fit the bill, the Boeing 737-600 and Airbus A318, have both proven unpopular for airlines. The Bombardier C-Series has been in development in some state since 1998, but the first flight for the program was in 2013, eight years after JetBlue received their E190s.
The airline has looked at the C-Series before, and with the fleet review, JetBlue may take a closer look at the program. The airline also has the option of the new Embraer E190-2 that should be taking flight in 2018. However, the airline is currently focusing on reducing costs, which may make finding a replacement for the E190 a lower priority on the carrier's agenda.

Daniel has always had aviation in his life; from flying to the United States when he was 2, to flying to Tampa and Las Vegas for family vacations. Aviation has always had a strong influence in his life. Daniel grew up in Indianapolis, Indiana and moved to his current South Florida home in 2010. He favors Ft. Lauderdale-Hollywood International Airport but also fly's out of Miami International Airport when traveling back to his native England. He is currently attending Nova Southeastern University in Davie, Florida and is on track to graduate in 2018 with a degree in Human Factors in Aviation and his pilot's license. When he graduates he hopes to become a commercial pilot.

Latest posts by Daniel Morley (see all)