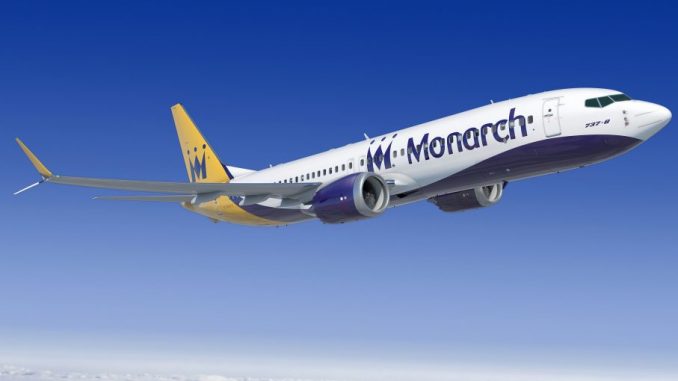 On Oct. 31, 2014, Monarch finalised its order for 30 Boeing 737 MAX 8s, just seven days after the new owners were welcomed into the business. The order, which was originally announced at the Farnborough International Airshow in July, when Monarch selected Boeing as its preferred bidder for their fleet replacement, includes 15 additional 737 MAX 8s and marks the beginning of the transition to an all-Boeing, single-aisle fleet. The orders current listed price is worth more than $3.2 billion.
"Seven days after welcoming new owners into the business, this order represents a demonstration of our commitment to the future and the evolution of Monarch as a distinctive European scheduled leisure carrier," said Andrew Swaffield, CEO of Monarch. "The Boeing 737 MAX 8 fits our network strategy of serving our traditional European leisure routes in greater frequency, providing increased choice and service for Monarch customers, with significantly improved unit costs to our business."
The Boeing 737 MAX 8 will more fuel efficient than today's most efficient Next-Generation 737's by 14 percent. It will also have an eight percent per seat operating cost advantage over the A320neo. The 737 MAX 8 has this because it incorporates the latest technology such as the LEAP-1B engines, similar to the ones being used on the A320neo. It also uses advanced technology winglets along with other improvements to give high efficiency to the plane.
"The 737 MAX is the perfect airplane for Monarch as it moves its business model from a traditional charter carrier to a European scheduled leisure airline, offering improved efficiencies, high reliability and an outstanding passenger experience," said Todd Nelp, vice president of European Sales, Boeing Commercial Airplanes. We are honoured that Monarch has chosen Boeing as its future partner and are dedicated to ensuring this iconic operator's continued success."
Headquartered at London Luton Airport with five additional UK bases at London Gatwick, Manchester, Birmingham, East Midlands and Leeds-Bradford. Monarch predominantly serves holiday destinations around the Mediterranean and the Canary Islands as well as European ski resorts.
"By 2020 Monarch will have the most cost-effective and uniform fleet serving Monarch's heartland of scheduled short-haul European leisure routes, with increased average frequencies, aircraft utilisation, productivity and profitability," added Swaffield. "This order is part of a new strategic direction and exciting plan for the future of Monarch."
The delivery of the Boeing 737 MAX 8 for Monarch will start in 2018. The 737 MAX family has over 2,300 orders to this date from almost 50 global customers. Since Monarch has placed the orders, the 737 MAX has became the fastest-selling airplane for Boeing. This new high demand has prompted Boeing to increase the production rate to 52 planes per month by 2018.
Ryan founded AirlineGeeks.com back in February 2013 (actually, it was called Aviation Official, but we've changed a bit since then). From being on the yoke of a Piper Navajo, to visiting about Delta's operations center in Atlanta, Ryan has done it all. in 2016, along with American Airlines, Ryan masterminded AAviationDay at more than 10 locations around the world. The smell of jet fumes in the morning along with the countless number of passionate airline employees keep him enthralled in the industry, always seeking more. You can find him helping out travelers at Reagan National Airport near Washington, D.C. when he's not doing something for AirlineGeeks.
Latest posts by Ryan Ewing (see all)