EXTRA: Read part one of our look back at Continental 
The 90s brought major changes to Continental. Frank Lorenzo resigned as president, in 1990, after 18 years in charge. He also sold his controlling share to Scandinavian Air System (SAS). Shortly after, Continental filed for bankruptcy for the second time in their history. This was because Lorenzo spend a majority of his time focused on Eastern Airlines, and the 1990 Gulf War. Also contributing was a series a mergers leaving Continental with other airlines' debt in addition to their own.
In 1991, Continental introduced a new livery, the blue and gold globe livery, now used by United. A group of investors, including Air Canada, injected $450 million into Continental, which helped them, exit their second bankruptcy in 1993. With this, a new leader for Continental emerged in Gordon Bethune. When he took over the airline was heading towards a third bankruptcy. The former Boeing executive turned Continental around completely. The company rose from the bottom of customer service rankings to the top, winning more J.D. Power and Associates awards than any other airline. The airline's stock price also rose dramatically from $2 to $50 a share.
The customer culture that Bethune instilled in Continental continued for many years after he left. However, he did provide a few shocks to the airline. One was his decision in 1995 to reduce Denver, Continental's main operating hub, to spoke status. This was due to higher landing fees charged at Denver International Airport.
In 1993 Continental, experimenting with an airline within an airline, launched CALlite. A fleet of 100 DC-9s and Boeing 737s were repainted with CALlite decals and stripped of their first class cabins. Mainly based out of Cleveland, the carrier provided low fare, no frill service for customers. The airline, however, was short lived and by 1995 the planes were repainted and reintegrated into Continental's mainline fleet.
1998 saw Continental expand internationally. They inaugurated service to Ireland and Scotland and soon received Boeing 777s to expand even further. The 777 enabled them to operate non-stop service from Newark and Houston to Tokyo. The airline also launched partnerships with airlines such as NWA, Copa, Transbrasil and Avant Airlines. The airlines also started service to London from their Cleveland hub but shut the route down shortly before the merger with United.
In 2001, Continental became the first airline to operate a non-stop route with duration of more than 16 hours, between Newark and Hong Kong. The route was later suspended in 2003 due to the SARS outbreak. They continued to expand internationally throughout the 2000s and joined the SkyTeam Alliance in 2004.
In 2007 reports began to surface of a potential merger with United Airlines. The economic situation forced the merger discussions. During this time Continental sold its share in Copa Airlines, cut 3,000 employees in order to save costs, and reduced their fleet size by 67 aircraft. They also joined Star Alliance, to better improve their relationship with United.
Between 2007 and 2010, Continental experienced a period of stability with slow expansion occurring and new aircraft entering the fleet. The airline began offering DirecTV to passengers in 2009 which helped to further their strong customer service culture. In 2010, Jeff Smisek rose to CEO of Continetal.
Around this time the merger rumors began to circulate again. United was the likely partner as a deal between United and US Airways fell through. On May 2nd, 2010, the boards of both airlines approved a stock-swap deal that would combine United and Continental to form the world's largest airline. The newly formed airline would take on the United name but still retain the Continental livery and CEO. On August 27th the U.S. Department of Justice approved the merger.
On September 1st, 2010 the merger was complete with the new corporation named United Continental Corporation. For the next two years the Continental name slowly began to fade into the history book as the integration of the two airlines progressed. The official end to Continental came on November 30th, 2011 when the combined airline acquired a single operating certificate. On March 3rd, 2012 the final Continental flight took off from Phoenix en route to Cleveland. This marked the end of the 75 year history of Continental.
The legacy of Continental can still be seen today, as the United Airlines fleet still uses the Continental logo and livery. However, Continental was able to survive the numerous changes it faced and grow into the 4th largest airline in America. Continental will mostly be remembered for their excellent customer service, for which the airline won numerous J.D. Power and Associates awards. Even though the airline is technically gone, Continental will be remembered as the friendly airline that played an important role in the formation of today's airline industry.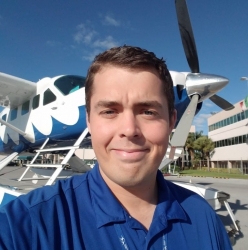 Daniel has always had aviation in his life; from moving to the United States when he was two, to family vacations across the U.S., and back to his native England. He currently resides in South Florida and attends Nova Southeastern University, studying Human Factors in Aviation. Daniel has his Commercial Certificate for both land and sea, and hopes to one day join the major airlines.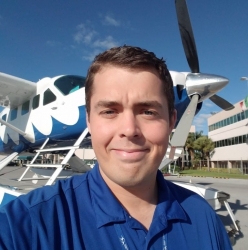 Latest posts by Daniel Morley (see all)