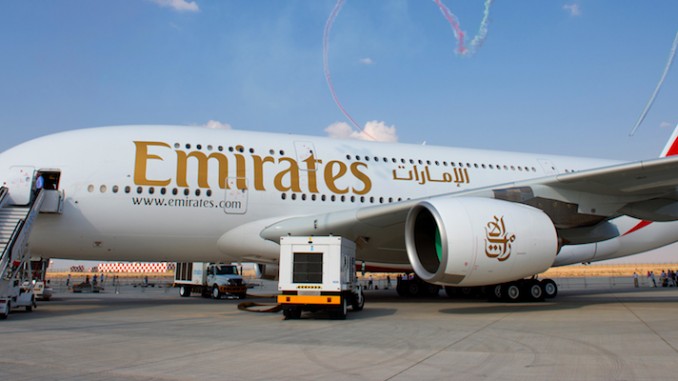 Emirates plans to upgrade their Dubai (DXB) to Dulles (IAD) route to an A380. This upgrade will take effect on February 1st, 2016.
The carrier decided to upgrade the aircraft in order to accommodate increased passenger needs and capacity. Emirates currently uses their 777-300ER to operate the route to Washington.
The announcement of an A380 upgrade comes soon after United announced that they will end service between Washington and Dubai. United will end this route on January, 25th.
BONUS: United to End Service to Dubai
Despite the aircraft upgrade, the timing for EK231 and EK232 will go unchanged. The inbound flight will depart DXB at 2:20 AM and arrive in D.C. at 8:15 AM. The outbound will leave Washington at 10:15 AM, arriving in Dubai at 8:00 AM the following day.
"Our service to Washington D.C. has been one of our most successful and profitable routes, with high demand across all cabin classes. Despite strong seat load factors, United has made the decision to withdraw from the route," Emirates President Tim Clark said, "The additional seats offered by our A380 will therefore restore capacity on the route, and ensure that American consumers and international travellers wishing to visit D.C. for business or leisure will continue to be served. We look forward to offering the award-winning Emirates A380 experience to our customers, and to continue contributing to the economic success of the city and its surrounding regions."
This upgrade will provide passengers with Emirates' award-winning service on their flagship Airbus A380.
Ryan founded AirlineGeeks.com back in February 2013 (actually, it was called Aviation Official, but we've changed a bit since then). From being on the yoke of a Piper Navajo, to visiting about Delta's operations center in Atlanta, Ryan has done it all. in 2016, along with American Airlines, Ryan masterminded AAviationDay at more than 10 locations around the world. The smell of jet fumes in the morning along with the countless number of passionate airline employees keep him enthralled in the industry, always seeking more. You can find him helping out travelers at Reagan National Airport near Washington, D.C. when he's not doing something for AirlineGeeks.
Latest posts by Ryan Ewing (see all)