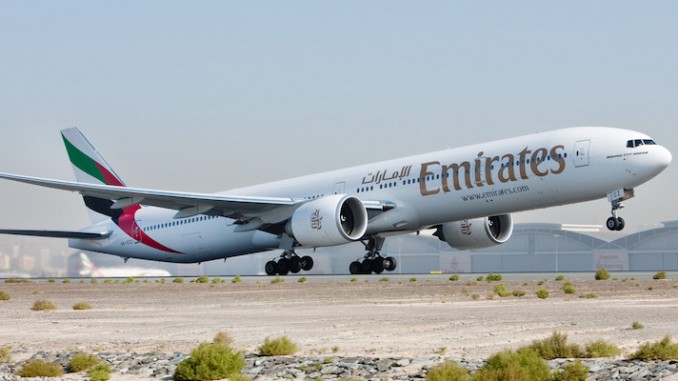 Yesterday, AirlineGeeks broke the news involving Emirates adding its double-decker Airbus A380 service to Washington Dulles. However, what the headlines don't tell is that this interesting move by Emirates isn't just another expansion route, but rather a complete realignment into the way the airline is approaching its routes in North America.
Emirates is currently operating A380 service to 35 countries around the world. It just so happens that in the United States alone, the airline operates this mega-aircraft to Dallas, Houston, Los Angeles, New York, and San Francisco. Better yet, cities like Los Angeles get the aircraft twice a day. However, multiple factors have caused the airline to rethink what cities it serves, which aircraft are needed, and how to not just maintain capacity but grow it.
Smaller Aircraft, Increase in Load Factors
Low oil prices may seem like a win for most airlines, as carriers such as American, Delta and United continue to rake in record profits. However, for an airline like Emirates that was operating an aircraft that seats more than 500 passengers each flight, it became a burden. Both Houston and Dubai are oil cities, featuring headquarters of some of the most powerful names in the business including Phillips 66 and the Abu Dhabi National Oil Company. With oil prices bottoming out and less passengers flying, Emirates made the decision beginning this July to instead serve the route with its smaller yet still large aircraft, the Boeing 777-300ER.
While Dallas may not have the same oil influence as Houston, it too was a major announcement when Emirates announced it would be bringing in the A380 in October of 2014. However, the yields also were not significant on this route either. The airline made the quiet decision to downgrade this aircraft as well until September 1st with the Boeing 777-300ER.
In Comes Los Angeles
For some analysts these downgrades of aircraft point toward Emirates struggling to maintain capacity, or as some carriers in the United States have alleged, involve creating artificial capacity that cannot sustain itself. In actuality, quite the contrary has occurred.
At the beginning of January, Emirates announced it was adding a second daily A380 flight from Los Angeles to Dubai. The airline claims that its existing Dubai-LAX service provides $677 million in annual economic benefit to Los Angeles area, and with a second daily flight hopes to raise these benefits to new heights. It also exports a significant amount of fruits and vegetables to Dubai, a route that all airlines based in the United States no longer serve.
United's Loss Becomes JetBlue and Emirates' Gain
According to the Fly America Act, all US government official travel abroad must be done by a US flag carrier when possible. United, who had been operating the non-stop flight between Washington Dulles and Dubai for the past seven years, was shocked to learn that it had lost its bid to continue operating the government contract valued at $24.8 million each year.
In a creative turn of events, JetBlue had won the contract. Ignoring the fact that JetBlue does not own any aircraft that could operate a flight to Dubai, it had propositioned the government with the opportunity for a codeshare agreement, in which Emirates would continue to offer service to Washington Dulles and JetBlue would make a share of the revenue, which officials believe aligned with the current laws in place.
Less than two weeks later, United announced that it would be canceling its direct flight to Dubai in January of 2016.
In a notice sent to employees, United stated "Even though we successfully operated the IAD (Washington Dulles) -DXB (Dubai International) route for the past seven years, the entry of subsidized carriers such as Emirates Airline (EK) and Etihad Airways (EY) into the Washington, D.C., market has created an imbalance between supply and demand to the United Arab Emirates (UAE). As they've added subsidized capacity, our IAD-DXB route has become less profitable."
Just as United was set to cancel the route, Emirates decided that it would up the aircraft to the Airbus A380.
Sir Tim Clark, President of Emirates Airline stated, "Our service to Washington D.C. has been one of our most successful and profitable routes, with high demand across all cabin classes. Despite strong seat load factors, United has made the decision to withdraw from the route. The additional seats offered by our A380 will therefore restore capacity on the route, and ensure that American consumers and international travelers wishing to visit D.C. for business or leisure will continue to be served."
Successful Capacity Management
While at hind-sight it may seem as though Emirates is playing musical chairs with its aircraft, it has successfully built a model that capitalizes on expansion opportunities such as Washington DC and Los Angeles, and has the ability to alter its aircraft route structure in other cities such as Dallas and Houston to fit these needs.
It's fair to say these changes aren't meant to be set in stone, but for the time being Emirates has continued its explosive growth in the United States and around the globe, and has fought back at the notion that capacity cannot be challenged.

Joe joined AirlineGeeks in 2014, and in his current role as Editor-in-Chief manages a growing team of writers both in North America and Europe. He enjoys spending the bulk of his time researching, learning and analyzing the latest trends in the airline industry, all while mentoring new members of the AirlineGeeks team who seek to do the same. Areas of research include revenue management, codeshare and alliance partnerships and airline financial results.

Latest posts by Joe Pesek (see all)