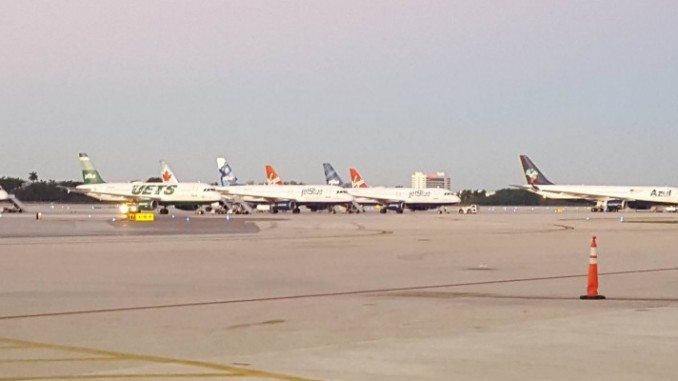 For most of my life, I have been an AvGeek; the term aviation enthusiasts places on itself to describe our obsession with the aviation world and airplanes in general. Since I was young I wanted to work for an airline and become an airline pilot, and earlier last year I finally had the opportunity to do the former.
Taking a step back, my first job was in the fast food industry with a Mexican restaurant chain. I enjoyed my work, and in two and a half years at the restaurant I rose from crew-member to a manger and made friends with my work. However I still longed to get into the aviation industry. In August of last year, an independent regional airline began offering positions at my local airport in Ft. Lauderdale. Naturally like any AvGeek, I applied for the position and had my fingers crossed.
A month later I went in for an interview with the airline. Two weeks after that I was offered the job. My position was a simple one; I would be trained as both a customer service agent and as a ramp agent, and could work both positions in a days work. A dream come true for me. Without any doubt I accepted, and began training for my new position. After a month of training I was ready for my new job.
I have now been working for the airline for about a month now, and a question popped into my mind; is this dream come true for an AvGeek? The obvious answer is "yes." Looking back on this past month at work for my airline, I have never been happier at any previous job.
Every day I go to work, I get to go to an airport and work with airplanes and with passengers. As an AvGeek I am immersed in the aviation world. Although I only work for a small regional airline, I am still surrounded by the larger airlines and still feel like I am working for a major airline. When I get to work on the ramp I am surrounded by A320s and Embraer 190s , as well as my airlines' own birds. Since starting at the airport, I have seen numerous special liveries and numerous aircraft names. Most of these I would have never been able to see without this job.
Some people like to think working in your dream field will cause you to hate that field, as it becomes less like a dream and more like a job. Although I have only been in my position for a month, I believe this is not true. I still hold the dream of becoming a pilot and making my way up through the airline industry. Other than the hassle of parking at the airport, I love my job completely and still hold my passion for the aviation industry.
With my job, I have certain benefits offered to those in the aviation industry. Of those are the obvious discount on air travel and lodging. However the best benefit for me isn't something tangible. With my job I am getting my foot in the door, making valuable connections within the aviation industry. When I finish school I will already be a step ahead of my fellow new pilots. I am working every day with pilots and can learn from them to propel myself into the piloting world.
The old verbiage goes "do something you love and you'll never work a day in your life". Although I've only been in my position for about a month, I haven't had to work a single day of it. I thoroughly love the job I have and am looking forward to what the future has in store.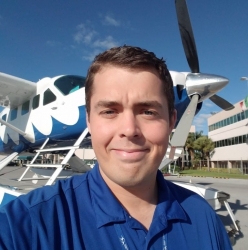 Daniel has always had aviation in his life; from moving to the United States when he was two, to family vacations across the U.S., and back to his native England. He currently resides in South Florida and attends Nova Southeastern University, studying Human Factors in Aviation. Daniel has his Commercial Certificate for both land and sea, and hopes to one day join the major airlines.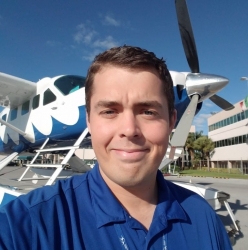 Latest posts by Daniel Morley (see all)