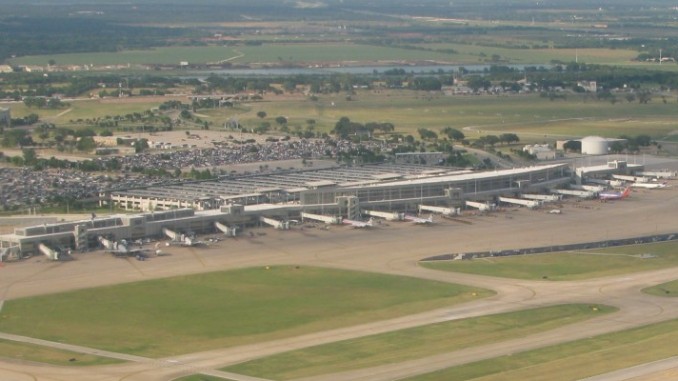 As the 1990s began, the city of Austin, Texas had yet to experience the massive expansion it would soon discover. The high-tech revolutions brought by phones and computers were just around the corner, and few knew the growth they would create for the city. The city's largest events at the time included the South by Southwest gaming (SXSW), film and music festival and the Formula One Grand Prix of the United States. Each played a major role in attracting the hundreds of thousands of tourists that would flock to Austin. By 1990, the capital of Texas had three notable airports; one executive, one military, and one commercial airport, all located near each other on the east side of town.
In 1990, the commercial airport was the Robert Mueller Municipal Airport, located just over 4 miles northeast of downtown Austin, and allowed for easy passenger transit to and from Austin. The close proximity to downtown was problematic though, as the airport was restricted by the neighborhoods nearby. Being in a suburban region, the airport was no stranger to receiving massive amounts of noise complaints over the years. Mueller had three primary runways, a northwest-southeast runway at 7,300 ft (runway 13R-31L), a parallel 3,000ft runway (runway 13L-31R), and a north-south runway that was also 5,000ft (runway 17-35). All of these runways further contributed to large amounts of complaints received, which mostly came from the nearby downtown area as well as the University of Texas campus. On the other hand, the city had its military base southwest of downtown called Bergstrom Air Force Base, as well its executive airport north of Mueller called the Austin Executive Airpark. Due to the close proximity of these airports and all three having similar runway headings, operations often led to overlapped flight patterns on departure and arrival.
With Mueller running at near max capacity and all 16 gates seeing use, the local government was faced with a decision; find a way to expand the current airport, or replace it with an alternate airfield farther outside of Austin. Although this didn't seem like a major decision, the choice of a new airfield over renovating Mueller would impact Austin in a positive way in the 21st century. A brand new airport from scratch was also considered in the suburb of Manor, east of Mueller. The 1993 closure of Bergstrom Air Force Base by the Base Realignment and Closure Commission would pave the way for Austin to get the new airfield the city was looking for, and plans were immediately implemented for converting the airbase for commercial use.
Construction of a terminal, general aviation ramp and secondary runway was started and took roughly six years. On the night of May 22, 1999, airline operations transitioned from Mueller to Bergstrom, while general aviation traffic remained at Mueller for a few more months until the general aviation ramp was completed. The new Bergstrom Airport offered a 25-gate terminal with two parallel north-south runways, one being the original runway 17R/35L at 12,248ft and the newer runway 17L/35R at 9,000ft. The new Bergstrom would still see military use though, with a helicopter base being maintained on the southern edge of the airport.
With commercial operations gone, Mueller was given a second chance at life. Out of the blue, Austin Executive Airpark had closed after selling their land to Dell Computers, leaving the city looking for a new executive airport. Mueller was offered as a replacement due to its ramp size and proximity to downtown. The city looked into giving the airport a chance, but the idea of opening a closed airport and removing all redevelopment plans that had been in place didn't sit well with politicians. In the end, the city chose to renovate the nearby Bird's Nest Airport in Manor, TX to create a new executive airport and rename it Austin Executive Airport. Bird Nest's Airport finished renovations in 2011 and officially became Austin Executive Airport.
Since the movement of operations from Mueller to Bergstrom, Austin's economy has grown rapidly. The once city of only 497,000 in 1990 has nearly doubled, recording an estimated population of 912,791 in 2014. This growth comes largely thanks to the tech booms of the late 1990s and early 2000s with corporations such as Dell Computers and Freescale Semiconductors leading the change. Although technology is large in Austin, other industries have gained traction such as pharmaceutical companies like Hospira and AthroCare moving into the Austin area recently. Other corporations that add to Austin's $100 billion GDP include National Western Life Insurance, Chuy's Tex-Mex, and Whole Food Market, all of which have their corporate headquarters in the Austin-Red Rock area. Events such as the previously mentioned Grand Prix of the United States and art festivals such as South by Southwest boost the economy too, with the combination creating a $914 million economic impact on the Austin area.
With the success of Austin as a city, Bergstrom has continued to see a boom in flight operations. In Mueller's last full year of operation, the passenger count was just above 6 million people. Bergstrom has nearly doubled that number, serving 11.9 million people in 2015 and starting construction on a small 9 gate expansion on the east end of the terminal to accommodate further growth. Due to the suburban restrictions placed on the former Mueller Airport, the ability to expand to a 25-gate or 34-gate terminal would have been very difficult to achieve while also managing to keep the Texas National Guard and general aviation operations at the airfield, similar to the restrictions that could affect any expansions plans at airports such as San Diego and Chicago-Midway.
With extensive service provided by the Dallas-based carrier Southwest Airlines, which continues to expand and dominate the Texas capital. Southwest currently flies to 30 destinations including two cities in Mexico, Cancun and San Jose del Cabo. The legacy carriers carry a large presence in the area as well, with American having the largest presence of those by offering hourly flights to Dallas-DFW. Carriers who have recently expanded service in the Austin area include ultra low-cost carriers Allegiant Air and Frontier, who both now offer 5 destinations a piece. Other airlines that service Austin include Alaska Airlines, Buzz Airways, Frontier Airlines, JetBlue Airways, and Virgin America. Since the tech boom, the international business demand has led to the airport to land international service from carriers such as British Airways and Air Canada.
With the recent arrival of British Airways and the soon-to-be arrival of Condor Flugdienst, runway length would have played a vital role in Austin's airline expansion plans. These two airlines operate the Boeing 777-200 and Boeing 767-300 aircraft to Austin. This would have been a major problem at the previous Mueller Airport, as the takeoff distance for these aircraft are 9,200ft and 7,900ft, respectively. Both of these aircraft would be well over Mueller's maximum runway length, and the small runway would have impacted Austin's international presence. The only wide-body traffic Mueller had seen during its years of operation were American Airlines Boeing 767s and DC-10s, which flew to DFW. These aircraft did not operate at as high of a passenger count or require as much fuel as a European long haul flight does, which allowed American to lower the takeoff distance to between 5,500 and 6,000ft. The maximum runway length that Mueller could have achieved would have been roughly an extra 500-1000ft of runway without intruding on the golf course to the south or the suburb and Interstate 35 to the north.
While Bergstrom has added new terminals and continues to expand, Mueller has retracted its presence, barely resembling an airport anymore. While the outline of a commercial airport cannot be seen anymore, various artifacts still remain. Many streets have kept their original names including the perimeter roads Mueller Blvd and Airport Blvd. The runways have since been replaced with a neighborhood and an H.E.B. grocery store, but some parts on the southeast corner of the airfield remain untouched awaiting future plans. Several structures remain too, including the original air traffic control tower standing strong on Berkman Drive as a tribute to Austin's original commercial airport. The aircraft hangars on 51st Street remain standing and in good condition too as companies such as the Austin Film Society, Riot Games, and Rooster Teeth Productions use them and the original airport ramps as offices and film studios.
With expansion plans ongoing and the population of Austin continuing to grow, Austin-Bergstrom International (AUS) is poised to continue to welcome new routes and new airlines in the future. Bergstrom's current terminal is built to handle expansion too, with the expanded form of the concourse handling 52 gates. The success of European carriers in Austin and the invention of the Boeing 787 has made the idea of Texas' capital getting international flights to Asia a real possibility for the future, especially with companies like Samsung having bases in the city. So while Austinites like to pride themselves on "keeping Austin weird," the city of Austin and Austin-Bergstrom Airport have made sure to take the adequate steps to make sure to keep Austin flying for years to come.
Although Ian McMurtry was never originally an avgeek, he did enjoy watching US Airways aircraft across western Pennsylvania in the early 2000s. He lived along the Pennsylvania Railroad and took a liking to trains but a change of scenery in the mid-2000s saw him shift more of an interest into aviation. He would eventually express this passion by taking flying lessons in mid-Missouri and joining AirlineGeeks in 2013. Now living in Wichita, Kansas, Ian is in college majoring in aerospace engineering and minoring in business administration at Wichita State University.
Latest posts by Ian McMurtry (see all)