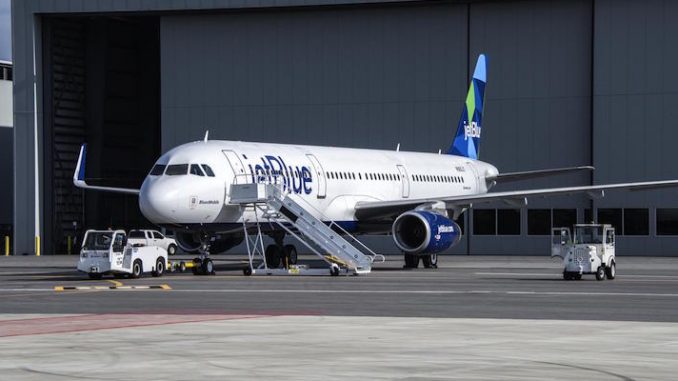 On April 25, 2016, Airbus delivered their first US manufactured aircraft to JetBlue from their facility in Mobile, Alabama. The entire Airbus team based in Mobile attended the inaugural delivery to present the newly manufactured A321, along with JetBlue senior management, including CEO and president Robin Hayes.
"I am immensely proud to be here to participate in this first delivery from Mobile," said Airbus Chief Operating Officer John Leahy. "Going from breaking ground on this facility three years ago to handing over the first Alabama-produced A321 today is an amazing accomplishment. It's a testament to how well executed this project was and how strong the teamwork has been here in Mobile and throughout Airbus. The Airbus US Manufacturing facility has brought together all the best aspects of our assembly lines around the world, and it shows how Airbus people work hand in hand with our partners to deliver great aircraft to our customers."
The airplane delivered today took its first flight on March 21, 2016. Currently, there are nine A320 family aircraft in production at the facility. All of them are CEO aircraft (Current Engine Option), though production for NEO (New Engine Option) will commence at the Mobile plant in late 2017.
Plans for the $600 million facility were announced in 2012, and the plant was finally inaugurated in September 2015.
The project has provided hundreds of jobs for Mobile, Alabama through Airbus and their suppliers. 87% of new employees are from the Gulf Coast region, and one-third are military veterans. Overall, the facility has been advantageous to the local economy.
Airbus assembly centers are in operation constantly: Toulouse, France, Hamburg, Germany, Tianjin, China and Mobile, Alabama, resulting in the phrase "The Sun Never Sets on Airbus."
Photos From the Delivery Event: 
*All photos provided by Airbus
Ashley is currently a senior in high school and plans on pursuing a career in aviation or journalism. Her favorite airplanes include the Boeing 777, 737MAX, and Airbus A350. She enjoys taking flights on various airlines to different airports and planespotting at her local airports.
Latest posts by Ashley Magoon (see all)