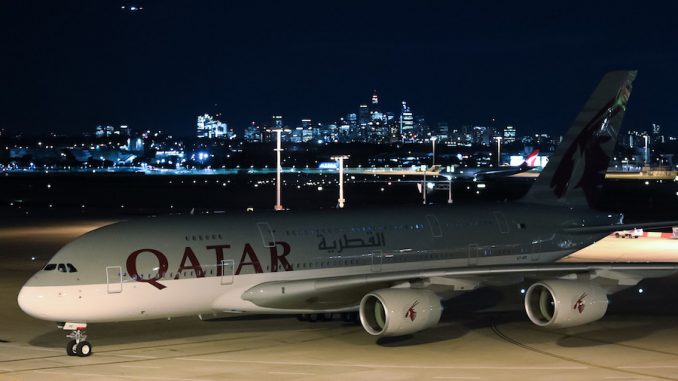 Doha-based Qatar Airways has announced an aircraft upgrade from the Boeing B777-300ER to the Airbus A380 on their Doha-Sydney route. This will be Qatar's first Australian destination to be served by the Airbus A380 aircraft.
Though it appears to be a move based on quick success, the airline launched the Doha-Sydney route back in March 2016 on a daily basis. The A380's seat configuration will expand Qatar's seat capacity by 44% per day. The aircraft upgrade was due to excessive demand on this route as well as the "growing travel and trade demand," according to their press release.
Commenting on the aircraft upgrade, Qatar Airways CEO, His Excellency Mr Akbar Al Baker said: "From the moment we inaugurated service to Sydney earlier this year, we have been welcomed with open arms. Customers flying to and from Sydney appreciate our global route network and our efficient flight schedules, which save them hours of time on the average itinerary. We are pleased to respond in kind, with the introduction of the A380 service to Sydney, offering 517 seats per flight. Qatar Airways brings travelers from Australia to more destinations in Europe, the Middle East and Africa than any other airline serving Australia today. Australia is one of the main hubs of the business world in Asia Pacific, with many passengers flying worldwide for business and leisure. What better way to serve travellers from this key destination than to introduce our iconic A380 to the country, starting with the nation's biggest hub, Sydney."
The airplane's seat configuration is split into a tri-class configuration for all A380 operations. There are only eight seats in first class, 48 seats in business class with a 1-2-1 seat configuration, and 461 seats in economy. Travelers from London and Paris can use the A380 onward to Sydney from Doha via certain travel connections.
Sydney Airport's Managing Director & CEO Kerrie Mather also commented on Qatar's success: "We're thrilled that Qatar Airways has up gauged to an A380 within six months of the airline's launch in Sydney, which is testament to their early success and strong loads. Qatar Airways' Doha-Sydney service already generates an estimated 3,000 jobs and contributes more than $240 million to the economy per year, plus it provides passengers with more choice and connectivity. Sydney Airport estimates that Qatar Airways' A380 will deliver an incremental $78 million in inbound visitor expenditure annually to Australia, supporting the federal government's target of doubling overnight visitor expenditure by 2020. On behalf of Sydney Airport, I'd like to congratulate Qatar Airways on this significant milestone and wish them continued success on the route."
James is a passionate AvGeek who has been actively spotting for years. James has been an Aviation Enthusiast for 7 years and has a fond likening to Concorde! James hopes to grow in the aviation industry with journalism being his primary focus.
Latest posts by James Field (see all)