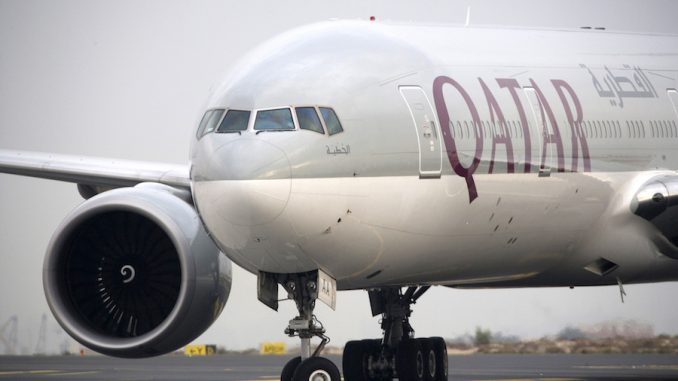 This morning, Qatar Airways and Boeing announced an order for 30 787-9 Dreamliners, 10 777-300ERs, and a letter of intent for 60 737 MAX-8s. The sizable order is valued at $11.7 billion.
As part of the order, Qatar Airways also signed a letter of intent for 60 737 MAX 8s, valued at $6.9 billion.
This announcement builds on Qatar's current combined 777-300ER and 787 Dreamliner fleet of 84 aircraft, all of which have been delivered over the past nine years. The Doha-based airline currently has 65 aircraft on order from Boeing. With this announcement, that number has risen to 105, which includes 60 777Xs.
The joint announcement took place in Washington, D.C. and was attended by the State of Qatar's Minister of Finance, His Excellency Ali Shareef Al Emadi, U.S. Deputy Secretary of State Tony Binken, and the Ambassador of Qatar, His Excellency Mohammad Jaham Al-Kuwari. Also in attendance was Qatar Airways Group Chief Executive, His Excellency Mr. Akbar Al Baker and Boeing CEO, Ray Conner.
"Qatar Airways, already one of the fastest growing airlines in the history of aviation, today announces a significant and historic aircraft order that will power our future growth for the years and the decades ahead," said Baker. "Boeing has proven to be a valuable partner, and today's announcement is testament to our appreciation of the quality of their product and their dedication to providing world class customer service."
Conner stated, "Our partnership with Qatar Airways has grown and strengthened tremendously over the years and I look forward to the time when its fleet will feature an increasing number of both our single and twin-aisle airplanes."
"[This is a] very important order for not only the United States but also Boeing employees," he added.
Qatar was the first airline to operate the 787 Dreamliner in the Middle East, and is a launch customer for the 777X, which is expected to roll off of Boeing's manufacturing line in 2018.
The 737 MAX 8 will be the first single aisle aircraft from Boeing in over 15 years. Baker added, "[The] 737 MAX meets our needs and expectations." The efficient 737 variant is expected to be delivered to launch customer Southwest Airlines in 2017.
Additionally, the new widebody airplanes will feature Qatar's new business class cabin, which has not yet been officially unveiled to the public.
Ryan founded AirlineGeeks.com back in February 2013 (actually, it was called Aviation Official, but we've changed a bit since then). From being on the yoke of a Piper Navajo, to visiting about Delta's operations center in Atlanta, Ryan has done it all. in 2016, along with American Airlines, Ryan masterminded AAviationDay at more than 10 locations around the world. The smell of jet fumes in the morning along with the countless number of passionate airline employees keep him enthralled in the industry, always seeking more. You can find him helping out travelers at Reagan National Airport near Washington, D.C. when he's not doing something for AirlineGeeks.
Latest posts by Ryan Ewing (see all)