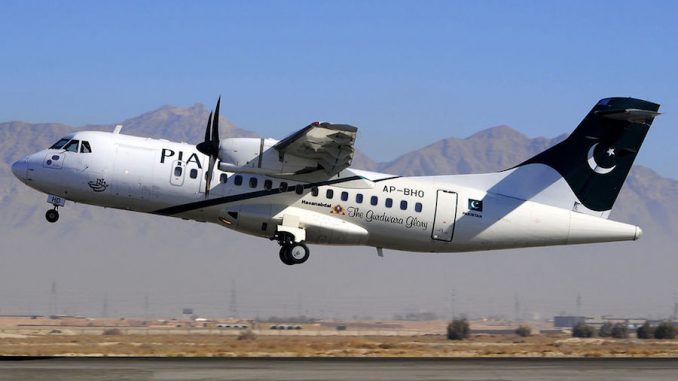 On Dec. 7, 2016 at 4:42PM local time, Pakistan International Airlines flight 661 vanished from the radar on its flight from Chitral to Islamabad. The flight, an ATR-42-500, was carrying 42 passengers and six crew members when it crashed outside of the town of Havelian. The flight departed Chitral around 3:30PM local time and crashed into a mountain side roughly an hour later.
Initial reports state that the aircraft suffered an engine failure on the left Pratt & Whitney 127E engine. The pilots shut down the engine and continued their descent. A few minutes later, the pilots declared Mayday. Radio and radar contact were lost around 11:30Z. A PIA spokesman Danyal Gilani, confirmed that, out of the 48 people on board, there were no survivors.
CAA spokesman Pervez George reported, "I don't think there is any chance of finding any survivors."
The Army in Pakistan has thus far reported 36 bodies being recovered. Among the passengers were 31 men, 9 women, and 2 infants. Passengers included Junaid Jamshed, a pop singer who turned Islamic preacher, Deputy Commissioner Chitral Osama Warraich, and a PIA ground engineer. The Pakistani Civil Aviation Authority, PIA, along with the country's military, are deploying resources to the crash site as well to Islamabad airport to help family members of those that were lost.
The aircraft black boxes have been recovered and are currently being reviewed by Pakistan's Civil Aviation Authority. Witnesses reported finding aircraft parts and bodies being burned beyond recognition. The crash site was reported to be burning for hours after the crash at responders fought the fire and recovered bodies. According to Havelian police official Kurshid Tanoli, emergency vehicles "can only go to Batolani and then it is a 30-minute walk" to the crash site. Government officials have stated they will continue to focus on helping the national air carrier who has been struggling financially.
Today marks the second deadliest crash in the country's history, with the most severe crash in Pakistan occurring in 2010 when a privately owned Airbus A321 crashed near Islamabad while on approach. All 152 passengers on board were killed. The last major aviation crash in Pakistan occurred last year, involving a military helicopter that crashed in a northern valley killing eight people.
Matthew Garcia became interested in aviation at the age of 12 when he installed Microsoft Flight Simulator X on his computer. He was instantly "bitten by the bug" and has been in love with aviation ever since. Matthew took his first introductory flight in 2013 and began normal flight training in February of 2015. Over the years, Matthew's love and knowledge for aviation has grown tremendously, mainly due to FSX. Garcia flies highly advanced aircraft in a professional manner on a highly complex virtual air traffic network simulating real world flying. In 2016 Matthew achieved his private pilot certificate from the FAA. Now he studies journalism at the University of Nebraska at Omaha.
Latest posts by Matthew Garcia (see all)