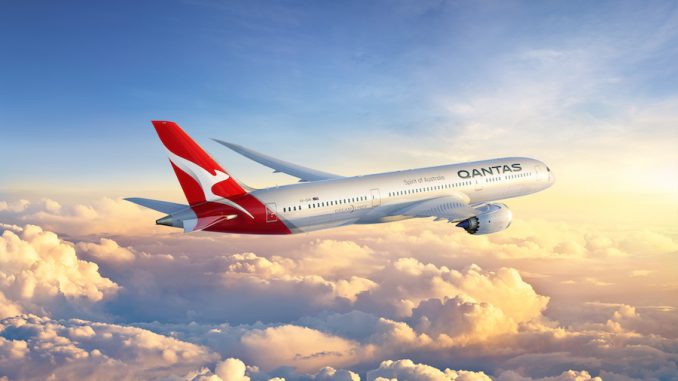 Qantas has confirmed that they will begin offering non-stop service from Australia to Europe. The flight will be the first non-stop flight to a European country from Australia, and will operate from Perth (PER) to London-Heathrow (LHR).
The flight will set a new record for the longest non-stop passenger route in Qantas' network with an estimated flight time of 17 hours and 30 minutes, and will eliminate the need to stop in Dubai. The current longest flight is roughly 16 hours 35 minutes, and is operated by Emirates with their Airbus A380 from Dubai to Auckland. Qantas will be operating this new route with their newest fleet addition, the Boeing 787-9 Dreamliner, beginning in March of 2018. 
Qantas claims that the new aircraft will improve passengers' long haul experience by reducing cabin noise, enhancing the air quality and decreasing turbulence. In a statement from Qantas CEO Alan Joyce he said added, "When we designed the interior of our 787s, we wanted to make sure passengers would be comfortable on the extended missions the aircraft was capable of."
Joyce continues stating, "Our customers, from Perth, are going to have a service that saves you three hours getting to London and from the UK getting here."
The airline is currently in talks with Perth Airport to allow the customers to board and deboard the aircraft at the airport's domestic terminal, allowing easier connecting flights within Australia.  Further negotiations will be taking place to discuss the potential for this partnership between airport authorities and Qantas. 
The flights will go on sale in April 2017. The Boeing 787-9 Dreamliner will carry 236 passengers within Business, Premium Economy, and Economy cabins.
Qantas expects to recieve their first Dreamliner within the next year and currently has 11 787-8s and 8 787-9s on order.
The flight itself is approximately 14,498 km which trumps the carrier's non-stop A380 service from Sydney to Dallas with a distance of 13,730 km. Additionally, the route is expected to be the longest Dreamliner flight in the world. Currently, that title is held by United with their San Franscisco to Singapore route.
Tomos has had a keen interest in aviation for over 10 years and 4 years ago he decided to take it to the next level. He currently holds a private pilot's license and is working towards his commercial license.
Latest posts by Tomos Howells (see all)