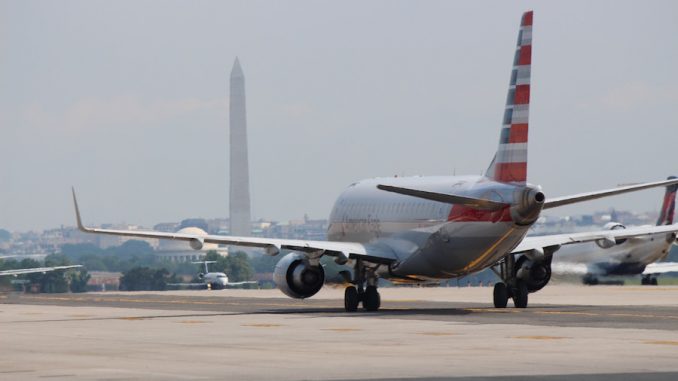 With the signing of the Residence Act in 1790, Washington D.C. was slated to be the new capital of the United States of America. While the federal jurisdiction has had its battles, both won and lost, it has become the center of all government affairs for the nation. Over time, three major airports have been built that provide access to the nation's capital for the nearly 20 million visitors that arrive each year; Baltimore-Washington International Airport (BWI), Washington Dulles International Airport (IAD) and Ronald Reagan Washington National Airport (DCA). During this short series, we will be diving into the history of each airport, its benefits and shortcomings, and how the airport is expected to perform in the years to come.
History
During the grand opening on July 16, 1941, President Roosevelt gave a speech saying, "…the airport, soon to be one of the world's greatest and surely its most convenient…should be brought with all possible emphasis to the attention of our people during this awakening of America…" This quote would continue to be true today.
With the drawing of straws, American would become the first airline to land at the airport, with Eastern being the second to arrive. On National Airport's first day of operation, the airport was not completed; only one hangar was available for use at the time. However, when construction was completed later on, the airport was considered to be ultramodern with its facilities and traffic management systems, such as lighting, air traffic control, etc.
The airport would continue to grow. In 1980, National would reach 16 million annual passengers. This number would continue to remain in the 15 to 16 million range for years to come, with a small decrease in the time following the September 11 attacks.
With a fairly sizable amount of traffic for the smaller airport, it was time for new facilities. On July 27, 1997, National Airport opened a new terminal that housed 35 aircraft gates, 12 baggage claims, three piers where airline gates are located, and the iconic "National Hall" which, in a way, is like a shopping mall with many options for shopping and dining. The Cesar Pelli-designed terminal offers unmatched views of the Nation's Capitol and unique architecture.
The Good and The Bad at DCA
By many, DCA is known as being a business traveler's "dream airport." With easy access to the city via Metro or car, the airport proves to be very convenient. In some cases, travelers are able to get from curbside to the gate in minutes. Nowadays, in the airline industry, convenience is everything; Reagan National has managed to facilitate that with its customers, particularly passengers traveling for business purposes.
Since DCA is a slot controlled airport, flights can not exceed 1,250 statute miles, however there are 40 exemptions to this rule. For example, American operates twice daily service to Los Angeles. The slot control at the airport became more noticeable around the time of the US Airways and American Airlines merger. To accommodate for the merger, American and US Airways were forced to give up 17 routes. Giving up these slots was in exchange for the U.S. Justice Department dropping an antitrust lawsuit that threatened to derail their merger. These were later awarded to other carriers such as Southwest and JetBlue, who have grown to become reasonably significant operators at DCA.
With this new renovation has come some grief from local residents. Given Reagan's close proximity to Washington, D.C. and its surrounding areas, noise has become a problem for the airport to manage. Airport officials receive numerous noise complaints from local residents. In fact, one person supposedly filed 6,500 noise complaints. That is equivalent to one person making 18 phone calls on every day of the year. What many residents do not understand is that the airport is not getting bigger to accommodate more aircraft traffic, it is expanding for the purpose of dealing with the heavy traffic that DCA already experiences.
Due, in part, to the US Airways/American merger that was officially completed on October 16, 2014, DCA experienced an immense growth in passengers, trumping Dulles by millions of passengers each year. Metropolitan Washington Airport Authority (MWAA) officials would rather Reagan not be so busy given its smaller facilities. Dulles was designed to handle these record numbers of passengers but the addition of slots, some of which outside of the flight perimeter, awarded by congress, have spiked DCA's passenger numbers.
The Future
With the rise in traffic, airport officials figured that it was time for a renovation, an approximately $1 billion dollar one. This renovation includes a new regional jet terminal, to officially remove the notorious gate 35X which requires passengers to be bussed out onto hard stands to board their flights, and a new security screening area. In an interview with the Washington Business Journal, DCA Airport Manager Paul Malandrino said, "We're not making it bigger. We're making it better for the customer."
The airport is also growing within the transcon market. In 2017, Delta will be replacing its daily DC to Salt Lake City service with DCA to Los Angeles, using a 757 featuring lie-flat seats in business class.
Ryan founded AirlineGeeks.com back in February 2013 (actually, it was called Aviation Official, but we've changed a bit since then). From being on the yoke of a Piper Navajo, to visiting about Delta's operations center in Atlanta, Ryan has done it all. in 2016, along with American Airlines, Ryan masterminded AAviationDay at more than 10 locations around the world. The smell of jet fumes in the morning along with the countless number of passionate airline employees keep him enthralled in the industry, always seeking more. You can find him helping out travelers at Reagan National Airport near Washington, D.C. when he's not doing something for AirlineGeeks.
Latest posts by Ryan Ewing (see all)