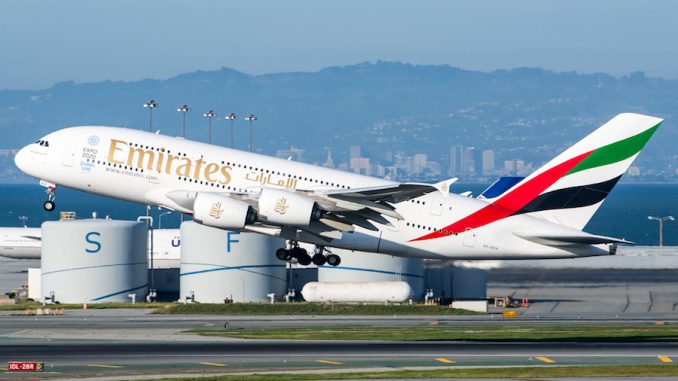 Dubai-based Emirates rounded off 2016 with another year of growth across all spectrums of their network in terms of fleet growth, route development, and an increased number of passengers. Emirates' President Tim Clark was very satisfied with the airline's growth in 2016 and commented on the airline's strength by saying, "Consumer appetite for travel has remained resilient, despite socio-economic and political headwinds around the globe, and that is reflected in our operational growth. Emirates will continue on our strategy of organic growth, leveraging on the geocentricity of the UAE, and Dubai's dynamic developments in tourism and commerce. We will also continue to invest in our product and services so as to offer our customers an outstanding experience and value proposition while they discover the world."
A Streamlined Fleet
Over the course of 2016, Emirates retired 29 of its older aircraft in order to bring the average fleet age down to 5.0 years, which is below the industry average of approximately 11 years. Such streamlining enables the airline to enhance and develop the products that they offer onboard newer aircraft in their fleet. The 29 retired aircraft were replaced by 36 new aircraft, which consisted of 20 Airbus A380s and 16 Boeing 777-300ERs. Furthermore, back in April, Emirates placed an additional order for two Airbus A380 aircraft, which by the time they are all delivered, will amount to 142 of the aircraft in their fleet which secures the carrier's position as the world's largest operator of the aircraft.
By November, Emirates became the only airline to operate an all Airbus A380 and Boeing B777 fleet, following retirements of their older Airbus A330, A340, and Boeing 777-200 aircraft. Newer Airbus A380 and Boeing 777 aircraft that Emirates has recently received from manufacturers have new features such as enhanced seat configurations in economy. Any Boeing 777-300ER aircraft delivered from November 2016 onwards will also feature the carrier's new business class seat.
An Increased Route Portfolio
The airline also expanded its route network in 2016 with seven new passenger destinations and one cargo destination, which concludes the year with 154 destinations in their global portfolio. As well as adding new services, Emirates increased frequencies to many existing destinations in 2016. The carrier has expanded their Airbus A380 portfolio to 44 destinations, thanks to an addition of eight destinations. Emirates now operates the longest A380 service in the world from Dubai to Auckland as well as the shortest in the world to Doha. The carrier seems to want to continue growing their A380 network with previous one-off services to Chicago and Amman earlier in the year.
Numerous Customer Service Achievements
Emirates also had a significant year in terms of customer operations. The carrier was named World's Best Airlines in 2016 by Skytrax. Emirates unveiled their new business class seat on the Boeing 777-300ER during the ITB Berlin conference. In 2016, Emirates also signed a deal with Thales to equip their Boeing 777X aircraft with the Thales AVANT IFE System. Adding onto the digital basis, this year Emirates was able to connect over 8.8 million passengers with Wi-Fi as well send 1.7 million SMS messages.
Emirates also offered the world's first amenity kit in economy class which gave customers the opportunity to use augmented reality through unlocked content on mobile devices as well as selling over three million toys for the younger customer base. There has been continued investment, not just in the air, but also on the ground. Emirates completed a refurbishment of its business class lounge in Dubai's Concourse B, costing $11 million. Additionally, the carrier has offered customers increased check-in times from 24 hours to 48 hours.
Finally, Emirates marked a milestone in their frequent flyer program, Emirates Skywards. The membership program has hit 16 million members and to celebrate such an achievement, they launched another program called Cash+Miles which allows members to redeem a combination of cash and Skywards Miles on any Emirates flight. This new program helps reduce the price of tickets.
Brand and Reputational Image
Emirates topped The Brand Finance Global 500 Report as the world's most valuable airline brand for 2016. Emirates' growth throughout the course of 2016 grew by 17% to $7.7 billion. Other than the financial image, Emirates made quite a highlight in 2016 when representing different brands across the world.
In January, the carrier joined Boeing and sponsored their View from Above aerial filming project which was the largest aerial filming project ever conducted by unmanned aerial vehicles. Filming was conducted by 13 drone pilots across 18 different destinations in five different continents.
February saw the airline's first presence into Major League Baseball as the official airline sponsor of the Los Angeles Dodgers. Their sponsoring extended to a safety-inspired demonstration onboard their aircraft with the help of Orel Herscheiser. April saw Emirates celebrating the spirit of Cricket when they entertained a stadium of 66,000 fans with their own Bollywood-inspired "Welcome Onboard" demo during the ICC World Twenty Final between England and the West Indies. October saw their advertising campaign return when Jennifer Aniston became the key highlight of the Emirates brand, which featured what the airline described as a "fun global advertising campaign that showcased the iconic Emirates A380." This campaign ended in November when Emirates teamed up with the Dubai Miracle Garden to construct a life-size version of the Emirates A380 out of flowers. It took over 180 days to build and required over half a million fresh flowers and living plants. The structure includes moving engine fans and other key features that capture the original aircraft design.
All in all…
Overall, Emirates had a significant year from their larger destination portfolio to fleet changes and their growing brand image. It will be interesting to see what the airline does in 2017 to continue increasing their value.
James is a passionate AvGeek who has been actively spotting for years. James has been an Aviation Enthusiast for 7 years and has a fond likening to Concorde! James hopes to grow in the aviation industry with journalism being his primary focus.
Latest posts by James Field (see all)