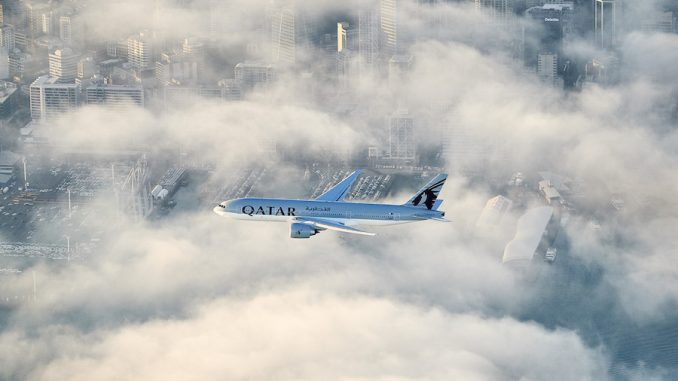 Around 7:30 a.m. local time on Monday, Qatar Airways flight 920 arrived in Auckland, New Zealand, making a historic milestone for the carrier and the city. At 17 hours and 30 minutes, the new Doha to Auckland route is the world's longest.
The new route will operate seven times per week operated by a Boeing 777-200LR, which features a two-class configuration with 42 seats in business and 217 seats in economy.
Dubai-based Emirates previously held the record for world's longest flight with a trip from Dubai to Auckland on an Airbus A380. Like Qatar, the route was previously operated by the Boeing 777-200LR starting in March 2016.
The new world's longest route was announced in March 2016 to begin in December, but was delayed due to apparent aircraft shortages.
Mr. Adrian Littlewood, Auckland Airport's Chief Executive Officer, said, "We welcome Qatar Airways to Auckland Airport and New Zealand. We expect this route to be very popular with visitors to New Zealand and with New Zealanders travelling, particularly between this country and Europe. Qatar Airways offers high quality inflight service and a wide network of destinations."
In addition to the 259 passengers onboard, there are four pilots and 15 flight attendants. According to the airline, 1,100 cups of tea and coffee were served, 2000 cold drinks, along with 1,036+ meals.
Upon arrival in Auckland, the flight was captured by one of New Zealand's top aerial cinematographers Tony Monk. Monk is best known for his aerial photography for the Lord of the Rings trilogy.
Qatar Airways released stunning photos of the aircraft's arrival in Auckland on their Facebook page and Flickr. Check them out below:
All images courtesy of Qatar Airways
AirlineGeeks.com began in February, 2013 as a one-man (er… teenager, rather) show. Since then, we've grown to have 20 active team members, and yes, we're still growing. Some of us are looking to work in the aviation industry as professionals when we grow older. Some of us are still trying to decide what we want to do. That's okay though, because we're all here for the same reason: we love the airlines. We're the youngest team of airline industry journalists out there.
Latest posts by AirlineGeeks.com Staff (see all)