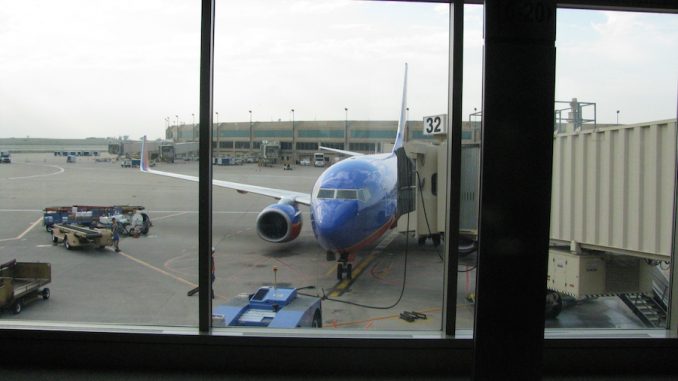 Kansas City is rapidly reinvigorating itself, from revitalized suburbs like Overland Park, Olathe, and Piper to the recent success of sports teams such as the Kansas City Royals, Kansas City Chiefs, and Sporting Kansas City. However, there is one eyesore that has divided the Midwest city: the airport.
Kansas City International Airport (MCI) sits roughly 15 miles northwest of downtown and is showing its age. The three terminal complex built with Trans World Airlines' vision maintained the idea that there was only 75 feet between a passenger's car and their flight. However, heightened security in the 1980s rendered the design faulty and the narrow design was left with cramped boarding zones and multiple security entrances.
The three horseshoe terminal complex is utilized by 10 airlines that operate out of terminals B and C. Terminal A was abandoned following the merger of Frontier and Midwest and US Airways and American, and is only used as a charter and cargo ramp.
Most shops, restaurants, and bathrooms sit on the landside portion of the airport where they were originally placed when the terminal was built. Smaller shops like Wolfgang Puck Express and small 2-3 stall bathrooms were added but lines can easily accumulate due to a large number of travelers through MCI.
The city has continuously tried to propose building a new airport, offering a new centralized H-design terminal by demolishing Terminal A. This would cut costs of operation and consolidate the airlines into one terminal instead of moving as operations are expanded and retracted.
In the process of the build, Terminals A and B will be demolished while Terminal C would be used as office space. A new parking garage would be built while maintaining the parking garages for Terminals B and C.
The rebuild was shot down by downtown Kansas City residents in a vote as they cited that they liked the current terminal for its convenience and fears of increasing taxes and airfare. A renovation was also considered for the old terminals but was dismissed as soon as the city realized it would cost more to renovate the old terminals than just to build a new one.
The airport talk continued for a while as local businessmen and frequent users of the airport spoke about how bogged down the airport can become during storms and double stacking due to delayed flights. The airlines joined the mix and in a charge spearheaded by the airport's top carrier Southwest, who said they would fully pay for the new $964 million terminal and parking garage.
Customer convenience is priority for the @KCIAirport modernization recommendation pic.twitter.com/ds68LAKe4p

— KCK Chamber (@KCKChamber) February 3, 2017
Once again the citizens of Kansas City would be given a vote to determine if the new terminal would be built but Kansas City Mayor Sly James pulled the vote from the city's ballot in April 2016 due to polls indicating that 63% of Kansas City residents would vote against the terminal and that the airport was fine as is.
Despite the lack of enjoyment the airlines get out of MCI, it hasn't stopped their expanding presence in Kansas City. The city has landed Allegiant and Spirit operations in the last two years and Southwest has added new routes to Austin and San Antonio.
In addition, Frontier has also expanded their presence again after dismantling the old Midwest hub, offering service to Atlanta, Chicago (ORD), and Philadelphia seasonally. Because of the surge in low-cost carriers, Kansas City is the cheapest airport in the four nearby states, costing roughly $180 per fare which beats airports such as St. Louis ($190 per fare), Omaha ($200 per fare), and Wichita ($210 per fare).
While talks continue between Kansas City's mayor and its citizens, a new player has entered the fray: Kansas. Governor Sam Brownback has announced he is looking into the possibility of adding a commercial airport on the Kansas side of the two state city. The idea is in its early stages but Kansas already operates two general aviation airports with NewCentury AirCenter (26 miles southwest of Kansas City) and Johnson County Executive Airport (19 miles southwest of Kansas City).
Brownback says that over 45% of MCI's flyers are Kansan residents and he has grown impatient with Missouri voters and politicians not getting the new terminal built. Kansas is no stranger to new terminals with Wichita getting a new terminal in 2015 and Manhattan getting a renovation during the same year.
The Governor also sees taking the airport as a way to get ahead of the Show Me state, which Kansas has continuously championed when it comes to winning over businesses. Brownback also faces budget woes with Kansas constantly borrowing money from transportation funds to balance the state's budget.
The airport easily debunks both myths that Kansas City travelers tend to believe about the existing airport. The city has already stated that a new airport would increase the tax from $2.50 to $9 which means that MCI will still be one of the cheapest airports to fly into and out of in the Midwest. The other idea of convenience is debunked when measuring the actual distance between gates and the main concourse.
The furthest gate in Kansas City is Southwest's gate B32, which sits 800 ft from the check in counter and 1,200 ft from the baggage claim. Comparing Kansas City (ranked 38th busiest in the U.S.) to other airports of its size. John Wayne Airport (number 40) is only 1,000 ft between check-in and gate 1 and only 1,200 ft between gate 1 and the baggage claim. Dallas Love Field (number 31) is 1,200 ft between check-in and gate 1 and 1,400 ft between gate 1 and 19 to the baggage claim.
The Kansas City argument is further debunked when you compare restaurants airside and landside, with the above-mentioned airports having food courts and shops past security, something that MCI lacks.
While the idea of an airport in Kansas is far off, it is a wake-up call to the Missouri side of Kansas City. By many standards, the airport is outdated and needs help and whether it is on the Kansas side or Missouri side is up to the people who live there. TWA already nerfed their hub in Kansas City in the 1970s when the city wouldn't replace the old terminal. Whether or not history repeats itself with Southwest is entirely up to Kansas City.
Although Ian McMurtry was never originally an avgeek, he did enjoy watching US Airways aircraft across western Pennsylvania in the early 2000s. He lived along the Pennsylvania Railroad and took a liking to trains but a change of scenery in the mid-2000s saw him shift more of an interest into aviation. He would eventually express this passion by taking flying lessons in mid-Missouri and joining AirlineGeeks in 2013. Now living in Wichita, Kansas, Ian is in college majoring in aerospace engineering and minoring in business administration at Wichita State University.
Latest posts by Ian McMurtry (see all)