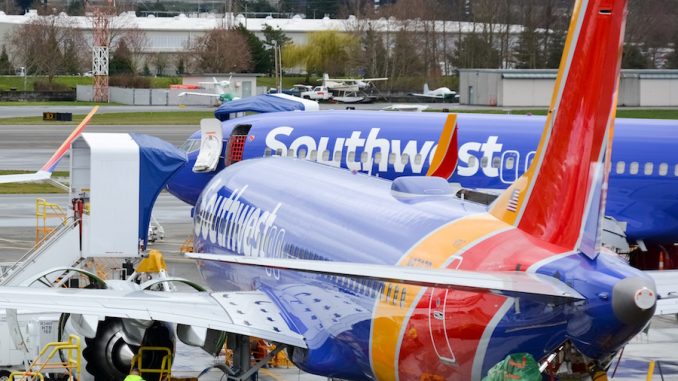 According to RoutesOnline, Dallas-based Southwest Airlines has announced scheduled routes for their brand new 737 MAX 8 aircraft, which will enter service starting on Oct. 1, 2017.  The inaugural flight, operated as WN1, will depart Dallas Love Field and arrive at Houston Hobby Airport before continuing to San Antonio as WN2, and back to Dallas as WN3.
Departing Baltimore/Washington
Effective Oct. 1, 2017, the 737 MAX will start once weekly service to Albuquerque and Dallas Love Field, five times weekly service to Boston and Orlando, and six times weekly service to Los Angeles. Additionally, the new aircraft will operate twice daily flights to Las Vegas during weekdays.
Departing Chicago Midway
Once weekly service to Birmingham, Cincinnati, and Denver will commence on October 1 as well, along with 14 weekly flights to Houston Hobby, seven weekly flights to LAX, five weekly flights to Phoenix, and twice daily flights to Las Vegas on weekdays. Initially, Dallas Love Field will see three weekly flights from Midway, but this will double starting October 22.
Departing Dallas Love Field
Nashville, Oakland, and San Diego will each see once weekly 737 MAX 8 flights from Love Field. The airline will also deploy their new MAX fleet for five weekly flights to Baltimore, seven weekly flights to Denver, twice weekly service to LAX, nine weekly flights to Orlando, and five weekly flights to Phoenix. Midway will see eight weekly flights, with an additional set to be added on October 8.
Departing Denver
Chicago-Midway will see five weekly flights from Denver, while Phoenix will see six. Dallas Love, Houston Hobby, New Orleans, and Philadelphia will each have one weekly MAX flight.
Departing Houston Hobby
Southwest's second 737MAX flight, WN2, will depart Houston Hobby for San Antonio, however, this will not remain as a permanent route. Pittsburgh and Denver are set for one weekly service each, with Baltimore set at twice weekly. Chicago Midway will have 10 weekly flights, Dallas Love will receive seven weekly flights, and LAX will see the new aircraft six times per week. 
Departing Las Vegas
Midway, Columbus, Dallas Love Field, Denver, and Phoenix will each have five weekly flights from Las Vegas.
Departing Los Angeles 
San Antonio will see Southwest's MAX inbound from LAX once weekly, with Phoenix at twice weekly, Houston Hobby at three times weekly, Love Field at five times weekly, and Baltimore initially at six times weekly with one additional flight set to be added on October 22.
Departing Orlando              
Columbus will have one weekly MAX flight coming from Orlando. Baltimore will see five times weekly service, with six times weekly service to St. Louis and seven weekly flights to Love Field.
Departing Phoenix
The 737 MAX will touch down in Dallas Love Field, LAX, and St. Louis once per week from Phoenix, along with five times weekly in Orlando and Baltimore and 11 frequencies to Chicago Midway.
Starting on Oct. 8, 2017, routes from Baltimore to Midway and San Diego will also become a reality, along with three-times per week service from Dallas Love Field to Houston Hobby, once weekly service from Denver to Nashville, and five weekly flights from San Diego to Baltimore.
Then, on Oct. 22, 2017, once weekly service from Baltimore-Kansas City-Las Vegas-Baltimore will be operated with the 737 MAX. Also, Midway-Oakland-LAX-Midway will feature the MAX.
Though the routing seems to primarily feature the same cities, other routes will be added as well, including LAX-Pittsburgh, Phoenix-Portland, Nashville-Oakland, Dallas Love-Birmingham, and Denver-Boston.
While all of these 737 MAX-operated routes are visible on Southwest's website, changes in the carrier's schedule could affect these flights by October.
Ashley is currently a senior in high school and plans on pursuing a career in aviation or journalism. Her favorite airplanes include the Boeing 777, 737MAX, and Airbus A350. She enjoys taking flights on various airlines to different airports and planespotting at her local airports.
Latest posts by Ashley Magoon (see all)