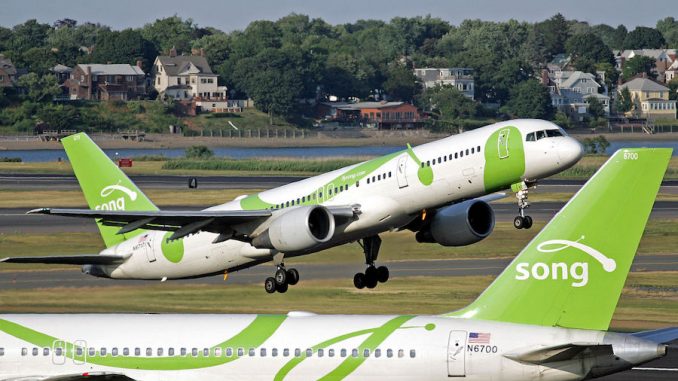 With a majority of the U.S.'s legacy carriers rolling out basic economy coupled with recent financial success, could it be time to see the return of the carrier within a carrier? If legacy airlines ever wanted to experiment with a low-cost carrier subsidy, now is the time.
Most of the traveling public will remember the early 2000s when Delta rolled out Song to combat jetBlue and United rolled out Ted to fight Frontier. However, poor timing, high labor costs, and competition between the branch and parent carriers meant that these airlines didn't last long.
The two carriers quickly reabsorbed the airlines back into their respective main carriers following Delta's bankruptcy in 2006 and Ted rolling back into United in 2009. Both low-cost carriers (LCCs) had different ambitions and goals; Song was targeting the leisure market by using Boeing 757s from the Delta mainline fleet to fly between the northeast, Florida, and the southwest.
Ted, on the other hand, was specifically targeting Denver with Airbus A320s flying to a large range of destinations including Phoenix, Washington-Dulles, and Ixtapa/Zihuatanejo. Both carriers also used their LCCs to experiment with new ideas like a new seatback in-flight entertainment on Song that would eventually be incorporated into the Delta mainline fleet.
However, these carriers could have been successful in today's thriving market. In 2003 and 2004, when the two were launched, the aviation market was struggling. The effect of 9/11 and the lack of demand for leisure destinations left both Song and Ted with a dramatically weakened market.
These airlines were made as a response to other carrier's success and were thrown together in hopes of slowing the competition (which failed). Furthermore, the recession of 2008 and the bankruptcies of Delta and United solidified their LCC's fate.
Today's aviation market sees significantly more demand to leisure destinations, which can be seen in numerous ways. Delta has rapidly expanded in Orlando, and now even offers point-to-point flights that are not between a Delta hub and Florida such as Orlando to Nashville, Pittsburgh, and Indianapolis and Miami to Columbus and Indianapolis.
All of this comes while LCCs including jetBlue and Southwest have made Orlando hubs and ULCCs like Spirit and Frontier have expanded into the Orlando market at a rapid pace.
United still struggles with controlling Denver, despite having the most passengers, competition with Frontier and Southwest leaves the carrier fighting for passengers in the Denver market. Though with a regional fleet, United has managed to control a large majority of the flying public who use United's regional and narrowbody jets to reach the smaller towns in the Rocky Mountains.
If the US carriers need any help figuring out the right approach, they should look no further than Canada and Panama, as carriers such as Air Canada and Copa Airlines have made successful leaps into the LCC market.
Air Canada, coming off two failed airline ventures with Zip and Tango, launched Air Canada Rouge as a low-cost leisure carrier that would operate to select destinations. The airline was started in 2012 by taking over some of Air Canada's Floridian, Caribbean, European, and Californian routes.
Air Canada and Rouge have made slight tweaks to their strategy to meet the main carrier's demands, but Rouge has allowed Air Canada to succeed at airports it previously failed at such as Prague. Air Canada has also made it work without purchasing any new aircraft. The airline used Airbus A320 family aircraft and Boeing 767-300s from the main fleet while the 767s were already due to be replaced by the Boeing 787 Dreamliners on order.
This strategy could also work for U.S. carriers who are currently retiring older versions of the Boeing 737 and Boeing 757 and could use those to create a new low-cost brand.
Air Canada isn't the only carrier to add a low-cost arm recently as Lufthansa, Singapore, and Copa have added airlines and routes by means of Eurowings, Scoot/Tigerair, and Wingo, respectively. These carriers have helped their respective brands expand by way of adding new routes such as Eurowing's Hamburg-Boston route, which didn't exist on Lufthansa. Singapore has taken this a step further, not only utilizing its low-cost arm Scoot, but also further solidifying its position in Tigerair and incorporating it into its overall organization.
If a domestic flying carrier is not a viable option, perhaps the U.S. legacy carriers should look into a so-called carrier in a carrier for international flying. Eurowings and Scoot have already showed that there is potential in cheap international flying and with carriers like WOW Air and Norwegian expanding their presence in the U.S., the legacy carriers will see more competition and lower fares to Europe.
But with the right strategy, these new airlines could thrive, especially in the eastern seaboard cities where Norwegian and WOW have not touched recently such as Charlotte, Atlanta, Philadelphia, and Cleveland. The competition will only become stiffer as time goes on with the launch of Level later this year, Norwegian planning Boeing 737 Max transatlantic flights, and the threat of Ryanair entering the market.
The creation of an airline within an airline also stops the main carrier from cheapening their brand. American, United, and Delta have all added a cheaper economy fare to lure in travelers from Spirit and Frontier.
The creation of an alternate carrier can allow the legacy airline to test the cheaper options on that airline instead of affecting their more rooted branch. However, as Air Canada and Eurowings have shown, if people still want a business class cabin or more amenities, it can be offered on the newer airline.
Whether or not these airlines come to surface is entirely up to the carrier's leadership. While previous experiments can lead to assumptions, the increase in carrier choices and the ability to fight for leisure destinations without buying out another carrier can lead to bring in new passengers and markets.
The remaining U.S. legacy carriers from the 1980s have survived because of their ability to adapt and provide something new or special on their flights, and with ultra low-cost flying becoming more popular, it's time to adapt again.

Ian has been an avgeek since 2004 when he started spotting US Airways Express planes at Johnstown Airport in Johnstown, Pennsylvania. He now lives in Wichita and enjoys spotting planes in Kansas City and Wichita as well as those flying at high altitudes over his home. He is a pilot with more than 40 hours of experience behind a Cessna 172, Diamond DA-20, and Piper PA-28. He flies Southwest Airlines on most of his domestic flights and Icelandair when flying to Europe. Ian's route map spans from Iceland and Alaska in the north to St. Maarten in the south. He is a student at Wichita State University, where he will study aerospace and mechanical engineering.

Latest posts by Ian McMurtry (see all)