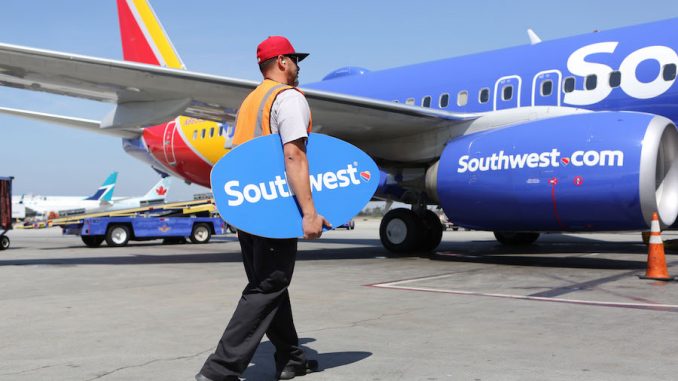 After starting with their first international operations by taking over AirTran, Southwest has kept their foot on the gas when it comes to adding flights and expects to see even more expansion during the winter season.
St. Louis and Nashville will see new international routes thanks to the Dallas-based carrier while Ft. Lauderdale will receive additional flights as well. Southwest will fly Saturday only service on Boeing 737-700s from St. Louis to Cancun and from Nashville to Cancun.
The airline will also add Providenciales to Ft. Lauderdale service around the same time. The Ft. Lauderdale route will start on November 5 and the Cancun routes start the following Saturday on November 11.
Southwest joins the group of airlines that have slowly expanded service to Cancun from Midwest cities. Airlines like Frontier and American have added daily or weekend service between cities like St. Louis and Kansas City despite the lack of a hub at either city.
While Southwest will see competition for the Cancun routes early on, the airline has seen great expansion at both St. Louis and Nashville in recent years and this could be signs of future international service for the cities.
Ft. Lauderdale will become Southwest's newest international focus city on June 4 with the start of service to Belize, Cancun, Grand Cayman, and Montego Bay. The Providenciales routes, which still needs government approval from Turks and Caicos, is expected to be the first new route to start after the focus city officially opens.
Although Ian McMurtry was never originally an avgeek, he did enjoy watching US Airways aircraft across western Pennsylvania in the early 2000s. He lived along the Pennsylvania Railroad and took a liking to trains but a change of scenery in the mid-2000s saw him shift more of an interest into aviation. He would eventually express this passion by taking flying lessons in mid-Missouri and joining AirlineGeeks in 2013. Now living in Wichita, Kansas, Ian is in college majoring in aerospace engineering and minoring in business administration at Wichita State University.
Latest posts by Ian McMurtry (see all)